Pinsky Project // Julia Pinsky
The Pinsky Project is a life-chaning and highly detail-orientated complete organizational service that will add a much needed dose of GLOW into your life. Owned by the amazing Julia Pinsky, her approach is designed to put your past and present in order by considering, curating, and reconfiguring your organizational process. Everything truly has its right place, and Julia helps you find just that.
Like Julia, we are firm believers that the spaces in which you spend your time greatly affect your wellbeing and productivity. Pinsky Project offers highly tailored services to ensure that your space has a positive and energetically flowing effect on your life. Through her highly detail-orientated organizational services, Julia has the ability to completely transform your life. De-cluttering truly leads to more overall happiness and efficiency.
Julia started Pinsky Project after 15 years in the fashion industry in New York City. An extensive traveler, Julia realized she'd come to cherish collecting memories and experiences over physical things and—after reorganizing her living spaces—realized that in living an organized life, anything is possible. Decluttering was no longer a chore but a way of life. Lucky for us, she shares this incredible knowledge and skill with her clients and really changes their lives.
Now bi-coastal, Julia and her team offer comprehensive services to reorganize your home, work, and lifestyle. With a keen eye for design and style and a passion for travel, Julia draws inspiration from a wealth of sources to inform her work—striving to help her clients refine their surroundings and enjoy more efficient, ordered, and all-round happy lives.
First, Julia starts off by assessing the space. She filters down the space to just what you actually love, need, and use. From there, the organization begins. Julia declutters, tidies up, and organizes the space to promote optimal productivity. By refining the space, she truly improves your lifestyle, to save you time, nourish the mind, and reduce stress. Simplicity and cleanliness is really her specialty. What we love most about Julia's process, is that she makes it all super simple and easy. She figures out exactly what needs to be taken away and what organizational tools will fit perfectly within the space to optimize organization. She then goes to shop (mostly at the Container Store) for exactly the right organizational tools that fit perfectly within your space — down the the dimensions and designs that go along with your personal aesthetic. She's truly an organizational angel!
Her range of services include full service organization for:
Home

Work / Home Office

Closets

Garage / Attic
If you're looking to upgrade your life, you need Pinksy Project there to help! We feel infinitely glowier within our spaces, thanks to Julia.

You can find Pinksy Project at www.pinskyproject.com // Contact Julia here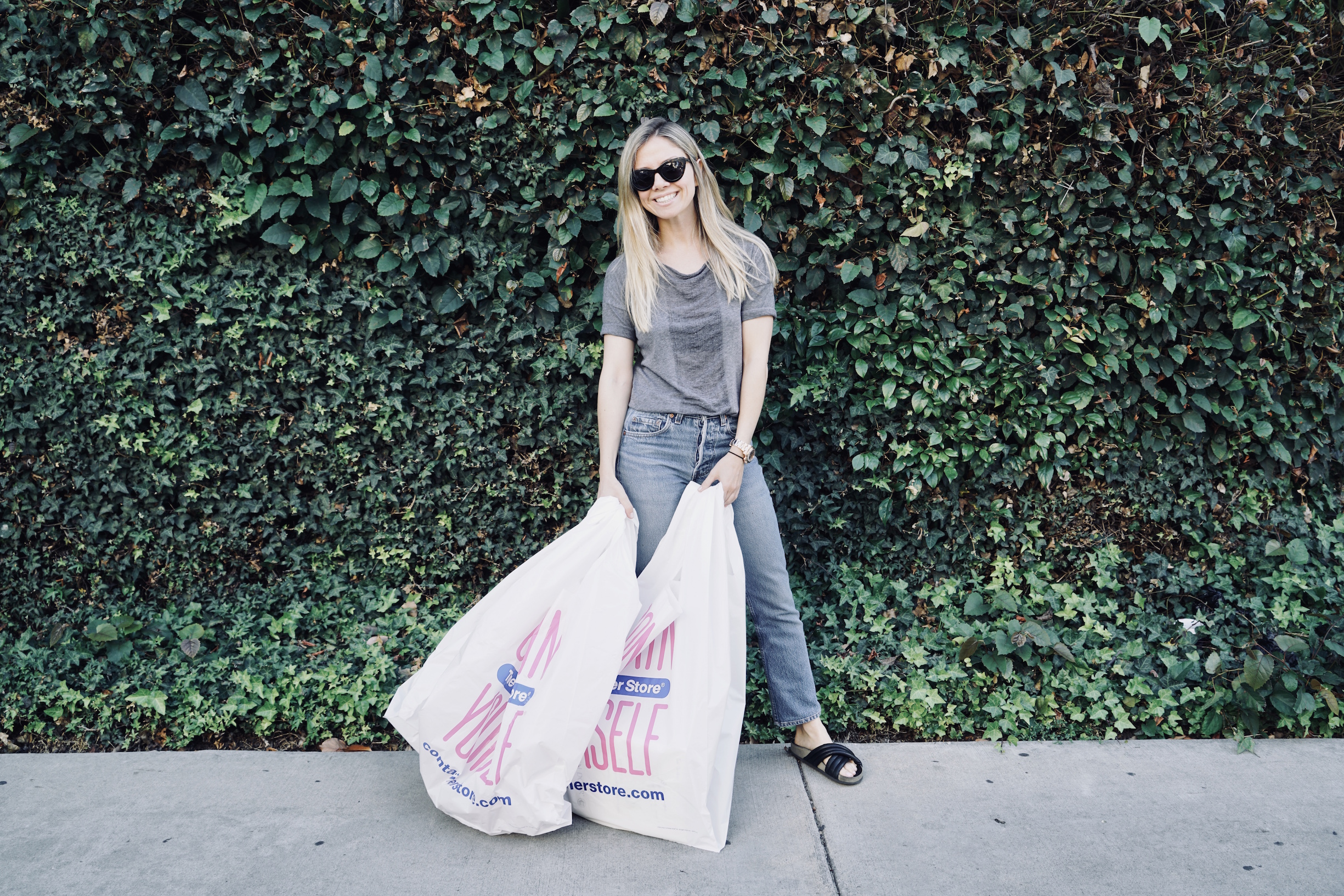 how they glow
questionnaire
NAME:
Julia Pinsky
NICKNAME:
Jules
PROFESSION:
Founder, Pinsky Project 
WHERE DID YOU GROW UP?
Moved to Los Angeles when I was eight years old from Ukraine and was there until I was 20, then spent the next 15 years in New York, where I really grew up.
WHERE DO YOU LIVE?
Los Angeles
WHEN YOU'RE EATING HEALTHY, WHAT IS A TYPICAL…
BREAKFAST:
Gluten Free avocado toast (bread from Le Pain Quotidien), and a smoothie (strawberry, banana, spinach, avocado, almond milk ,spirulina) 
LUNCH: Salad (prefer romaine lecture) with grilled chicken and grilled veggies.  Also, love the impossible burger patties over a salad. 
DINNER: I love a steak or a piece of white fish with steamed spinach, BUT I have a weakness for French fries (with mustard)
SNACK: I am snack obsessed.  Dried mango- no sugar added, veggie chips, rice crackers, rock n roll cookies, Dang coconut chips, salt & vinegar chips kettle chips, RX bars, peanut butter Think bars, lots of fruit  


WHAT ARE YOUR FAVORITE SPOTS/RESTAURANTS TO EAT HEALTHY?
Tocaya Organica, Café Gratitude, SunLife Organics 
WHAT IS YOUR FAVORITE INDULGENCE?
Ramen, soup dumplings, steak frites
WHAT ARE YOUR FAVORITE SPOTS/RESTAURANTS TO INDULGE?
Ipuddo for Ramen and Joes Shanghai for soup dumplings, both in NY, and Din Tai Fung in LA.  Steak frites at Raoul's in NY and Petit Trois in LA

WHAT WOULD BE YOUR LAST MEAL ON EARTH?
Ramen or Steak Frittes French bistro style
WHAT IS THE BEST DISH YOU COOK/ YOUR FAVORITE RECIPE?
A slow cooked brisket, flavored with multiple types of bbq sauce and dark beer 


WHERE DO YOU GROCERY SHOP?
Mainly Whole Foods and starting to drink the cool-aid at Erewhon 
TOP 3 ITEMS YOU ALWAYS HAVE IN YOUR KITCHEN?
Avocados, Bananas, Cold pressed olive oil 
WHAT IS YOUR FITNESS REGIMEN? (how often & what you do)
Always try to do at least one spin class and one yoga class per week.  Love the Sculpt class at Core Power.  On weekends I enjoy hikes
WHAT IS YOUR SKINCARE ROUTINE? (products, facials,etc)
I try to get a facial once a month, which includes extractions, microdermabrasion, a soothing mask and some oxygen.  This month, I splurged and got an incredible treatment with Galina K, in Beverly Hills.  I indulged in her  "Fountain of Youth" facial which included diamond peel extractions, massage, high concentrated serums, needle free Mezotherapy, finished off with an oxygen mask.  It was incredible.
Products I use: 
Cleanser- Kiehl's midnight recovery botanical cleansing oil.  I have oily skin and thought that adding oil will make it worse, but I was wrong.  It's my favorite cleanser I've ever used. 
Skinceuticals serums- day (B5 hydrating gel) and night (retexturing activator) Moisturizer- Olos Nettare di Zucca hydrating cream for both day & night


WHAT ARE YOUR FAVORITE MAKEUP/NATURAL BEAUTY PRODUCTS?
RMS Living Luminizer.  It really brightens everything up
IF YOU WERE STRANDED ON A DESERT ISLAND, WHAT 3 PRODUCTS WOULD YOU TAKE WITH YOU?
My Olos Nettare di Zucca moisturizer, Nars blush and Aquaphor


TOP 3 FAVORITE SONGS?
So hard to say, but some classics never get old  
-Bizarre Love Triangle-  New Order
- Mr Jones - Counting Crows
-Angie- Rolling Stones 


MOST-WATCHED MOVIE?
Almost Famous is definitely one of my most watched movies.. the music, characters, story line.. it's just so good!
MOST LIFE-CHANGING BOOK?
Sounds cliché, considering the line of work I'm in, but Marie Kondo's The Life Changing Magic of Tidying up really took my life from good to better.  I've never been a big mess, but I have always held onto everything, which in turn, clogged my mind and prevented me to move forward; Whether it was a breakup, a career move, or a physical move.  Change was not in my vocabulary; I was a creature of habit, to say the least.  The moment I properly de-cluttered my living space, everything began to fall into place and feel clearer; literally and figuratively.  I decided to leave my job in fashion (and industry entirely), I started my own business and not long after, I moved back to California.  My philosophy will always be that a messy bed = a messy head.
FAVORITE SHOPS/BOUTIQUES?
Favorite boutique: The Line in NY & LA.  It is one of the most beautifully curated spaces and is very well edited.  I can walk in and spend hours in there. 


COOLEST PLACE YOU'VE EVER VISITED?
So hard to chose from all of the magical places!  Traveling is something I will never get enough of.  
One place that comes to mind is a small surf town in Northern Peru, called Mancora.  I describe it as Tulum, meets Costa Rica.  It's super casual, filled with boutique hotels and some of the best food I have ever had.
Everyone surfs and the form of transportation is Tuktuks.  It's a great getaway after visiting Machu Picchu.  
WHAT IS THE BEST GIFT YOU'VE EVER RECEIVED?
A beautiful watch from my parents that I wear every day.  It's gorgeous, but more importantly, it's a daily reminder of how loved I am.  Plus, it's something I will definitely pass on to my kids.


DESCRIBE YOUR PERFECT DAY.
Waking up to the ocean is the best feeling.  It usually sets the tone for a great day.  No matter what I'm doing, it's most important for me, to be around great people and good food.  I always say it's not about where you are, but whom you're with.


WHAT IS YOUR MOST VALUABLE GLOW TIP/SECRET?
My mother has been doing this for the last 30 years and I try to follow her footsteps.  Boil loose chamomile tea and let it cool down.  Distribute the liquid in an ice cube tray and every morning wash your face with one cube.  Massage it around your face until it melts.  Gently pat the liquid off with a face towel.
This will help tighten your skin and pours.  Plus it'll wake you up in the morning.


FAVORITE QUOTE?
"We don't see things as they are, we see them as we are" -Anais Nin
"You have brains in your head.  You have feet in your shoes.
You can steer yourself any direction you choose.
You're on your own. And you know what you know.
And YOU are the guy who'll decide where to go... -Dr. Seuss, Oh, The Places You'll Go!
WHAT ARE YOU GRATEFUL FOR? 
I am beyond grateful to have the most selfless, supportive and loving parents.  Much of the time I take them for granted, but then I hear stories of people who could only dream of this and it's always a great reminder.
WHAT MAKES YOU GLOW?
Exercise, rest and the feeling of being in love.