ASTARA // Mariah K. Lyons
We are thrilled to be sharing a truly revolutionary footwear brand created by our dear friend Mariah Lyons, a sought-after meditation teacher, reiki master and wellness designer. Her creation ASTARA integrates footwear design with quantum mechanics, Earth resonance, and ancient healing techniques to marry style with spirit. Next level glowy!!
Each shoe is lovingly designed in Venice, CA, and locally handcrafted and embroidered by master artisans in downtown Los Angeles. They use vegetable tanned- leather, Reiki-charged and programmed crystals, and sustainable materials on all of our wares. Does it get any glower, people?!
Mariah was inspired to create ASTARA by the notion that, "with each step forward on the conscious individual's journey, we are not only grounding in beauty along our own path, but creating a global grid of individuals working towards a shared existence in community with one another and nature."
"ASTARA sees footwear as the physical conduit from our body to the ground. We utilize Earth elements on each pair as a reminder to care for and connect our mind, body, and spirit, as well as our planet" says founder Mariah K. Lyons. ASTARA is season-less with a focus on conscious, thoughtful design. Each collection builds on upon a few key styles, asking the consumer to contemplate their personal collection while finding a holistic relationship with their everyday footwear.
The focus is on healing and grounding the modern individual, utilizing the research based facts of Earth resonance, quantum mechanics and meditative connection. ASTARA believes through a mindful connection to self, community, and the Earth, we heal individually and collectively.We love Mother Earth, and we believe you can make beautiful fashion pieces without destruction. A portion of each purchase made goes directly into grassroots nonprofits promoting Earth conservation and sustainability.

It is so awesome to see Mariah bring her lens of wellness and love of the environment to the fashion industry. Mariah spent years as a publicist at luxury footwear brand Jimmy Choo, before leaving the corporate world to venture into her deeper calling of wellbeing and healing. Before her time at Choo, Lyons trained and danced professionally in New York and Los Angeles. She deeply understands importance of our connection between our feet and the ground in relation to body alignment and overall wellbeing.

After leaving her corporate gig, Mariah spent several years traveling the world visiting sacred sites to study under master healers and teachers, and to learn a variety of healing modalities before herself becoming a meditation teacher, reiki master and wellness designer.

Mariah is always looking for new ways to integrate crystal technology and earth resonance into the modern day lives of her global clientele. Having always been hypersensitive to emfs and electronic pollution, she wanted to find a way to shield herself from these rays in an elevated aesthetic. She developed ASTARA as a way to ground Earth healing into a modern, urban dwelling world, and as a way to fuse the luxury fashion market with wellness, blending higher consciousness concepts as well as local and sustainable manufacturing into the footwear world.
Read on to see how this inside and out beauty keeps herself glowing so brightly.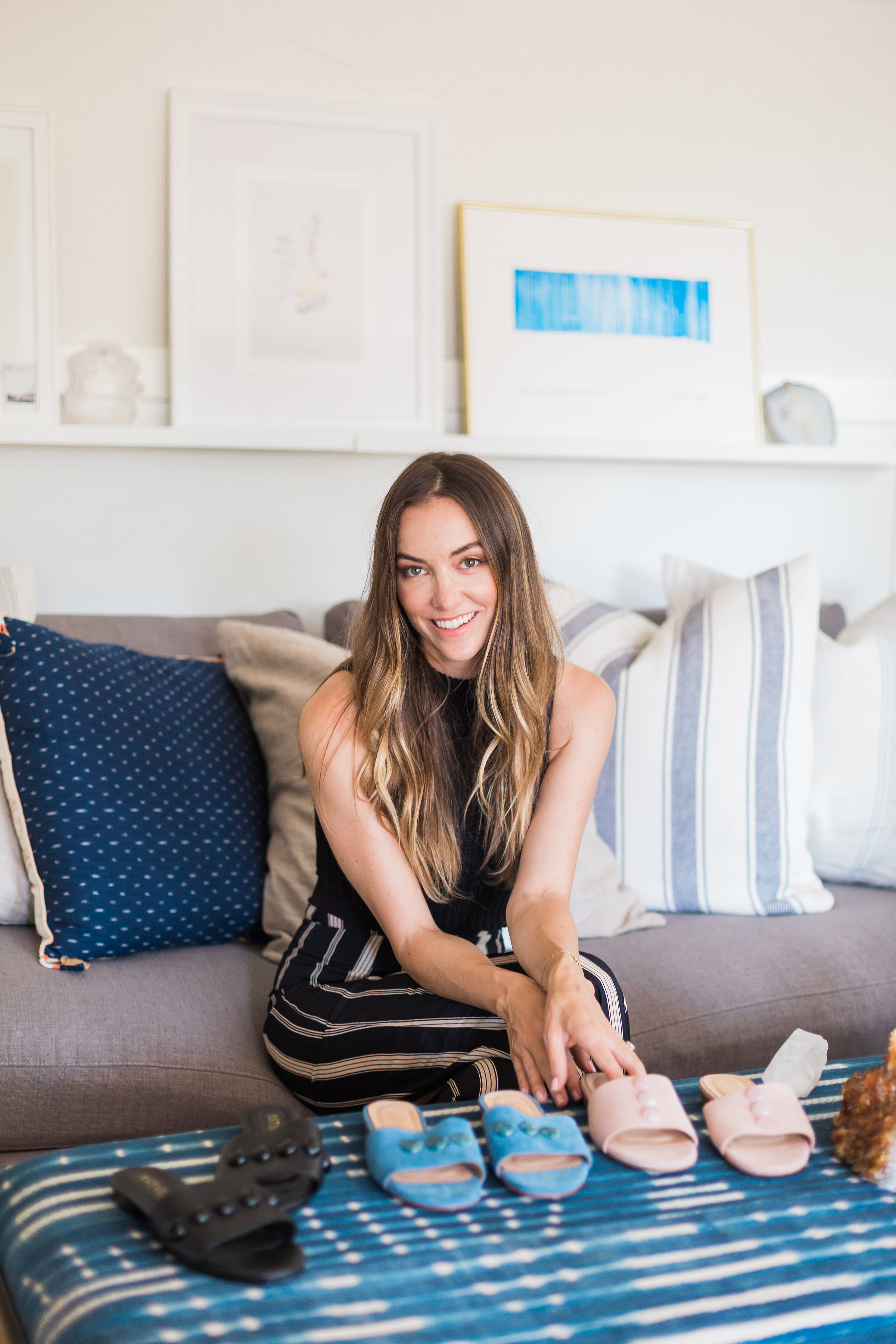 how they glow
questionnaire
Name:
Mariah K. Lyons
Nickname:
Mari, M, Ri

Profession:
Footwear Designer + Holistic Healer + Natural Grounding

Where did you grow up:
Holladay, Utah
Where do you live:
Los Angeles, CA
When you're eating healthy, what is typical...
BREAKFAST: 16 oz Celery Juice or Lemon Water first thing, then Smoothie! Banana, Wild Blueberries, Spirulina, Barley Wheat Grass Powder, Pearl Powder, Chaga, Dates
LUNCH: Vegetable Soup or Baked Sweet Potato or large Veggie Salad with Avocado
DINNER: Grilled Atlantic Salmon, steamed broccoli and asparagus, arugula salad with olive oil and lemon juice.
SNACK: Always eating dates stuffed with raw almond butter and sea salt! Apples, bananas, cucumbers, or Mary's GF crackers and hummus. I'm a snacker…
What are your favorite spots/restaurants to eat healthy?
Gratitude BH, Sqirl, Beverly Hills Juice, Plant Food + Wine, Paru's, Butcher's Daughter
What is your favorite indulgence?
Cacao anything...Raw Chocolate :)
What are your favorite spots/restaurants to indulge?
Pizzeria Mozza, Chateau Marmont, CoolHaus, Angelini Osteria, El Compadre
What would be your last meal on earth?
My favorite holiday is National Fried Chicken Day on July 6th and I celebrate it annually. I love the pairing of crispy, salty fried chicken and a bottle of vintage rose champagne. Add in some good coleslaw and a key lime pie. Afterwards you could shoot me and I'd be borderline okay about it.
Where do you grocery shop?
SM or Larchmont Farmer's Markets, Erewhon, Whole Foods


What is your fitness regimen? (how often & what you do)
Yoga, Pilates, Hiking, Dance (Ballet or Hip Hop) and HIIT. I try and do at least 1 physical activity every day.


What is your skincare routine? (Products, facials, etc.)
Facials with Vanessa Hernandez
Brows by Jimena
Sunscreen everyday
WHAT IS YOUR SELF-CARE ROUTINE?
I wake up early everyday and meditate between 5-6am. It's sometimes my only quiet and alone time each day and helps keep me centered, inspired and a clear vessel. I pull cards, work through some breath exercises and my own energetic clearings and activations.
Besides my practice, my other medicine is nature. Weather permitting I spend some time each day outdoors, it's the easiest and quickest way for me to connect back in to my essence, ground in and remember my purpose and mission. If I'm unable to get outside, I'll commune with the plants in a tea meditation and connect to Mother Earth and her messages that way.
I'm also learning to say "no" more and clear my schedule. The more packed my schedule is, the more my Vata Dosha and Gemini Air sign get out of balance. When I'm ungrounded the less I'm able to stay open to messages from the Universe and the world around me.
What are your favorite makeup/natural beauty products?
RMS "Un-concealer"
Goldfaden MD Doctor's Scrub
ILIA Blush stick
Tarte Mascara
Vintner's Daughter Active Botanical Serum
Jade Gua Sha Tool
If you were stranded on A Deserted island, what 3 crystals would you take with you?
Selenite, Lapis Lazuli, Rose Quartz

What professional beauty/health/fitness/spiritual gurus do you swear by?
Anthony William
Dr. Christine Surrago
Jose + Lena Stevens
Susan Hassen
Dr. Mikio Sankey
Joan Ocean

favorite books?
"The Sorcerer's Crossing" Taisha Abelar
"Women Who Run with the Wolves" Clarissa Pinkola Estes
"The Giver" Lois Lowry
Most life-changing book?
The 5AM Club
Most-watched movie?
Roman Holiday
Coolest place you've ever visited?
Mt Kurama in Kyoto, Japan and Sacred Valley, Peru

What is the best gift you've ever received?
The gift of breath from my Mom and Dad.
Most profound healing experience you've ever had?
Sitting with master teacher plants that have unlocked and awakened dormant memories within my cells.
What is the biggest learning experience you've had to face and what did you take away from it?
Both of my parent had cancer at different times when I was growing up, and I lost my aunt to breast cancer. I've learned how sacred and precious our time is here on Earth, and how blessed we are to have a physical vessel to house our spirit. These experiences have deepened my relationship with my body and to treat my body as a temple.
Describe your perfect day.
Waking up and watching the sunrise on the beach. Going for a morning swim with the dolphins, morning ceremony and offering, reading a book on the beach, big outdoor lunch with family and friends, taking an afternoon nap while the waves crash, going on an late afternoon adventure into the forest, cooking a meal with my husband and sharing with friends as the sun sets, outdoor bonfire under the stars with smores and a late night dance party.
What is your most valuable glow tip/secret?
Your biggest strength and your best protection is maintaining in a pure vibration of love and deep compassion for self and others.
Favorite quote?
"I Am."

What are you grateful for?
The opportunity every single day to work with my crystal allies and elements of the Earth, helping to reconnect people back to their natural resonance and vibration of harmony and balance within the modern world.

What makes you glow?
Love, Deep Friendship, Laughter, Mother Earth