Elsa Elbert // Composed Living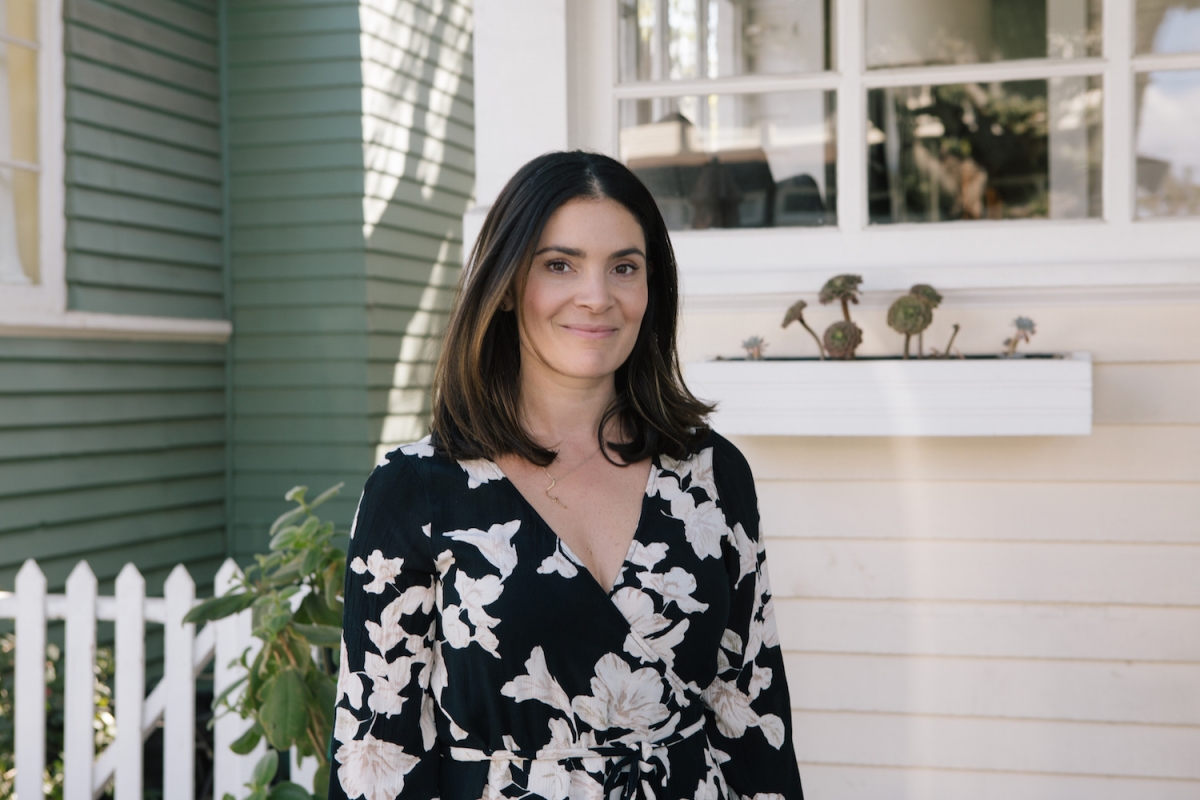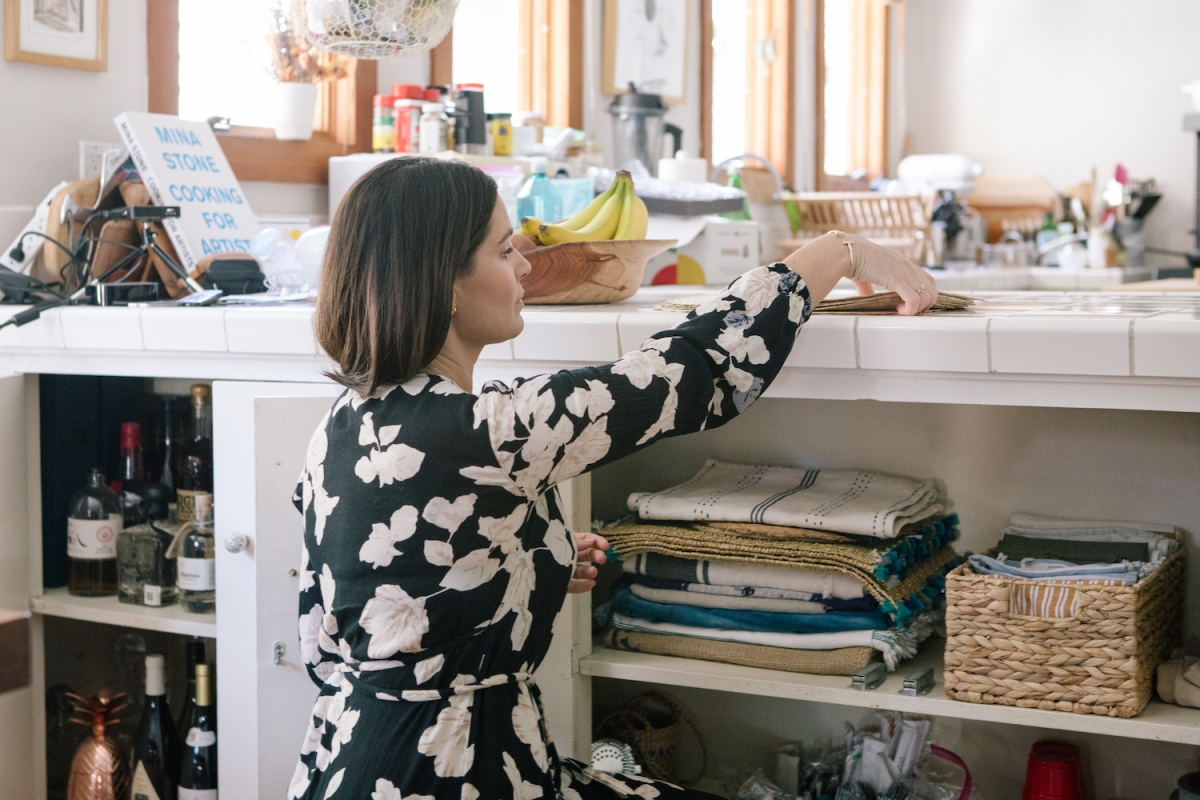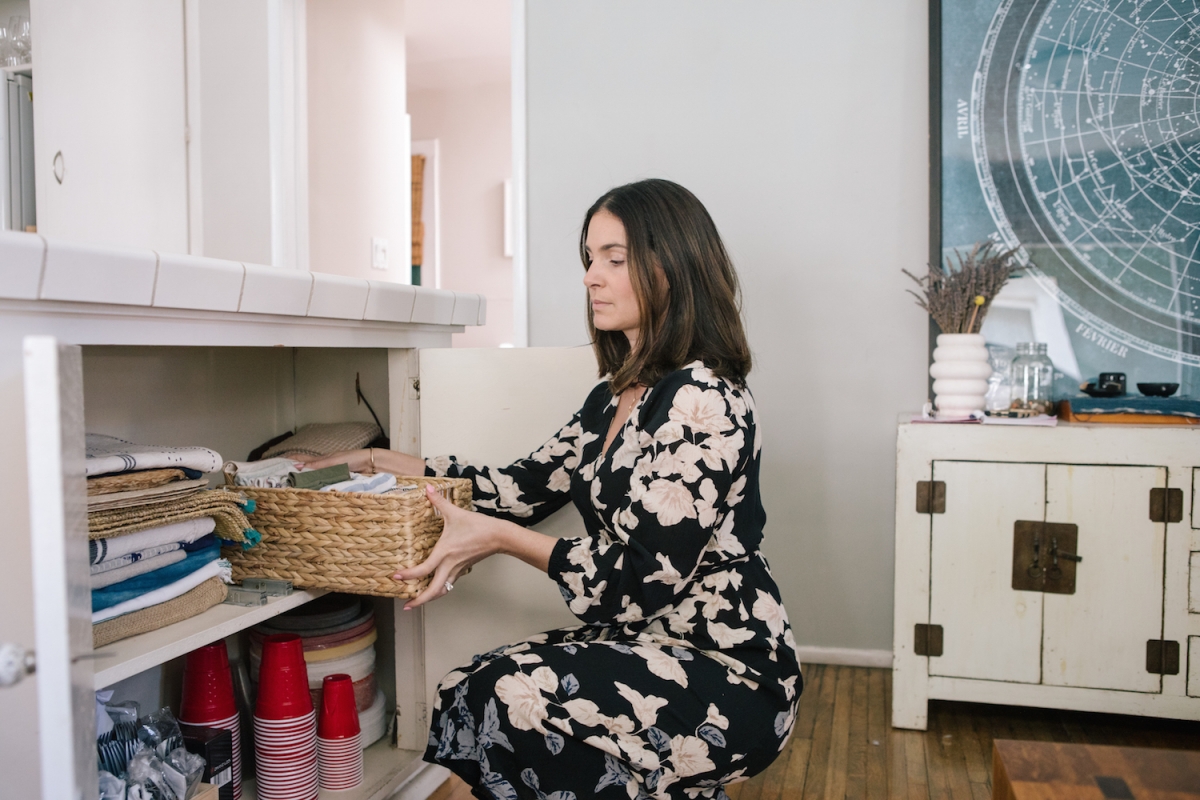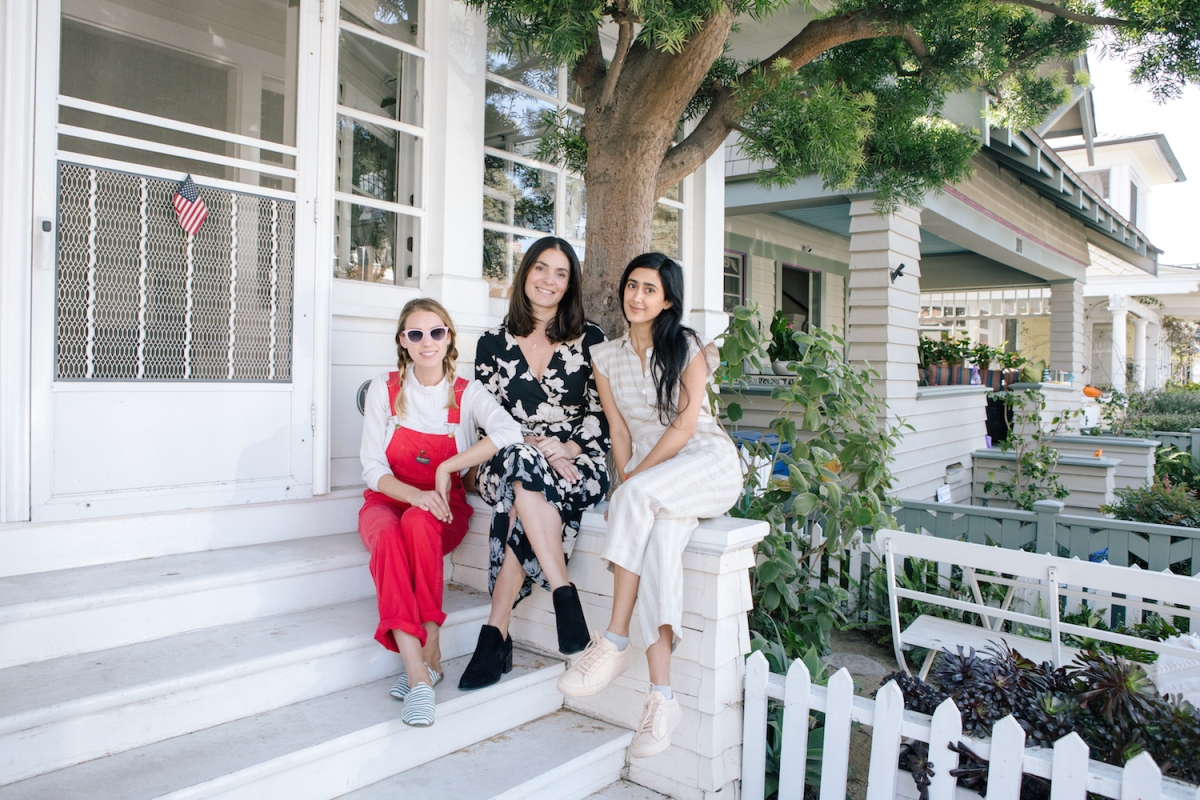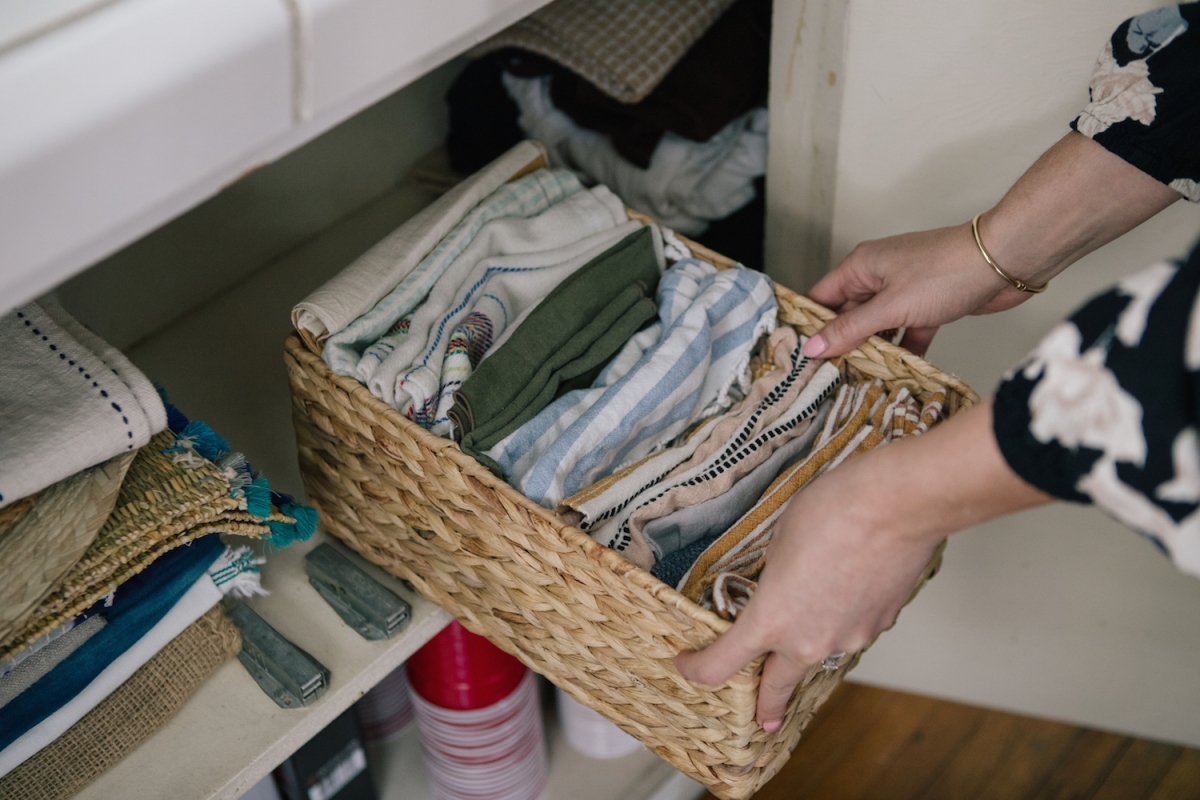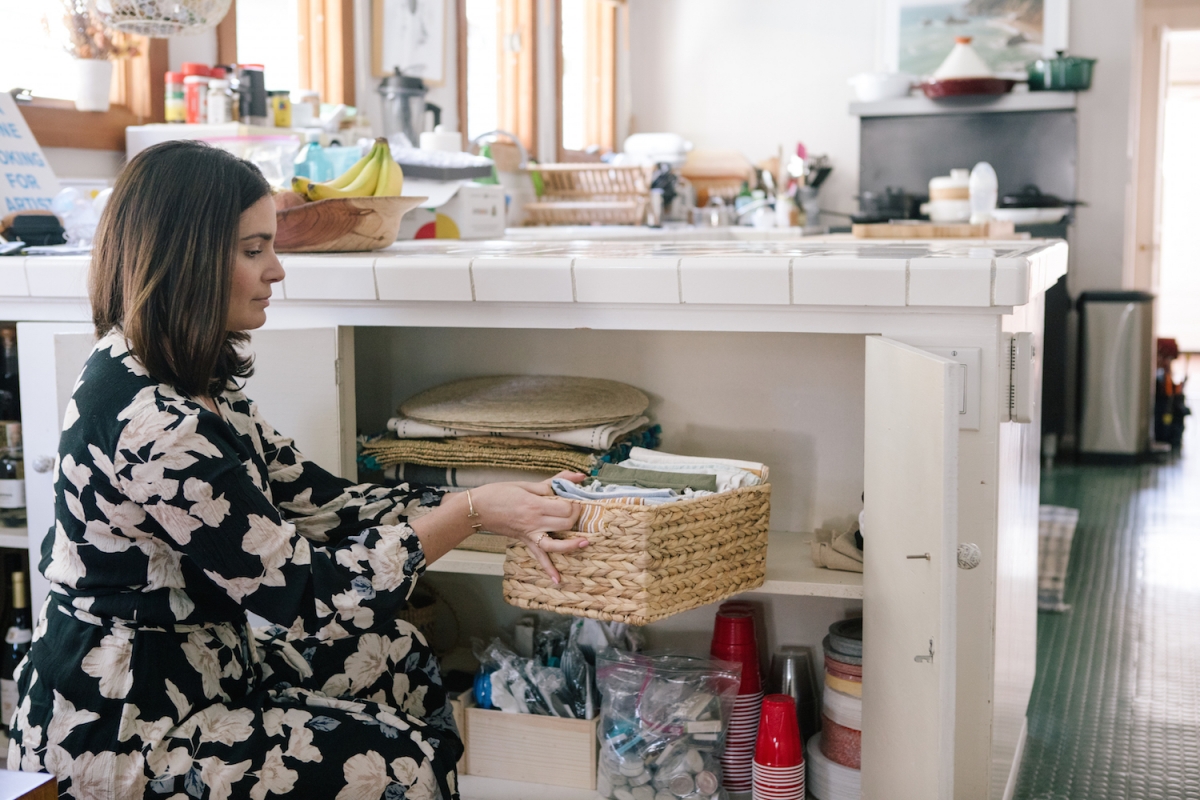 If you're like us, having a clean, organized living space makes you feel a million times better. We are so grateful that Elsa Elbert of Composed Living was brought into our lives. Elsa created some MAJOR space for us, in our homes but also in our heads! When your home is clean and tidy, so is your mind. Read on to hear what makes Elsa's method especially glowy.
If you haven't used a Professional Organizer before, it truly feels somewhat like a therapy session. This is an opportunity to officially de-clutter and let go of what no longer serves you! That is easier said than done, so it is really helpful to have someone skilled to come in and guide us in the process. That being said, sometimes organizers cost an arm and a leg, and on top of that, they often want us to purchase heaps of containers and specialty bins that add up to a fortune. We aren't so into that method, as we find it more practical and budget / eco-friendly to re-purpose what we already have, and Elsa Elbert of Composed Living is an absolute pro at this. She is able to assess a living space and re-create it in a way that is much more efficient and user friendly using what you have around. We truly can't recommend this beautiful lady enough. And to top it off, Elsa's energy is so lovely you'll want to have her back just to hang out with her!
In Elsa's words, "I have always believed that having physically organized space fosters a sense of emotional calm. When things are out of place, or overrun with clutter, it causes a physical reaction of stress whether we acknowledge it or not. The visual distractions subconsciously pull our attention away from the things we want to be focusing on – like quality time with your significant other, or being a really present mom for your kids. I know from experience that if my kids are trying to tell me a story, but their backpacks are strewn all around the room, my attention is split between the visual distraction and wanting to really connect with them. By creating systems in our house that are easy for my kids (and husband!) to use, they are able to keep their belongings organized, our house stays relatively clutter free, and as a result, we get to spend so much more of our time just being together as a family. "
See how this organizing angel gets her glow on…
HOW THEY GLOW QUESTIONNAIRE
NAME:
Elsa Elbert
NICKNAME:
E-money, Bambers (so embarrassing!)
PROFESSION:
Professional Organizer
WHERE DID YOU GROW UP?
Redlands, CA
WHERE DO YOU LIVE?
Encino
WHEN YOU'RE EATING HEALTHY, WHAT IS A TYPICAL…
BREAKFAST:
Coffee with unsweetened almond milk, frothed with ginger, turmeric, and cinnamon. Sautéed greens with two poached eggs, avocado, and fresh salsa. Every morning, I fill a large pitcher with filtered water, a sliced lemon, fresh ginger, turmeric, cayenne, and cinnamon. Strawberries and fresh mint make amazing additions to this, too! I'm a huge fan of all fruits, so every breakfast will have some sort of fresh fruits.
LUNCH:
I love salads with as many veggies and herbs as possible, typically dressed simply with lemon, EVOO, and salt flakes. Adding fresh tarragon, mint, or cilantro to a salad is a total game changer. I also love grilled Cajun fish tacos and sushi.
DINNER:
I have a very eclectic palate, which is really just saying that I am all over the place with dinner options. Lebanese food is quite possibly my favorite, so I always love ordering from Sunnin in Westwood. I make a lot of bone broth-based soups filled with veggies – when cooking for a large family, one pot dishes that deliver tons of flavor and nutrition are the best. My little ones are recently obsessed with our spiralizer and love making zucchini noodles!
SNACK:
Raw veg (usually carrots, celery, cucumbers, radishes), a grapefruit, a handful of cashews, kombucha, or bone broth. My favorite snack is a sliced apple topped with cinnamon and the juice of one whole lemon…microwave it for 30 seconds, and it tastes like apple pie!
WHAT ARE YOUR FAVORITE SPOTS/RESTAURANTS TO EAT HEALTHY?
In Los Angeles: Katsu-ya in Encino for sushi, Sweet Greens for salads, Sunnin Lebanese for tabouli, Coral Tree Café for brunch, and Farm Shop in Brentwood for their avocado hummus. When working in NYC, I frequent the Equinox juice bar in Soho for their warm grapefruit-apple cider vinegar concoction, Stanley's Pharmacy for the custom blended wellness tonics, and Dudley's for their avo toast.
WHAT IS YOUR FAVORITE INDULGENCE?
A great pasta or pizza is the ultimate indulgence for me. I don't have much of a sweet tooth, but I love authentic Italian food. Linguini con vongole with a glass of white wine is an incredible lunch. WHAT ARE YOUR FAVORITE SPOTS/RESTAURANTS TO INDULGE? Blue Plate Oysterette in Santa Monica for oysters and rose; Café Petisco in NYC for shakshuka; Pace in Laurel Canyon for everything; Tasting Kitchen in Venice and Hatchet Hall in Culver City. The dirty martinis at The Bazaar by Jose Andres.
WHAT IS THE BEST DISH YOU COOK/ YOUR FAVORITE RECIPE?
I love to host a great brunch, and frittatas are so easy to serve. I usually set up a mimosa station, make a few different frittatas, scalloped potatoes, and a huge salad. Watermelon, arugula, and grilled haloumi cheese is always a crowd pleaser. I make the best tabouli on earth…no exaggeration! I love cooking everything. My mom is an incredible cook, and taught me at a young age her love of food – not just the flavors, but the beauty in the colors and aromas, and the blessing of nutrition that it provides for our bodies.
WHERE DO YOU GROCERY SHOP?
For most items, we use the Amazon Fresh delivery service. Now that they've acquired Whole Foods, we can get loads of organic, delicious food staples delivered to our door before we wake up! They also deliver goodies from Santa Monica Seafood, Marconda Meats, and Out of the Box Collective. As a mom of three boys, this is a huge time saver for me. Our family also loves spending Sundays at the Brentwood Farmer's Market.
TOP 3 ITEMS YOU ALWAYS HAVE IN YOUR KITCHEN?
Maldon salt flakes; organic Persian cucumbers, and red wine. I love cooking, so there are heaps of must haves in my kitchen!
WHAT IS YOUR FITNESS REGIMEN?
I try to run, walk, or hike at least 60 miles a month (2 miles a day). I love being outside and taking advantage of our gorgeous LA weather. I also love yoga, Pure Barre, and playing tennis with my husband.
WHAT IS YOUR SELF-CARE ROUTINE?
I have been going to the DryBar once a week for the past 6 years. I try to go on a Friday evening, have a glass of champagne, watch whatever girly movie is on, and just let the week melt away. I also frequent the Chinese Foot Massage places in my neighborhood – nothing is more relaxing to me than a massage, and these places are so affordable. I also make a point to read and exercise every day – running is an incredible stress reliever and getting lost in a good book is so vital for my mental health.
WHAT ARE YOUR FAVORITE MAKEUP/NATURAL BEAUTY PRODUCTS?
I use organic coconut oil for so many things – deep conditioner for my hair, body lotion, eye makeup remover, oil pulling for your teeth & gums. I keep a small bottle of an apple cider vinegar solution in the shower (about an ounce of ACV mixed with 8 ounces of water) – this is the most amazing spray for your hair. It really removes all the product buildup from your hair and scalp, and will leave your hair so silky. I also spray it on my nails, as it has antibacterial properties, so it's a good preventative measure.
IF YOU WERE STRANDED ON A DESERT ISLAND, WHAT 3 PRODUCTS WOULD YOU TAKE WITH YOU?
Caudalie Beauty Elixir – the yummiest scent, and so refreshing
DryBar Triple Sec – this is an absolute must-have for me! I have tons of hair, and don't always want to wash it and restyle. Triple Sec saves me at least 45 minutes a day! It's the most delicious combination of dry shampoo and volumizer.
Supergoop Everyday Sunscreen – skin protection is so important! And this sunscreen smells like lemons, and even my kids love it. That's how I know it's really amazing.
WHAT PROFESSIONAL BEAUTY/HEALTH/FITNESS/SPIRITUAL GURUS DO YOU SWEAR BY?
The Sacred Fig for body alignment, meditation, and always encouraging me to test the limits of my body through yoga. My dear friend Marisa Hahn for her ayurvedic nutrition counseling. I love using the Headspace meditation app in the mornings – even my kids love the mini-meditations! The Pointe Acupuncture fin Encino or making sure the energy in my body is flowing.
TOP 3 FAVORITE SONGS?
There is no way I can choose only three! I listen to every genre of music…literally. My faves range from NWA to N'Sync to Journey, depending on my mood. I love singing at full volume in my car in traffic – it makes me happy, and hopefully amuses my fellow commuters. As a newlywed, the three most meaningful songs to me right now are:
1) Then, by Brad Paisley (our first dance song)
2) Nothing's Gonna Stop us Now, by Starship (wedding party walking down the aisle song)
3) The Book of Love, by Peter Gabriel (my walking down the aisle song)
MOST-WATCHED MOVIE?
You've Got Mail, or While You Were Sleeping. I can't get enough of rom-coms! Any combination of Meg Ryan and Tom Hanks is a winner in my book.
MOST LIFE-CHANGING BOOK?
A New Earth, by Eckhart Tolle. It's all about changing your perspective, no longer paying so much attention to your own ego, and truly focusing on the present moment. This book has helped me to strengthen some previously difficult relationships.
FAVORITE SHOPS/BOUTIQUES?
I love Cuyana on Abbot Kinney for leather goods, and Muji in Santa Monica for gorgeous organizational items, household goodies, and the best notebooks. The Shoppe by Amber Interiors in Calabasas is gorgeous for home décor. I love going through thrift stores too – you can find some beautiful artwork and home goodies!
COOLEST PLACE YOU'VE EVER VISITED?
What an impossible question! My husband and I travel quite a bit, and he teases me that no matter where in the world we are, I always say "It's so beautiful here! We could live here!" On our honeymoon, we found an old quinta outside of Pinhao, Portugal, and we were the only guests for days. The silence and the scenery were magical. Driving across the island of Crete and stopping at a hillside taverna in the middle of nowhere, ordering the best Greek food imaginable from a couple that must have been 100 years old. Drinking tea on our hotel patio in Istanbul and then hearing the beautiful music coming from the Hagia Sophia. Ordering the largest seafood club sandwich filled with lobster, smoked salmon, crab, and fried green tomatoes at the Palm in Charleston, South Carolina…I could go on forever!
FAVORITE HOTELS?
The W in DC for the rooftop bar overlooking the White House. The Beverly Hills hotel for the LA nostalgia and fun afternoons spent poolside. Pantai Inn in La Jolla – they have these gorgeous Balinese-inspired cottages on the beach and it's walking distance to the village. When traveling abroad, we prefer to find locally owned and operated places – you end up having a great experience and making new friends along the way! On the island of Crete, we found a tavern owner who also rented out rooms. For 40 euros a night, we had the most gorgeous room I've ever seen, a private courtyard, he drank beers with us at night, and made us breakfast in the morning! Heaven.
WHAT IS THE BEST GIFT YOU'VE EVER RECEIVED?
When we first started dating, my husband gave me a Christmas ornament from Greece. I loved it because he knew I adore Christmas and had been wanting to go explore the Greek Islands…and then he handed me plane tickets to Turkey and Greece! Great present, and a great surprise.
MOST PROFOUND HEALING EXPERIENCE YOU'VE EVER HAD?
I was doing some yoga + body alignment work with Anton Brandt, founder of The Sacred Fig, and shared with him that my hips were incredibly tight, to the point of interrupting my sleep. I also had decades of bad posture resulting in chronic back pain. He showed me a few stretches and poses to do on my own, which were tremendously helpful and relieved the pain in a few days. He also did some manipulations that helped me to feel what my body should feel like when my posture is perfect, and everything was aligned correctly – everyone in the room gasped when they saw my alignment and said that this should be my new "power pose." My body experienced perfect alignment and posture for maybe the first time ever, and it literally took my breath away! Now I am so aware of the movements I make throughout the day, everything from crossing my arms to the arch of my spine to my weight distribution on my feet while standing. It has been profoundly helpful, and really helped me to prevent the daily aches and pains I had grown so accustomed to.
WHAT IS YOUR MOST VALUABLE GLOW TIP/SECRET?
Smile! There is scientific evidence behind the phrase "fake it 'til you make it." The act of smiling can actually trigger your brain to release dopamine, which in turn makes you happier! When I find myself feeling stressed or overwhelmed, I will force a big, cheesy grin, and even the silliness of this act makes me instantly happier. Also, paying compliments to strangers is the absolute best feeling – knowing that you made someone else smile is so uplifting!
FAVORITE QUOTE?
"Advance, and never halt, for advancing is perfection. Advance and do not fear the thorns in the path, for they draw only corrupt blood." – Kahlil Gibran It sounds a little morbid, but what this means to me is to always keep looking forward, without fear or hesitation. Even when you encounter the thorns on your path, the obstacles that make you wonder if you're strong enough to keep going, push throw and you'll realize that the only thing those obstacles did was make you stronger and more confident. Life is a beautiful journey, and if we keep pushing ourselves and moving forward, we will be amazed by what we can do.
WHAT ARE YOU GRATEFUL FOR?
My health. My family. Lifelong friendships. The look on a client's face when they see their space transform from chaos into something beautiful.
WHAT MAKES YOU GLOW?
Spending time with my family. Watching the sun set into the ocean.
Work with Elsa: Composed Living
Photography by: Emily Knecht