Plant-Based Mulligatawny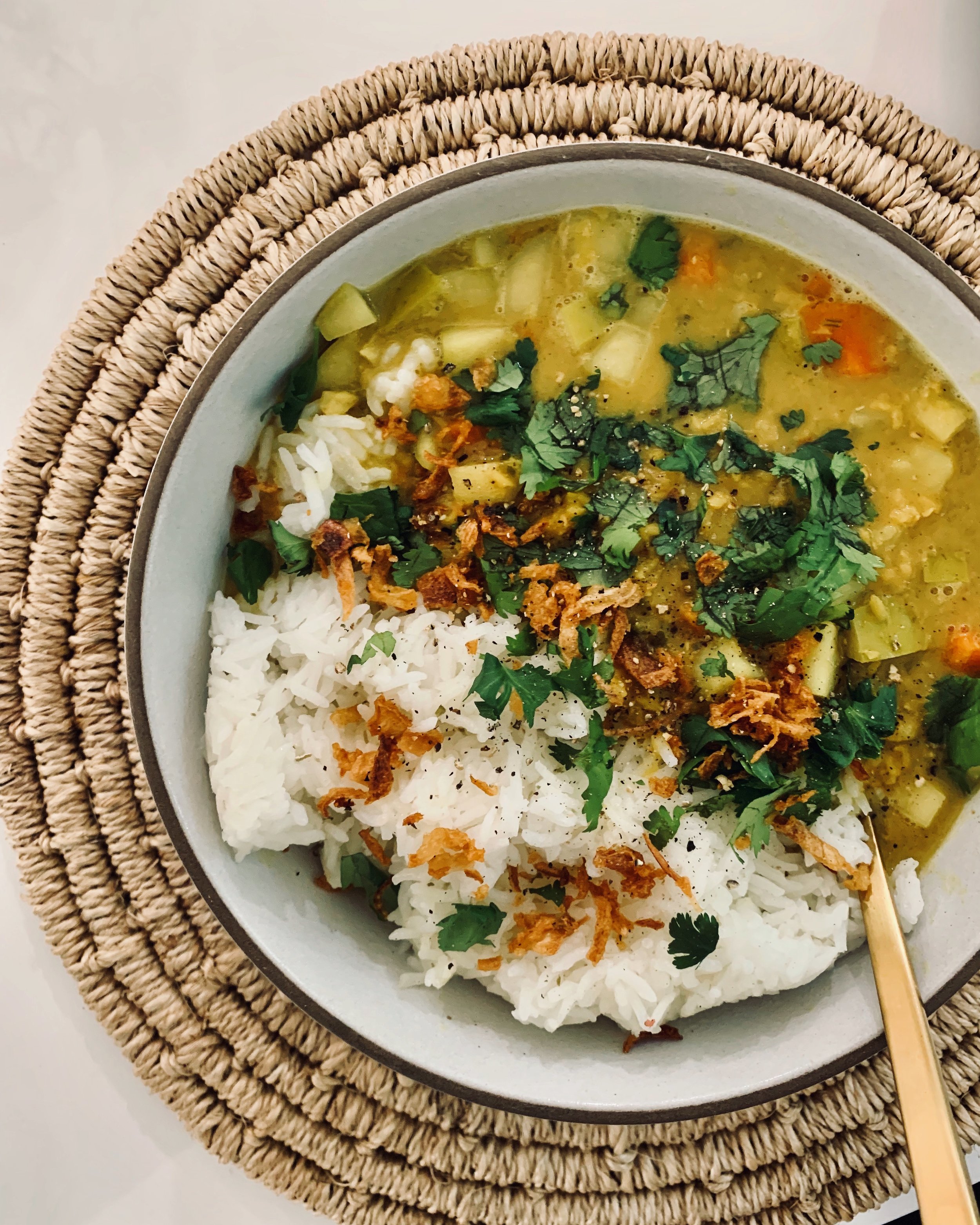 This easy and delicious soup recipe is one of the coziest and glowiest recipes you should have in your recipe arsenal. Filled with of garlic, ginger, turmeric, and tons of veggies, this immunity and anti-inflammatory powerhouse of a soup is just what your body wants. It's coconut and curry based, so if you love those flavors, this recipe will be a favorite of yours. Cook up some rice alongside the soup to make it extra cozy.
INGREDIENTS
1/4 cup low sodium vegetable broth + coconut oil for sautéing

1 cup uncooked red lentils rinsed and cleaned

1 large yellow onion chopped

1 large carrot peeled and diced

2 small or 1 large potato peeled and diced

3 cloves garlic minced

2 tsp fresh ginger, peeled and minced

1 large carrot peeled, and diced

1 14.5 oz can diced tomatoes

1 Tbl curry powder

1/2 tsp ground coriander

1/2 tsp ground cinnamon

1/2 tsp ground turmeric

1/4 tsp ground cardamom

1/4 tsp freshly ground black pepper

4 cups low sodium vegetable broth

2/3 cup light canned coconut milk

sea salt and pepper to taste

1/3 cup chopped cilantro and/or fried onions for garnish
DIRECTIONS:
Add the onion and carrot to a large pot with ¼ cup water or vegetable broth over medium heat, then sauté for 4 to 5 minutes, or until the onions have softened.

Add the potatoes, garlic, ginger, carrot, and diced tomatoes to the pot. Sauté for another 3 minutes, then add all of the spices and toss to coat.

Add the lentils and broth and let the contents come to a boil. Turn the heat down to medium-low and simmer uncovered for 30 minutes. Add more water or broth if it gets too thick.

Transfer about half of the soup, slightly cooled, into a blender and blend until smooth. Then pour back into the pot and stir well - (this is optinal, but gives a nice texture). Or use an immersion blender to cream part of the soup in the pot.

Stir in the coconut milk and cook a few more minutes.

Taste, and adjust salt and black pepper as needed.

Serve topped with cilantro along with crusty bread, rice, and/or naan for dipping.