Jordan Younger // Waking Back Up To Your Own Soul
Jordan Younger, AKA The Balanced Blonde, is a glowing beauty inside and out. As a brave Lyme warrior and advocate, she is helping thousands of people find solutions and cures to chronic illness through her open-book approach to life and self-care. Jordan has recently launched her very first e-course, entitled "Waking Back Up To Your Own Soul." Each module is an hour-long audio recording that you can listen to at your own leisure, like a podcast! Each meditation is around twenty minutes and is also an audio recording that you can do in the comfort of your own home. We couldn't be more excited to offer you, our lovely #glowpeeps, a 10% discount off of the course by entering the code HOWYOUGLOW at checkout. The course will only be available until July 22nd, so if you're interested, don't wait!
If you want to learn more about the multi-dimensional and radiant earth angel that is Jordan Younger, keep reading to see how she GLOWS…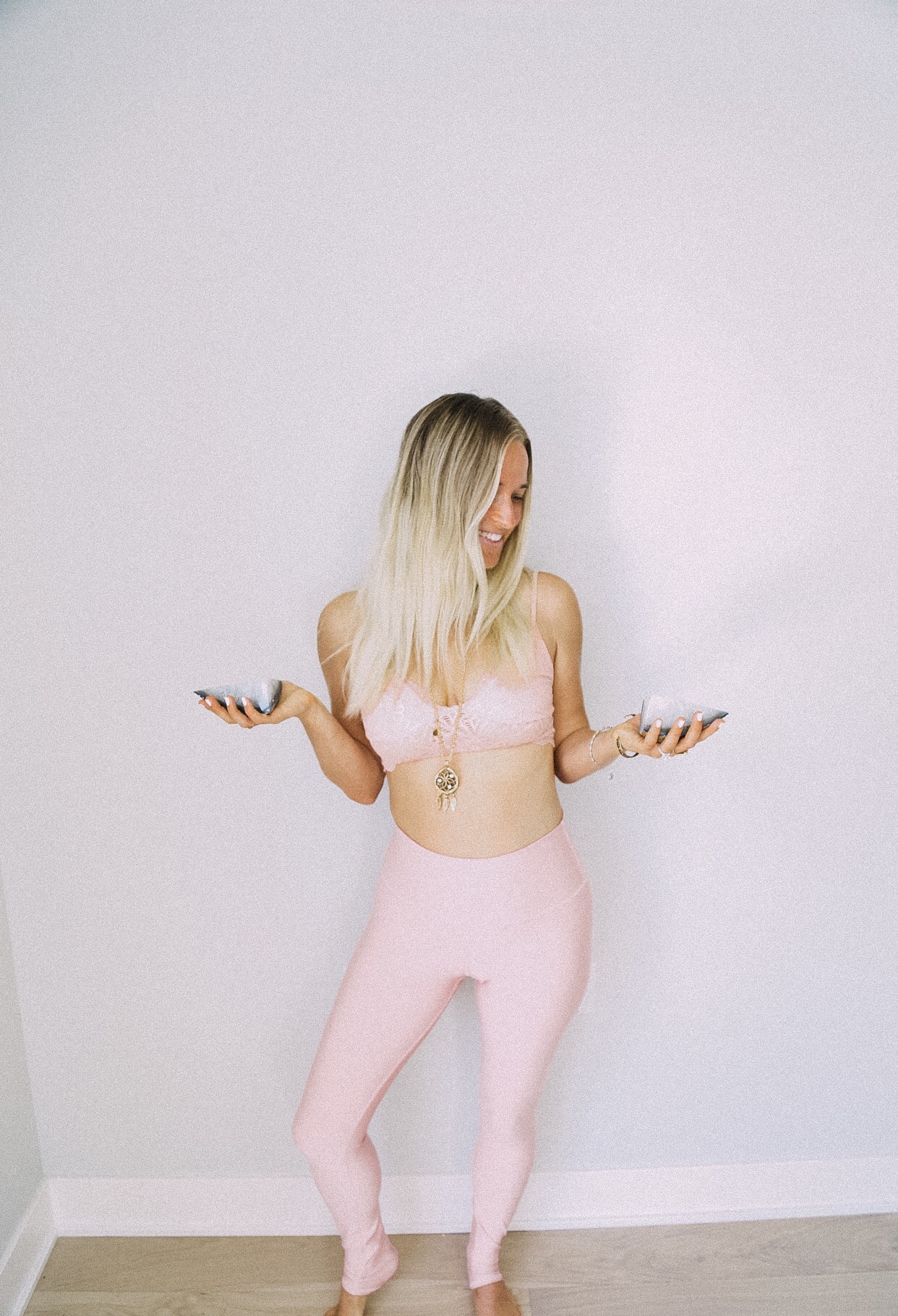 how they glow
questionnaire
Name:
Jordan Younger
Nickname:
Jojo, Jor, Jordie, Jody, Jojo Ann (my nieces, hehe)

Profession:
Wellness Blogger (The Balanced Blonde), Podcaster (Soul On Fire), & Author

Where did you grow up:
Sacramento, CA!
Where do you live:
Los Angeles, CA. Specifically in Brentwood. :)
When you're eating healthy, what is typical...
BREAKFAST: Every morning I have a green smoothie with chocolate plant-based protein powder, spinach, almond milk, blueberries, almond butter, stevia (my obsession), ice, and sometimes banana. Sometimes if I am feeling wild, I will add in some pre-steamed frozen cauliflower or zucchini! I love topping my smoothies with a yummy gluten-free granola for a good crunch.
LUNCH: A big green salad with air-fried tempeh (another current obsession of mine), shredded carrots, more veggies, and my famous (okay just famous within my family hehe) oil-free tahini lemon dressing made with coconut aminos and ACV.
DINNER:Roasted veggies, air fried sweet potato fries, and the occasional cauliflower gnocchi, all drizzled in coconut aminos and lemon
SNACK: I love an apple with almond butter, or a Go Macro bar!
What are your favorite spots/restaurants to eat healthy?
My favorite places to eat healthy in LA are Erewhon (find me there every day… literally), Cafe Gratitude, Gracias Madre, SunLife Organics, Live Beaming, & Sun Cafe. I also love Pace for the atmosphere… and I always order a salad there!
What is your favorite indulgence?
I am a chocolate fiend. Anything dark chocolate is my jam, especially with nut butter! I like making my own dark chocolate peanut butter cups to keep in the freezer. I eat chocolate every day…!
What are your favorite spots/restaurants to indulge?
Oooh great question. Honestly because of my health (Lyme disease and stomach issues due to Lyme) I don't get to indulge much, so I have learned to absolutely love my healthy lifestyle. My favorite indulgence at the moment is the curried couscous from Mendocino Farms… it's been my favorite forever and I have recently gotten back into it!
What would be your last meal on earth?
Wow so hard to chooooose. I think it would be from my favorite vegan cafe in Bali, Clear Cafe. I would order their raw vegan nachos, a side salad, a smoothie, and top it off with their raw vegan chocolate pie. Yes, I would go out with a feast!!
What is the best dish you cook / your favorite recipe?
I am more of a baker than anything else because all of my savory/meal recipes are super simple. I love making raw desserts and chocolate pumpkin muffins. Everything I make is SOS-free (salt oil sugar free) which definitely adds a challenging element in the kitchen… but I love a fun challenge! Oh I also love making my SOS-free french fries and vegan "nacho cheese" dip… so good.
Where do you grocery shop?
Erewhon!! All the way. And when I am being good, Trader Joe's. ;) Also love the Santa Monica Coop & Thrive Market for easy pantry items!
Top 3 items you always have in your kitchen?
Plant-based protein powder, nut butters, & blueberries.


What is your fitness regimen? (how often & what you do)
I am a hot yoga girl all the way. I have been healing from Lyme disease for the last year and a half so fitness has not really been a big part of my life. Yoga is my mind, body & soul exercise though! And I love long walks and hikes with my fiancé and friends!


What is your skincare routine? (Products, facials, etc.)
I keep it super minimal. I have had a lot of skin issues over the years and my skin definitely responds best to NATURAL with very few products. I use a cleanser, moisturizer & pH pads from my facialist in Santa Monica, Jen Kramer at Corrective Skincare LA. She makes her own products and they are amazing and non-toxic and they actually WORK. I use Supergoop sunscreen and love to get facials about once a month. For facials I go to Jen, and I also see Joomee Song and Sadie Adams for micro current facials and lymphatic facial massage. I am big into using gua sha as well, and use a gua sha tool and oils from Wildling Beauty.

What is your self-care routine?
Oh man, that would take up a whole page! I am huge into self-care. I ended up getting an infrared sauna in my home because infrared has been such an amazing and effective piece of my healing routine from Lyme. I sit in my sauna every day for about 30 minutes and while I am in there I meditate and sometimes gua sha my face. I also love to take baths, go on walks, read, and make sure I am incorporating lots of me-time into my day to day. I have learned that I need a lot of alone time to feel zen and centered, and I am good with that. I also love journaling, and make sure not to check my phone first thing in the morning.
What are your favorite makeup/natural beauty products?
I keep it super minimal here too, but I love Bare Minerals, RMS Beauty, & Juice Beauty. If I wear any makeup at all, it's just a light foundation with some mascara with a light lip. Seriously, if my friends see me wearing mascara they jump up and down freaking out because it's so rare (haha). I have never been a makeup girl but for events it is always fun. :)

If you were stranded on a desert island, what 3 products would you take with you?
Oh wow!!! I think mine would be all food & skin products! I would need my chocolate protein powder, Four Sigmatic mushroom coffee, annnndd some sunscreen because I am so fair I wouldn't want to burn!

What professional beauty/health/fitness/spiritual gurus do you swear by?
I love Gwyneth Paltrow & everything she has built with Goop. Truly one of my biggest inspirations. Marianne Williamson is one of my favorites in the spiritual world (can't believe she is running for president!) and I will forever be a fan of Deepak Chopra.

Top 3 favorite songs?
This might surprise you but I am a huge Eminem fan. So ALL of his songs. Also ALL of Trevor Hall's songs. Specifically… Arrows by Trevor Hall, anything by Eminem, & currently loving Surrender by Natalie Taylor (actually obsessed).
Most-watched movie?
I am weird and really don't watch a lot of movies and hardly ever re-watch them. That said… Crash is one of my all-time faves, and somehow I have seen Mean Girls 100+ times lol.

Most life-changing book?
I Know This Much is True by Wally Lamb. I love reading… I read a book a week at least. My happy place.

Favorite shops/boutiques?
Anine Bing, Alo Yoga, Vince, The Wylde, Theory.
Coolest place you've ever visited?
BALI has my heart forever. Bora Bora is also a magical place in all of the ways.

Favorite hotels?
I love a Four Seasons pretty much everywhere I go. I love Nihi on Sumba Island… that is my home away from home and such a a special place where you can ride horses in the ocean and see the most magical sunsets of your life. Overall I like to feel like I am "at home" when I am on vacation, so I like to get to know the people at every hotel. In Maui I love the Kea Lani in Wailea.
What is the best gift you've ever received?
My engagement ring from my fiance, hands down!!! A close second was a t-shirt made in collaboration with Eminem & Rag n' Bone. My mom got one for me and one for my fiancé because we are such fans… so obsessed.
Most profound healing experience you've ever had?
Wow… ayahuasca for sure. I have done it twice, and both times have been the most profound healing experiences of my life.
Who are your most trusted healers?
Absolutely my ayahuasca shaman. He is an angel disguised as a human. Nicola Behrman, the shaman who will be marrying us at our wedding! And MaryAnn DiMarco, my trusted medium.

What is the biggest learning experience you've had to face and what did you take away from it?
Getting sick with chronic Lyme disease and learning to live a completely different lifestyle. Slowing down has been the biggest teacher of my lifetime.
Describe your perfect day.
Sleeping in, cuddling Hudson (my cat) & Jonathan (my fiancé), making mushroom coffee and a big breakfast — probably smoothie bowls with lots of granola. Going on a hike or a long walk with Jonathan, and then meeting friends for lunch somewhere. Coming home to hang out and sit in the sauna for a while. Then have a lazy evening out to dinner with friends and family somewhere on the ocean. Finishing the night in bed reading or watching a movie with my love. Heaven!
What is your most valuable glow tip/secret?
SLEEP. The most underrated glowy tip/must in the world.
Favorite quote?
Our deepest fear is not that we are inadequate. Our deepest fear is that we are powerful beyond measure. It is our Light, not our Darkness, that most frightens us.
- Marianne Williamson

What are you grateful for?
My family, my fiance, my cat, my health, my home. The basics. So grateful it hurts.

What makes you glow?
Being surrounded by the ones I love, and doing what I love. And doing hot yoga when I can make it there. :)