Glow Guide to MARRAKECH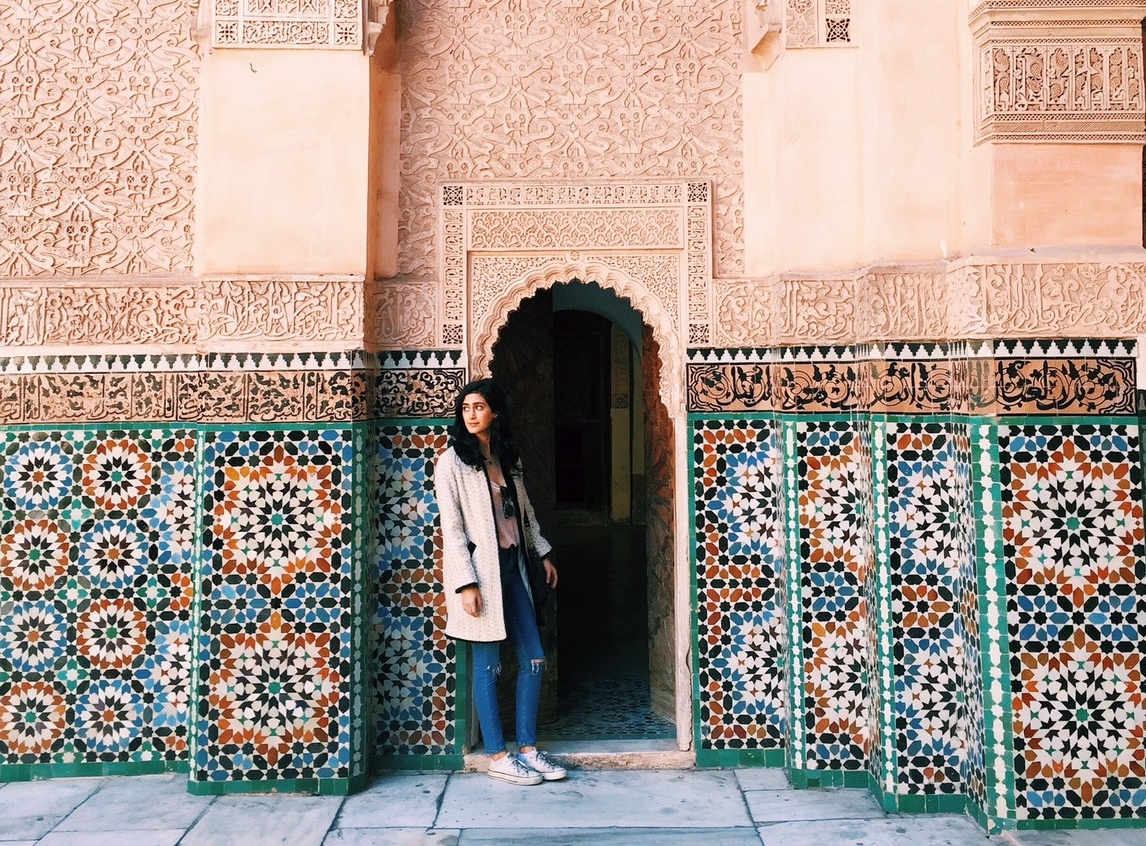 Marrakech, Morocco, is a kaleidoscope of culture and beauty. From tiles to spices, to rugs, food, and spas, this magical old city is a treat for all of the senses. #GLOW overload. Africa's beautiful Marrakech in Morocco is a stunning sight to be seen. From running around and getting lost in the souks, to some incredible Moroccan spiced tagines, to riding camels in the Berber villages of the Atlas Mountains... we felt as if we were in a glowy wonderland. The meld of cultures here is quite unique, as it's a Muslim country with strong French roots as well as ancient Arab, Berber, Saharawis, and Jewish culture mixed in. The colors, smells, and sights were truly magnificent and unlike any other place we've visited before.
Moroccan locals have a deep respect for a good mint tea session, and not only that they appreciate delicious food and culture. The city is rife with oranges, so be sure to get yourself some fresh-squeezed juice from Jemma Al Fna during the day. There is for certain a cultural difference in this country-- charming and warm people who act upon respect, but who have different boundaries than Americans. If you are to bargain (which you should!) once you agree on a price, be sure not to back down from it. Get lost in the winding alleyways of the souk, sweat in a hammam, relish in the deliciousness of stewed tagines, and don't leave without taking some local spices and argan oil home with you.
xx Tara
WHERE TO STAY:
LA MAMOUNIA // This stunning and luxury hotel is over 100 years old, and even with it's recent remodel, still employs incredible Marrakech old-world charm and aesthetic. Loved by some well-known guests such as Winston Churchill and the Princess of Monaco, this stunning hotel is adorned with some of the most incredible hotel rooms we've come across. The food, service, and spa are all absolutely excellent, and a really centrally located hotel.
ROYAL MANSOUR // This hotel might possibly be one of the most stunning properties in the world. The attention to detail in design aesthetics, service, food, and luxury are unparalleled. Only riads are available here-- 3 story homes-- so you'll really never need to leave. Honeymoon status.
VARIOUS RIADS // There are tons of riads all throughout Marrakech, with traditional charm and beauty, and more moderate pricing. Some of the best include Riad El Fenn, Riad Kaiss, Riad Helen
FOOD:
Dar Yacout // This magical restaurant was quite possibly the favorite meal of the trip! The food was out of this world-- from tons of Moroccan salads, warm mesmen bread, lamb tagine, chicken tagine, and so much more. Their dessert BEYOND-- pastilla with almond cream (don't miss this!!!). And the stunning setting with live music was just the icing on the cake.
Maison Arabe // The tagines (especially the lamb and chicken!) at Maison Arabe were phenomenal, with some of the most fantastic flavors ever. This restaurant is beautiful and has some harder to find dishes traditional home-style dishes.
La Grand Cafe de la Poste // This chic lunch spot in the new part of town Gueliz is a must. The food is excellent and the scene is even better-- good for lounging after meal as well.
Jemma Al Fna // At nighttime, the bustling Jemaa Al Fna square turns into foodie heaven, with tons and tons of stalls setup. There will be many men luring you into their stall, but go straight to Stall 14, and order the mesmen bread, tomatoes, aubergine (eggplant), fries, and calamari. Perfection. There's a reason there is always a wait at this stall.
Al Jawda Patisserie // This cute patisserie shop in Gueliz creates sugary confections that are almost too pretty to eat. Middle eastern cookies and baklava galore-- grab and box and go to town, because this is the best of the best.
Michelin Restaurants at Royal Mansour // The dining options at The Royal Mansour hotel are of the utmost highest calliber-- each restaurant as more Michelin stars than the next and for good reason. Splurge here, it's worth it!
Al Fassia // This traditional Moroccan restaurant in the new part of town has some incredible food and some of the best traditional Moroccan dishes in the city. Don't miss the roasted lamb shoulder or the chicken with pumpkin.
ACTIVITIES / STORES:
Explore the Souk // Get lost running around the maze and winding alleys of the souk. Rugs, jewelry, shoes, bowls, tagines, lights, plates, and so so much more. It's scensory overalod, and there will be tons of men trying to sell you their goods, bargain with them and settle on a price. And definitely get yourself some fresh-squeezed orange juice from Jemma Al Fna during the day!
Essaouira Day Trip // This is an awesome day-trip to take from Marrakech. It's a beachside town a few hours out, with a beautiful medina and seafood eats. Game of Thrones fans will be excited as they'll notice some familiar scenery. And be sure not to miss the goats in the trees on the way there.
Kasbah Tabadot Atlast Mountains // Richard Branson's hotel in the scenic Atlas Mountains is definitely a must when visiting Marrakech. About an hour outside of the city, this secluded oasis is truly a gem. And don't forget to visit the Berber villages along the way.
Berber Villages // The indigenous people of this area of Africa still live in their traditional homes, with a simple and beautiful way of life. With their own chickens, cows, and simple mud structures, the Berber have remained close to their roots. We were taken into a family's home, where they treated us to fresh moroccan mint tea, fresh mesmen bread and butter made from their own cows.
Jardin Majorelle // This beautiful garden was owned by the late designer YSL. Follow along the beautiful electric-blue garden path, and visit the great cafe as well as the beautiful gift shop and Berber museum
Beldi Country Club // This is a chic and stunning oasis nestled among rose fields and olive trees-- a charming blend of Moroccan tradition and French chic. Come here for tea and explore the beauty of this hotel.
Camel Riding // Get yourself on a camel when you're in Marrakech, be it in the dessert, in the Atlas Mountains, or within the city, such sweet animals.
Medersa Ben-Youssef // This stunning museum was once a school, and it is honestly one of the must incredible structures we've ever laid eyes on. The entire building is covered by Islamic scriptures and gorgeous tile work like you've never seen
Maison de la Photographie // A truly awesome photograph museum in the heart of the city, and be sure to get some tea on the roof before you leave!
SPA / HAMMAM:
Royal Mansour Spa // This SPA is quite possibly the most beautiful spa in the world! The treatements are heavenly, and there's a reason this is an award-winning spa. Pure calm, pure healing, and a temple of wellbeing.
La Mamounia Spa // Pure wellness and bliss lies in this spa that is known as one of the best in Morocco. The heated indoor pool will make you feel like the king & queen of your own palace.
Various photos courtesy of Brian Charles Lehrer + Tara Sowlaty