Pique Tea Crystals // Simon Cheng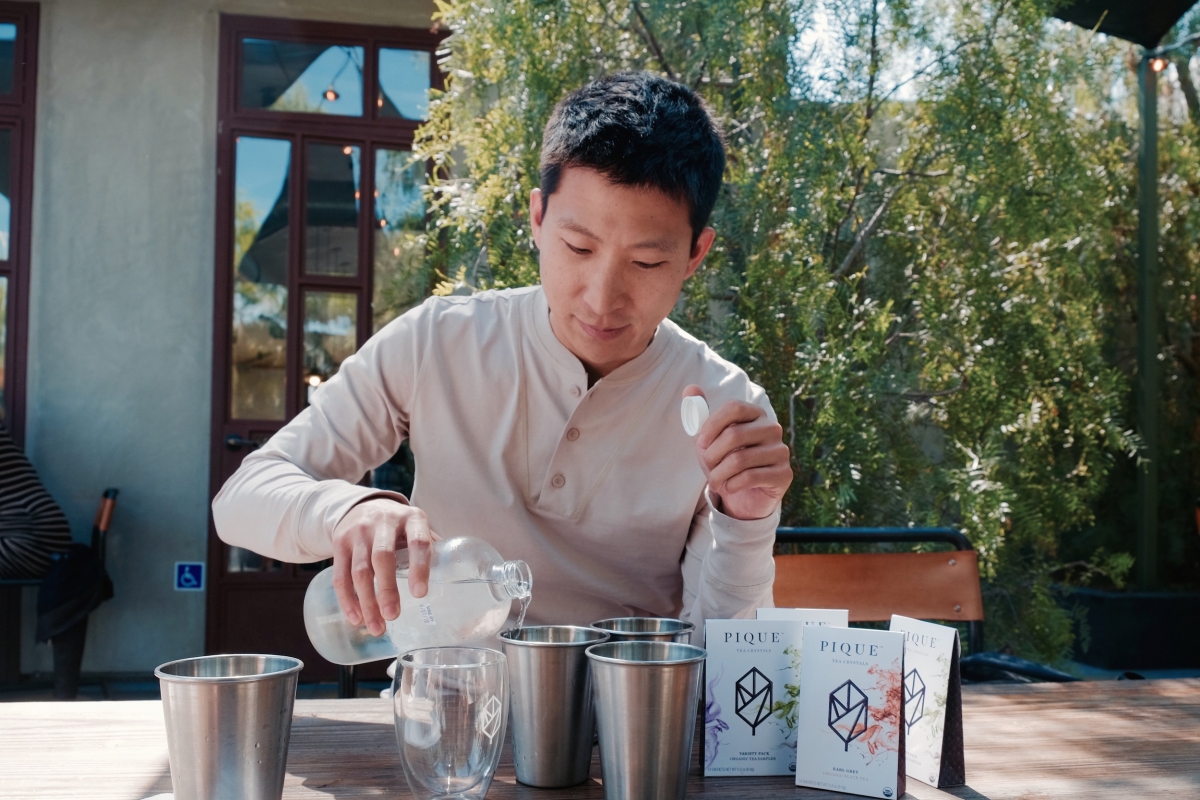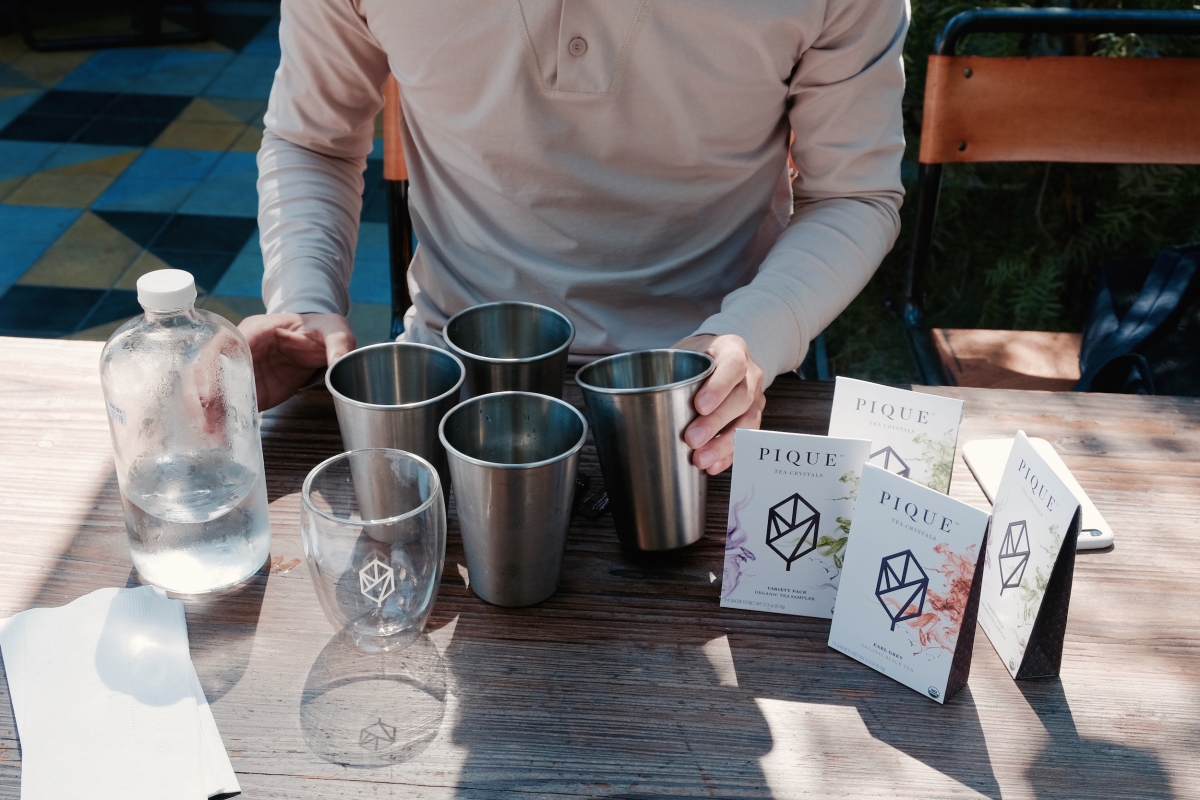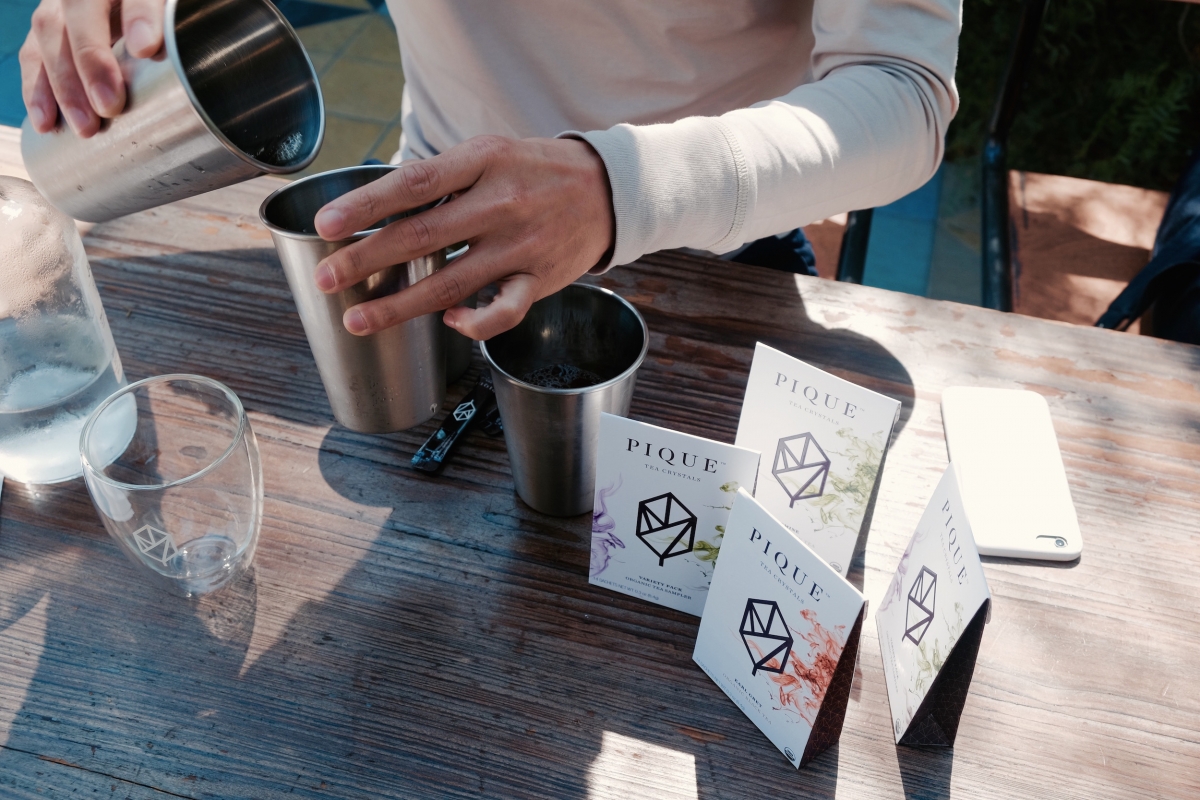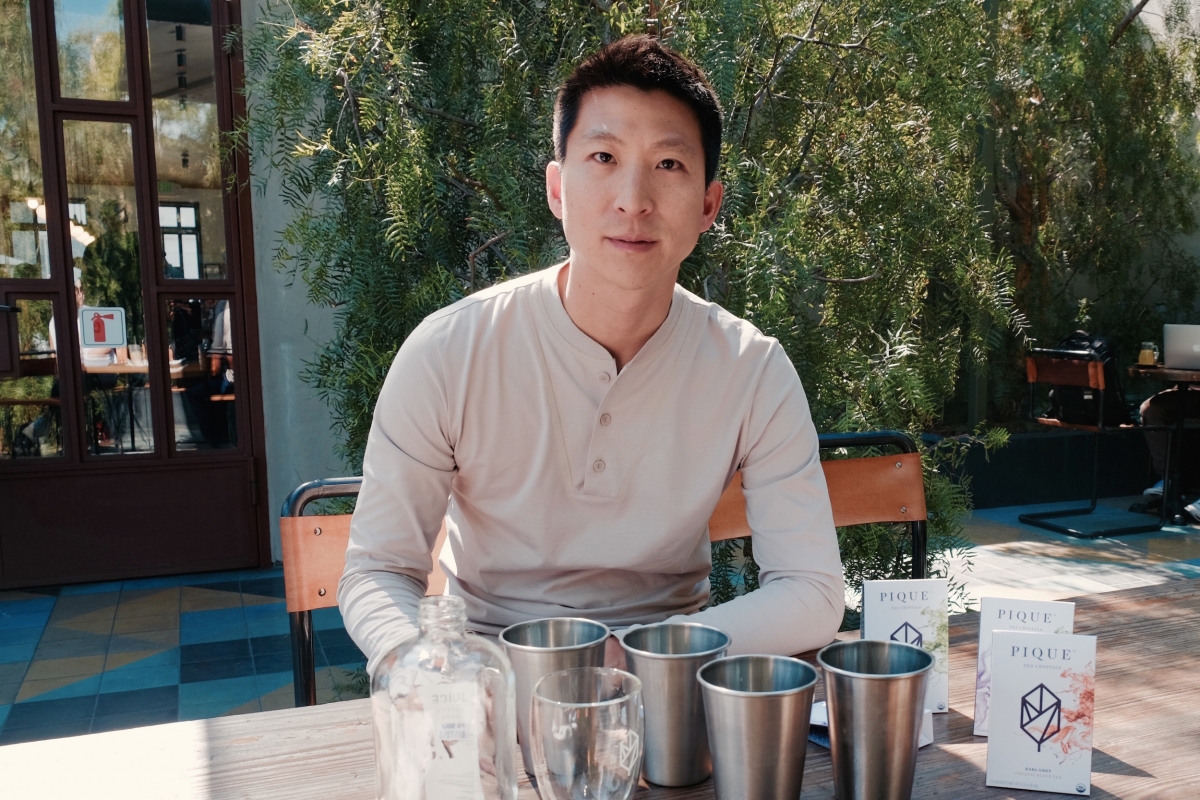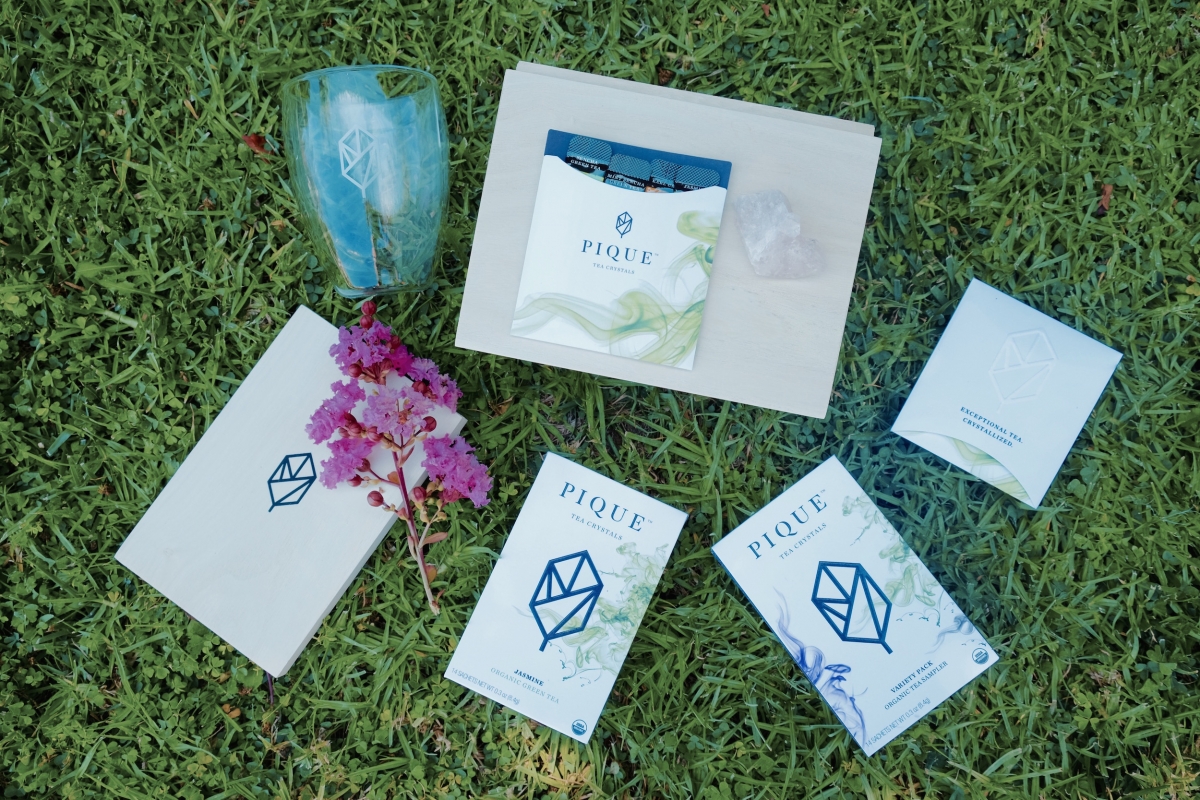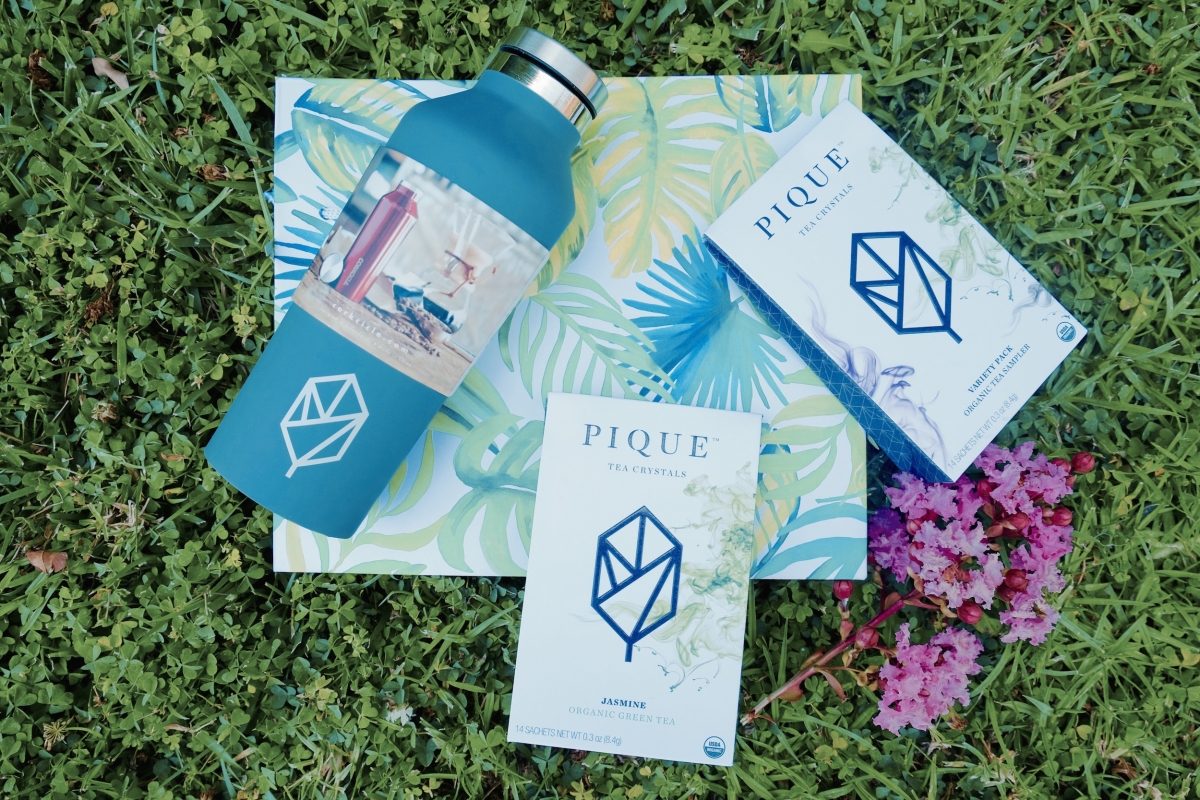 Pique Tea Crystals is creating an innovative shift in the tea world and we couldn't be more obsessed! Through their proprietary process, Pique has figured out how to transform tea leaves into tea crystals, for a quick and potent new way to drink tea.
We were introduced to Pique Tea Crystals and founder Simon Cheng and were blown away by his innovative stance in the tea world. An ancient tradition, tea drinking has pretty much stuck with the process of brewing. But Pique is creating a difference with their tea crystals. Pique Tea Crystals are the intersection of modern science and ancient tradition—a proprietary process that slow brews and extracts the fresh flavor and nutrients of whole leaf tea at optimal levels and locks it in a crystal form. Made in collaboration with most experienced tea masters and tea farmers around the world, Pique's tea collection uses ingredients sourced directly from trusted farms in India, China and Sri Lanka at their peak freshness and antioxidant levels.
Here's how the process works ::
SOURCING We work directly with trusted tea farmers in India, China, and Sri Lanka to grow and handpick tea leaves at their peak of freshness.
BREWING We slow brew whole tea leaves for hours to fully extract their fresh flavor and powerful antioxidants.
CRYSTALIZATION Our unique crystallization method locks in the flavor and antioxidants
PIQUE PERFECT Our crystals are packaged into single-serving sachets for a perfect cup of tea anytime, anywhere. Enjoy it hot or cold.
Their 5 varieties of black and green teas offer a flavor for every type of tea lover. All organic, pure, and delicious, this tea collection is prepped for optimal flavor and nutrients. Similar to our approach to health, Pique tea crystals are founded upon the belief that what we put into our bodies should be healthy and good. Tea inherits transformative powers and it is one of the world's healthiest beverages because of its powerful health benefits.
We met with founded by Simon Cheng, a tea loving entrepreneur, who explained his deep appreciation for ancient health traditions and the passion to innovate. Drinking tea was a fundamental part of Simon's daily life and health regimen when he was growing up in Hong Kong. During Simon's travels to tea producing regions, he discovered a 1,300 year old tradition called Cha Gao, lost to all but Himalayan villages and ancient records. Cha Gao was used to extract the powerful medical properties of tea into a dissolvable tea paste. So inspired by the incredible health benefits of Cha Gao, Simon spent years in collaboration with leading tea farmers and tea masters to integrate ancient tradition with modern science and create Pique Tea Crystals.
We're offering a special discount for our readers. Enter PIQUEGLOW for $10 off each purchase, on Pique's shop. (Expires July 17th)
GLOW GIVEAWAY // We're giving one lucky winner the ultimate hydration kit :: 2 cartons of Pique Tea Crystals a custom Pique Premium 9oz Corkcicle canteen in matte grey (worth $40). The contest will run from July 11-31. Please enter your email to enter :: GIVEAWAY!!
HOW THEY GLOW QUESTIONNAIRE
NAME: Simon Cheng
WHERE DID YOU GROW UP? Hong Kong, not many people realize this but Hong Kong (women in particular) consistently rank in the top 1 or 2 position in the world for longevity.
WHERE DO YOU LIVE? San Francisco
WHEN YOU'RE EATING HEALTHY, WHAT IS A TYPICAL…
BREAKFAST: Porridge. It's rice boiled in a lot of water till broken down like a thick soup. It's warm and it cleanses the stomach and the gut. Eaten with some picked vegetables for natural probiotics and flavor.
LUNCH: A large plate of stir fried leafy greens, a small portion of white meat, brown rice or buckwheat noodles. When you cook a salad, the amount of vegetables you end up with shrink to about a teacup's worth. On the other hand, when you cook a huge plate of vegetables, you need about half a sink-full of raw vegetables to start. The best way to cook vegetables is: 1) heat some oil, 2) add a piece of ginger and brown to infuse, 3) add vegetables and stir, 4) when the veg is kissed by the heat, add half a cup of water to steam and finish. Never cover. The oil coats the vegetables locking in the vitamins and nutrients, the heat breaks down the fibers to make the vegetables more digestible and the nutrients inside more bioavailable. Adding water at the end allow the vegetables to cook without drying and also rinses excess oil off the vegetables so it's left behind when you eat them.
DINNER: A large plate of stir fried leafy greens, a whole steamed fish (bought live that day) and clear boiled soup. The soup is made with 80% vegetables and a small portion of lean meat. These vegetables vary based on the season. Melons in the summer to cool, roots in the winter to warm. There are myriad combinations. Every soup includes a small amount of dried fruits, plants, seeds or nuts unique to each recipe. Each recipe is suited for specific climates or seasons to even out imbalances in the body and nourish/hydrate it from the inside out.
SNACK: Nuts, chocolate, cheese.
WHAT ARE YOUR FAVORITE SPOTS/RESTAURANTS TO EAT HEALTHY? True health is healthiness of the mind and body. When I want to eat healthy, I eat at home. When I eat out, my only concern is finding food that will make me emotionally happy. That involves delicious food and wine. Healthy food that tastes like crap is depressing and therefore unhealthy for me to eat.
Recently, I've enjoyed Mosu (started by former French Laundry, Benu chef), Cala (refined Mexican food without a single meat dish on the menu, except in the bone marrow sauce for the sweet potato). Regular favorites are Zuni Café, Boulettes Larder (Sunday Brunch only). None of these places are unhealthy. They just produce great food and are happy and health promoting to me.
WHAT IS YOUR FAVORITE INDULGENCE? Great steak cooked at home. I'm obsessed with cooking steak. I've tried all types of beef and butchers from all around. I get steak Fedexed from Peter Luger in Brooklyn, Lobel's in the Upper East Side, Schaub's in Palo Alto. Japanese beef is too greasy unless it's a filet mignon. I've cooked with coal, wood, gas, iron, reverse sear. Not sousvide though. That's a bit too tame. I like my steak animal style.
WHAT WOULD BE YOUR LAST MEAL ON EARTH? A home cooked Chinese (Cantonese) meal. The health and satisfaction may allow me to live another day.
WHAT IS THE BEST DISH YOU COOK/ YOUR FAVORITE RECIPE? Soups or steamed fish for health. Lasagna where everything is made from scratch for therapy (takes me 2 days). Steak for indulgence.
WHERE DO YOU GROCERY SHOP? Bi-Rite, Whole Foods, Berkeley Bowl
TOP 3 ITEMS YOU ALWAYS HAVE IN YOUR KITCHEN? Very high grade sea salt. A range of high grade oils for different applications. A wok.
WHAT IS YOUR FITNESS REGIMEN? (how often & what you do) Taichi and qigong meditation daily. Outdoor trail runs every weekend. Walking to and from work daily.
WHAT IS YOUR SKINCARE ROUTINE? (products, facials, etc) Regular moisture replenishment via oils. Limiting direct sun exposure.
WHAT ARE YOUR FAVORITE MAKEUP/NATURAL BEAUTY PRODUCTS? Evan Healy lip balm. Aesop Resurrection Aromatique Hand Balm.
IF YOU WERE STRANDED ON A DESERT ISLAND, WHAT 3 PRODUCTS WOULD YOU TAKE WITH YOU?
1. I Ching 2. Tao Te Ching 3. The Bible
MOST-WATCHED MOVIE? Blade Runner, The Big Blue
COOLEST PLACE YOU'VE EVER VISITED? Tibet, Silk Road
FAVORITE HOTELS? Peninsula, Ginza Tokyo. Amangiri, Utah. Mandarin Oriental, Hong Kong
MOST PROFOUND HEALING EXPERIENCE YOU'VE EVER HAD? Learning Qigong meditation. Visits to Master Zhao.
WHO ARE YOUR MOST TRUSTED HEALERS? Myself and my qigong meditation. Master Zhao Fong Ha
DESCRIBE YOUR PERFECT DAY. Waking up and meditating for an hour, eating all the healthy meals I listed, being extremely focused and productive at work and completing all the items on my daily list list, going home and having a loving evening with my fiancée.
WHAT IS YOUR MOST VALUABLE GLOW TIP/SECRET? Try to achieve deep calm during meditation. Calmness and relaxation of every muscle, tendon, organ. The mind, the lungs, the gut, the heart. Calm your breathing. Calm your thoughts. Calm your heart rate. Don't forget the mind is a muscle and you can train it to be calm and relaxed. When you succeed in doing this, you will reach a heightened state or awareness. Then you enjoy the experience tremendously. This practice is insanely beneficial to good health.