Clark's Botanicals // Francesco Clark
It's not every day that you find a skincare line that is luxuriously chic, radically effective AND as sensitive as can possibly be, and truth be told, Clark's Botanicals is just that. Francesco Clark developed Clark's Botanicals from a desperate need to nourish and treat his skin after a crippling spinal cord injury, and we are truly blown away by the magic he created.
When Francesco Clark, who then worked at Harper's Bazaar, suffered a life-threatening spinal cord injury in a swimming pool diving accident in 2002, many things would never be the same for him. He lost not only his ability to to walk but also the ability to sweat. This led to clogged pores and chronic breakouts. When neither over-the-counter nor prescriptive remedies worked, he turned to his father, Dr. Harold Clark, a physician trained in both traditional Western medicine and homeopathy.
Together, Francesco and his father came up with the most wonderful botanically-based formulas that effectively rebalanced Francesco's skin, clearing it up entirely. Through word-of-mouth, other people discovered and fell in love with these products, and for good reason!! In 2005, Francesco began selling Clark's Botanicals on his website: www.clarksbotanicals.com
 The main focus of Clark's Botanicals products is to rebalance and perfect even the most sensitive, blemish-prone skin.  Jasmine Absolute, a gorgeous essential oil that naturally rebalances skin, is a star ingredient in many products. Derived from nocturnally-blooming flowers, this extract is also antibacterial, anti-inflammatory and immuno-stimulating, working to calm and heal a broad spectrum of skin types, from young to mature, oily to dry, and normal to sensitive. Sign us up!! 
There is no denying how effective, gentle and upscale these products feel, and with thirteen paraben-free treatment products, Clark's Botanical skincare is truly as glowy as it gets. We personally bring the Anti-Puff Eye Cream with us in our purses, and can't live without the Deep Moisture Mask (especially with all the traveling we do and living under the hot LA sun)! 
"Clark's Botanicals is an organic part of me and my recovery," says Francesco. "Everything about this line has a purpose and reason for being, from the ingredients to the packaging. It's an expression of who I am in its purest form."
Not only do we absolutely adore the products, but we love supporting this skincare company knowing that percentage of profits from the sale of Clark's Botanicals go to The Christopher Reeve Foundation, which Francesco is national ambassador for. The foundation is dedicated to curing spinal cord injury by funding innovative research and improving the quality of life for people living with paralysis through grants, information and advocacy. We are so inspired by Francesco's ability to turn tragedy into triumph, finding his purpose in the skincare world, starting a business from his hospital bed and helping countless others feel their best / clear their problem skin as a result.  Read Francesco Clark's Glow Profile below to see how this incredible man gets his glow on.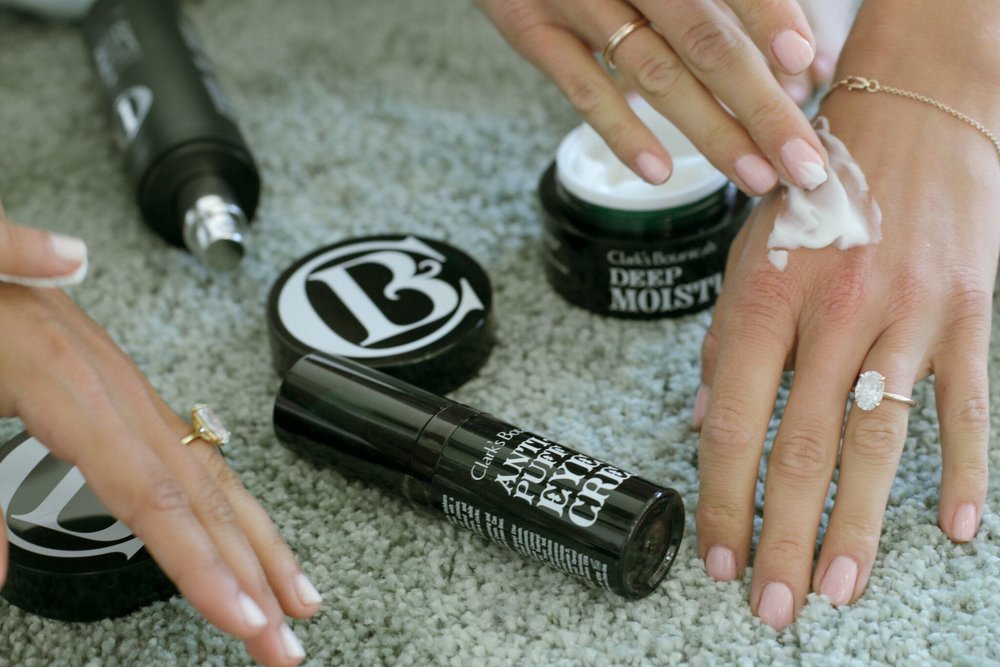 how they glow questionnaire
Name:
Francesco Clark
Nickname:
Checco, pronounced, Khekko.
Profession:
CEO Clark's Botanicals 
Where did you grow up:
Bologna, Italy and then Bronxville, NY
Where do you live:
Bronxville, New York
What is your skincare routine? (Products, facials, etc.)
My skin stopped sweating after I sustained my spinal cord injury, so anything and everything that could go wrong with my skin went wrong. It looks like it was hyper aging, and it was non-reactive to any product that I tried, prescription or over-the-counter, $500 or five dollar creams. I looked red and oily and very tight in certain areas and I did not look the way that I felt. After my father and I created Clark's Botanicals, I felt like myself again, because I could finally feel that I looked energetic and happy. It was that moment where I changed my skin but I regain the confidence to transform my life. 
My skin care routine will vary depending on the season and how my skin is acting. Right now, my skin is oily. As a first step, I will use our skin clearing face and body wash in the shower. I like to leave it on my face for about 45 seconds because I'm prone to breakouts and the salicylic acid tingles when you leave it on. After my shower, I will apply the nourishing youth serum. Just one pump is all you need on your face and neck and it will soak right in, giving your skin that rosey glow and smoothing out any look of dry fine lines and wrinkles with two different types of neuropeptides. I then use our antipuff eye cream, which is soothing and moisturising as it treats the delicate skin around the eyes. My final step is using a very small amount of the smoothing marine cream. The sugar to ride to glycolic acid will tingle when you put it on and I like how it pops up my skin gives it that Rosy glow and bounce.
Why did you start your line?
I was forced to develop Clark's Botanicals with my father, who is a medical Doctor who also Practices homeopathy, because nothing else worked for my skin.
If you were stranded on a desert island, what 3 products would you take with you?
1. Smoothing Marine Cream
2. Retinol Rescue Eye Serum
3. Acqua Di Parma dry fig cologna
What professional beauty/health/fitness/spiritual gurus do you swear by?
My former boss, Suzan Colon, just wrote the most amazing book called, The Yoga Mind. This is not a book about yoga poses and exercise, but rather how we can think about being in the present and enjoying our lives with what we have. She started this journey sometime ago, and I have a credit her for teaching me the three part breath when I was in the ICU after I was told I would not be able to breathe or speak for the rest my life. So now that I can't shut up, you can credit her!
When you're eating healthy, what is typical...
BREAKFAST: Vegan protein shake, hot turmeric shake, quadruple cappuccino 
LUNCH: Vegan protein shake, kale salad w beets, caffeinated tea
DINNER: Dinner is my freebie with whatever I want to eat and indulge in. My mother makes her own pasta, so I started limiting pasta days to family dinner nights on Thursdays and Sundays, because I felt like I was going to roll out of the wheelchair! I tend to gravitate towards European foods with vegetables, but I can never pass up a good dessert.
What are your favorite spots/restaurants to eat healthy?
Saint Ambreous West Village has the most unexpected, delicious lentil salad. I think it's the sign of a talented chef, to be able to make something delicious that is healthy and light. Maybe there's something of a Mediterranean diet that I inherently follow from the way that I was raised?!
What is your favorite indulgence?
My mother makes a Tiramisú that once started a fight between my brother and I. It's the only thing I ask for for Christmas, so she makes an extra bowl and hides in the freezer. It has liquor in it so it's more of an adult dessert.
What are your favorite spots/restaurants to indulge?
Lincoln Restaurant, The Mark Restaurant and Saint Ambreous
What would be your last meal on earth?
Gnocchi di patate with a creamy sauce and Parmigiano Reggiano
What is the best dish you cook / your favorite recipe?
Oof! I like everything! For me, food is so much more than just sustenance. It really becomes part of the day where we can connect with other people and de-stress. It's also particularly interesting for me because my niece and my nephew are learning  older Italian recipes from Bologna, so it becomes somewhat of a cultural and historical journey.
I love cappelletti in brodo but I also love them in a simple butter and cream sauce. My second favorite dish is spaghetti carbonara. My mouth is actually watering as I type this!
Where do you grocery shop?
In town, in Bronxville. Yesterday, I went to Le District in Battery Park, which has the most amazing French food. Unfortunately, I was hungry when I was food shopping so I literally bought six different types of mustards because I couldn't decide.
Top 3 items you always have in your kitchen?
1. Parmigiano Reggiano
2. Pasta
3. Butter
What is your fitness regimen? (how often & what you do)
After I sustained my spinal cord injury from a pool diving accident, I have learned to incorporate fitness into my routine every day. I always used to work out, but now I multitask while I do it. I have a special machine that helps me stand every day for one hour, and while I am standing I'm on conference calls for work. I have another bicycle that I pedal with my arms my legs as I lay down, which I do for about 2 1/2 hours every day, while going over sales and new product development for Clark's Botanicals. Ultimately, I feel better when I work out, so it does not feel like a chore, plus I'm in actually hyper person so it helps for me to release stress and anxiety. My final step in my daily workout is lifting weights for 45 minutes while I watch TV.
Top 3 favorite songs?
1. Too Funky by George Michael.
2. Smooth Criminal by Michael Jackson.
3. Anything Chopin that reminds me of when I played the piano.
Most-watched movie?
To Catch a Thief by Hitchcock 
Most life-changing book?
A brief history of time by Stephen Hawking taught me so many different things about life that I did not expect. His perspective on challenging universal thoughts has had a positive influence on me because it doesn't matter if I'm in a wheelchair. The mind is limitless, just like the universe expands.
Favorite shops/boutiques?
Barney's, MrPorter.com, and any pastry shop in Europe!
Coolest place you've ever visited?
What I love about having grown up in Italy is that you can always find something new in a city you lived in for years. It has such deep rooted history in every angle and corner, that when I would visit Venice, I would be stupefied by how people could build such a beautiful city on top of a lagoon.
Favorite hotels?
Hotel Daniele in Venice, Italy.
What is the best gift you've ever received?
Well, the Tiramisu I mentioned above is life-changing.

To be frank, the unconditional support of my family and friends after experiencing a near-death experience has shown me the meaning of what a true connection to another person really means. The steadfastness and strength of my family has made my life incredibly rich from any perspective.
Most profound healing experience you've ever had?
The most profound healing experience I have ever had was when I was in the ICU and I was on life-support. My entire family was around me and not one of them would let me consider the fact that the doctor told me I probably would not survive. The positivity and strength in the dynamic that they created only made me look at what I would do as I would recover and how I would enjoy the process.
Who are your most trusted healers?
My father, who is a medical doctor, and my mother, who has her PhD.
What is the biggest learning experience you've had to face and what did you take away from it?
You must take part in life. There is absolutely nobody else other than your parents will push you to achieve more, but once you become an adult, you have to have your own independent ambition and curiosity to keep going and push for more.
Describe your perfect day.
I have many perfect days already! To think about starting a business from a hospital bed nine years ago, and now to realize that we have employees and are sold in different countries in the world feels like a dream come true. To think about the fact that a portion of proceeds from the sale of what would otherwise be an innocuous moisturizer actually gives back to finding a cure for spinal cord injuries and helping people that they have a voice and have a right to their voice, makes me proud of the entire team and I'm lucky to work with every day.
What is your most valuable glow tip/secret?
Give what you get. When you give somebody a complement, mean it. We live in a world that so frenetic and rushed and sometimes it's nice to be acknowledged and laugh a little.
Favorite quote?
Einstein said, "Once we accept our limits, we go beyond them."
What are you grateful for?
My family and friends, my sense of humor, and my credit card.
What makes you glow?
The unexpected and fantastic. I've always been a dreamer and I've always been an optimist, so when I think of the unexpected, I think of working towards making smallest dreams come true, and that makes me smile, and that makes me glow.