Elissa Goodman // S.O.U.P. Cleanse
Elissa Goodman, who radiates an infectious glow that can be felt the second she walks into any room, is an incredible resource for all things nutrition. Through her triumphant battle with cancer, Elissa was able to change her lifestyle, her diet and her life in a profoundly positive and meaningful way, providing inspiration to all those around her. We are so grateful for her pearls of wisdom, which she so generously shares through her website as well as her books. We are HUGE fans of Elissa's S.O.U.P cleanse that is truly one of the most delicious, fresh and absolutely crave-worthy cleanses we've every tried… if you are lucky enough to sign up for this cleanse in time (it sells out!), we promise you will feel your best. We asked Elissa to provide the recipes for two of our favorite items in the cleanse; the scrumptious, ooey-gooey superseed bars and the refreshing alkalizing detox tonic.
In Elissa's book, Cancer Hacks, she provides a comprehensive plan designed to offer some common-sense, natural and holistic advice to deal with the fear and uncertainty so many people face when confronted by this terrible disease. The various "hacks" described in the book are intended to help those dealing with cancer, or those whose loved ones may be facing the battle. Her suggestions are practical and easily incorporated into day-to-day living. Also included is a 7-day cleanse regimen for those looking to reset their bodies and refocus their energies on a fuller and healthier lifestyle.
Elissa's mission is to educate and encourage healthy, mindful living helping others embrace the concept that we are a product of what we eat and how we treat ourselves. This health warrior has helped countless people navigate their way through the daunting world of Cancer treatments and the healing process.
Elissa Goodman's S.O.U.P. Cleanse program redefines what it means to cleanse. As with her online program "Cleanse Your Body, Cleanse Your Life" and my RESET Cleanse through M Café de Chaya, S.O.U.P. Cleanse serves up whole, nutrient dense foods with a healthy balance of fats, proteins, fiber, and complex carbohydrates. Included is food you will actually chew and drinks that are enjoyable to consume. Cleansing doesn't mean deprivation, starvation, liquid diets, complicated eating schedules, and extreme measures. Cleansing is renewing, recharging, rejuvenating, and jump-starting to a healthier lifestyle in a manner fits your busy schedule. This is a gentle cleanse, designed to remove processed foods, added sugars, simple carbohydrates "white foods", and unhealthy fats from your diet. This program introduces super foods, anti-inflammatory foods, and alkaline foods that can benefit you in the following ways:
Rebuilding the immune system

Boost energy and focus

Weight loss and metabolic reset

Kick-start and maintain a healthy lifestyle

Curb cravings for sugars and carbs

Improve your digestion and gut health

Get your glow back
What to expect
Organic

Anti-inflammatory foods

Dairy and gluten free with no added/processed sugars

Nutrient dense, including a range of over 45 vegetables, herbs, and super foods including goji berry, astragulus root, reishi mushroom, and turmeric

Vegetarian with the exception of a once daily Healing Bone Broth (vegan option available upon request). We use honey in our pickled vegetables, otherwise the food portion is vegan (you can request no pickled veggies for a fully vegan option).



Super Seed Bars
Makes 12 Bars
Ingredients:
1 ½ cups gluten free rolled oats

1 ¼ cups brown rice crisp cereal

¼ cup hemp seeds

¼ cup sunflower seeds

¼ cup unsweetened shredded coconut

2 T sesame seeds

2 T chia seeds

½ tsp. ground cinnamon

¼ tsp. fine grain sea salt

½ cup plus 2 T. Coconut Secret Coconut Nectar (https://www.coconutsecret.com/nectar2.html)

1/3 cup organic roasted peanut butter or almond butter

2 tsp. vanilla extract or vanilla powder

¼ cup goji berries or nondairy chocolate chips or pumpkin seeds (could also use nuts of your choice)
Directions:

- Line a 9-inch square cake pan with two pieces of parchment paper (one going each direction)
- In a large mixing bowl combine the oats, rice cereal, hemp seeds, sunflower seeds, shredded coconut, sesame seeds, chia seeds, cinnamon, 1 teaspoon vanilla and mix well.
- In a small saucepan, stir together the coconut nectar and peanut butter (or almond butter) until well combined. Cook over medium to high heat until the mixture softens and bubbles slightly, then remove the pan from the heat and stir in 1 tsp vanilla.
- Pour the peanut butter mixture over the oat mixture, using a spatula to scrape every last bit out of the pan. - - Stir well large metal spoon, until all of the oats and cereal are coated in the wet mixture (the resulting mixture will be thick and slightly hard to stir). If you use the chocolate chips, allow to cool slightly before folding in the chips, if you use goji berries, you can add now.
- Transfer the mix to the pan prepared with wax paper. Spreading it into an even layer, lightly wet your hands and press down on the mixture to even it out. Use a roller to compact the mixture firmly and evenly. This helps the bars hold together better. Press down the edges with your fingers to even out the mixture.
- Place the pan in the freezer, uncovered, and chill for 10 minutes, or until firm. Lift the oat square out of the pan, using the parchment paper as handles, and place it on a cutting board. Using sharp knife, slice the square into 6 rows, then slice in half to make 12 bars total. Wrap bars individually for best storage.
- Keep in airtight container in fridge for up to 2 weeks or you can store extra in freezer for up to a month.
Detox Tonic for Soup Cleanse
Serves 1
Ingredients:
2-4 ounces Healing Movement Coconut Kefir

2-4 ounces George's Always Active Aloe Vera

1 T Braggs's Apple Cider Vinegar

1 fresh juiced lemon

2 inches fresh juiced ginger root

1 dropper of Mary Ruth's Liquid Probiotic (optional)

pinch cayenne

6 oz. filtered water
Directions:
Add all ingredients into jar, finish with filtered water, shake well. Best serve chilled.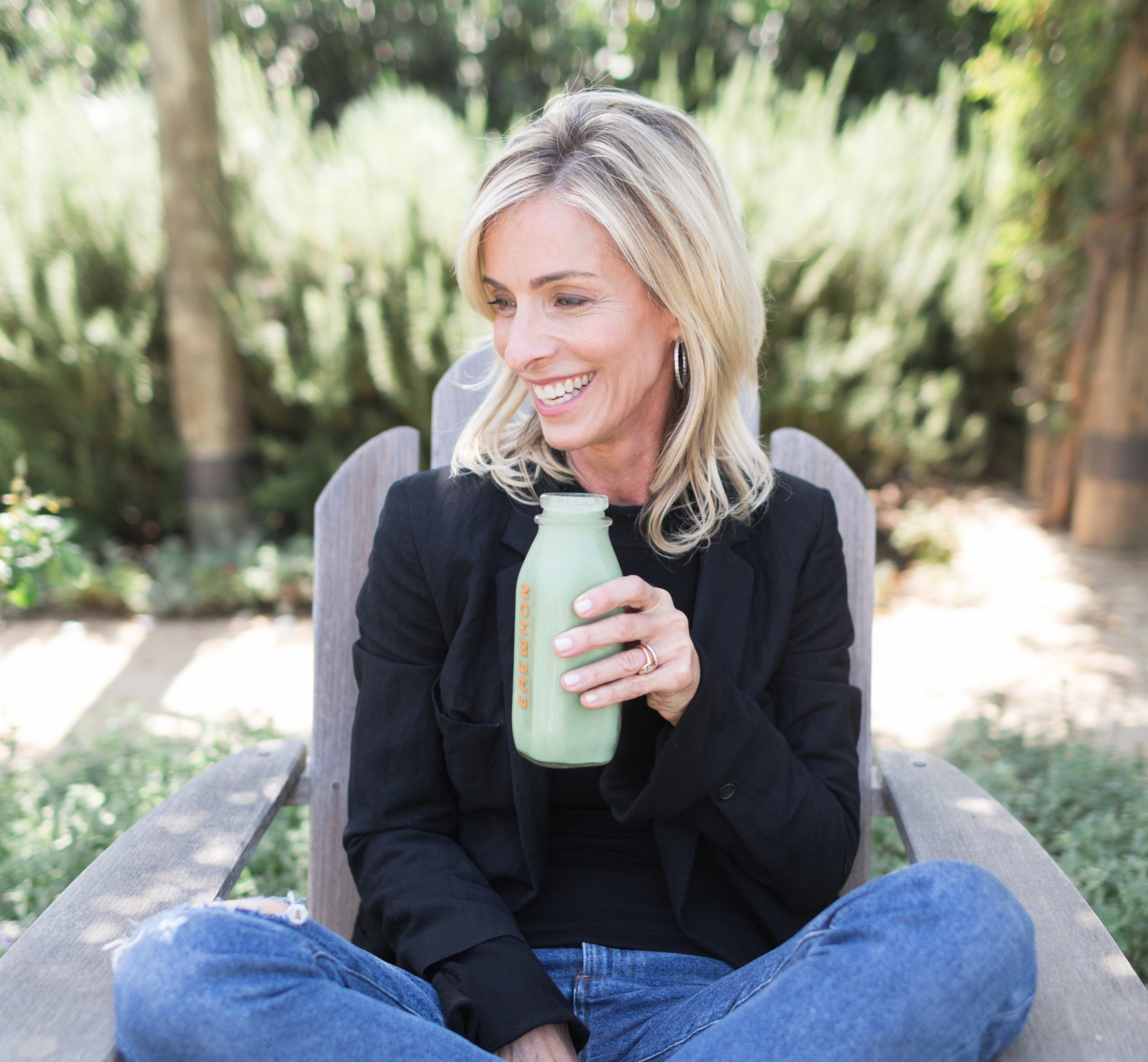 how they glow
questionnaire
NAME:
Elissa Goodman

NICKNAME:
Lis', this is a close family only nickname so I don't hear it much!

PROFESSION:
Holistic Nutritionist & Cleanse Expert


WHERE DID YOU GROW UP?
Phoenix, AZ
WHERE DO YOU LIVE?
Los Angeles, CA

WHEN YOU'RE EATING HEALTHY, WHAT IS A TYPICAL…

BREAKFAST: Not a big breakfast eater, instead I'll have a organic coffee or matcha collagen powder Vital Proteins with cashew milk and Nutiva MCT oil. Then a fresh green juice (celery, cucumber, dandelion greens, lemon, ginger) mid morning.
LUNCH: When I'm at the office, lunch is usually a soup or salad from my delivery program here in Los Angeles, www.elissagoodman.com/soup-cleanse/. I love the broccoli and arugula soup, the curried cauliflower and the Caribbean black bean!
DINNER: Dinner is mostly plant-based with animal protein on occasion (wild salmon or lamb are favorites). One of my favorite dinners is my vegan crab cakes made with hearts of palms paired with an edamame and avocado salad, and heirloom tomatoes with a really good olive oil
SNACK: Homemade super seed bars from my SOUP cleanse, fermented veggies (Sonoma Brinery is a favorite brand), or a calming cup of tulsi tea with a few drops of stevia.
WHAT ARE YOUR FAVORITE SPOTS/RESTAURANTS TO EAT HEALTHY?
M Café, Café Gratitude, Gratitude BH, Crossroads, RFD, Erewhon

WHAT IS YOUR FAVORITE INDULGENCE?
Shot of Casa Dragones Tequila with fresh squeeze lime
It's hard to pass up a good cheese plate (I don't eat dairy much, so I always regret it afterwards!)
I'm a southwestern girl, so I love my tortilla chips and guacamole too.
WHAT ARE YOUR FAVORITE SPOTS/RESTAURANTS TO INDULGE?
Angelini Osteria
Marvin
WHAT WOULD BE YOUR LAST MEAL ON EARTH?
Wood oven pizza, homemade pasta, cheese plate
WHAT IS THE BEST DISH YOU COOK/ YOUR FAVORITE RECIPE?
Savory Roasted Tempeh with Carrot Risotto and you can find the recipe on my website https://elissagoodman.com/dinner/savory-herb-roasted-tempeh-with-carrot-risotto/
WHERE DO YOU GROCERY SHOP?
Erewhon
Thrive Market Online
Melrose Place Farmer's Market (Sundays)
Whole Foods
TOP 3 ITEMS YOU ALWAYS HAVE IN YOUR KITCHEN?
Really great imported olive oils, my fiancé always orders new ones for us to try
Sea salt and Herbamare
Body Ecology or Omica Stevia – I have to have it for my matcha or coffee
Healing Movement Coconut Kefir
WHAT IS YOUR FITNESS REGIMEN? (how often & what you do)
Hot power yoga, weekly 2-3 times
WHAT IS YOUR SKINCARE ROUTINE? (products, facials, etc)
Facials from Skin Worship (by Debbie Bernheim)
Tracie Martyn Products
Shiva Rose Rose Oil
WHAT IS YOUR SELF-CARE ROUTINE?
Reflexology foot massages
Acupuncture
Energy healing sessions
Detox baths
WHAT ARE YOUR FAVORITE MAKEUP/NATURAL BEAUTY PRODUCTS?
Shiva Rose
Bogavia
Goldfadden MD
Zelens London
IF YOU WERE STRANDED ON A DESERT ISLAND, WHAT 3 PRODUCTS WOULD YOU TAKE WITH YOU?
Goldfaden MD Vital Boost
Heritage Rose Water Spray
Zelen Lip Balm
WHAT PROFESSIONAL BEAUTY/HEALTH/FITNESS/SPIRITUAL GURUS DO YOU SWEAR BY?
Lo Roxburgh
Kesley Patel
Allessandro Gianetti
Skin Worship Team
Anthony William
TOP 3 FAVORITE SONGS?
Justin Timberlake "Can't Stop the Feeling"
Bruno Mars "Just the Way You Are"
Anything by the Rolling Stones
MOST-WATCHED MOVIE?
Jerry Maguire & Pitch Perfect 1
MOST LIFE-CHANGING BOOK?
The Four Agreements
COOLEST PLACE YOU'VE EVER VISITED?
Vietnam and Cambodia
FAVORITE HOTELS?
Las Ventanas
Le Sirenuse in Positano
WHAT IS THE BEST GIFT YOU'VE EVER RECEIVED?
Anything homemade from my daughters, they make me beautiful home video memories that I love
MOST PROFOUND HEALING EXPERIENCE YOU'VE EVER HAD?
Seeing my first energy healer, Jessica for the first time. It felt like ten years of therapy in one session. I released so much trauma and pent up emotion I felt like a different person when I left.
WHAT IS THE BIGGEST LEARNING EXPERIENCE YOU'VE HAD TO FACE AND WHAT DID YOU TAKE AWAY FROM IT?
My journey with cancer was the catalyst for much needed change in my life and it led me to pursuing my passion and starting a new career path. I learned that the body wants to heal itself, we just need to support it in doing so.
DESCRIBE YOUR PERFECT DAY.
Coffee in bed, open patio with an ocean breeze blowing in, a sweaty power yoga session, green juice, lunch on the water at Nobu with my family, afternoon massage, an evening dinner party at home with close friends, laughter, and good music
FAVORITE QUOTE?
"Love yourself enough to live a healthy lifestyle"
WHAT ARE YOU GRATEFUL FOR?
Thriving at this stage in my life, that I get to be a part of the healing process for so many people, and for my family and the relationship I have with my girls.
WHAT MAKES YOU GLOW?
Sleep
Daily green juices
Hydration with Hallstein Water
A good sweat
Eating clean and simply