Elevate Pilates and Spin // Leah Kitching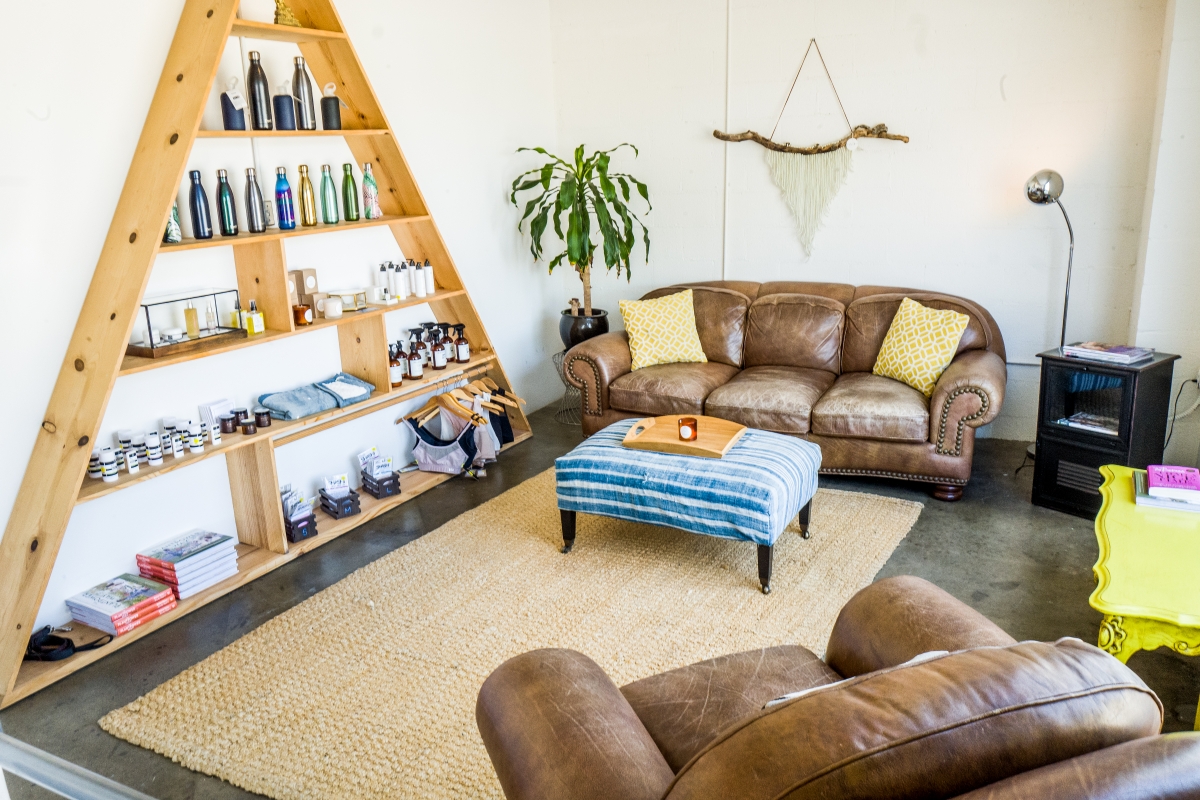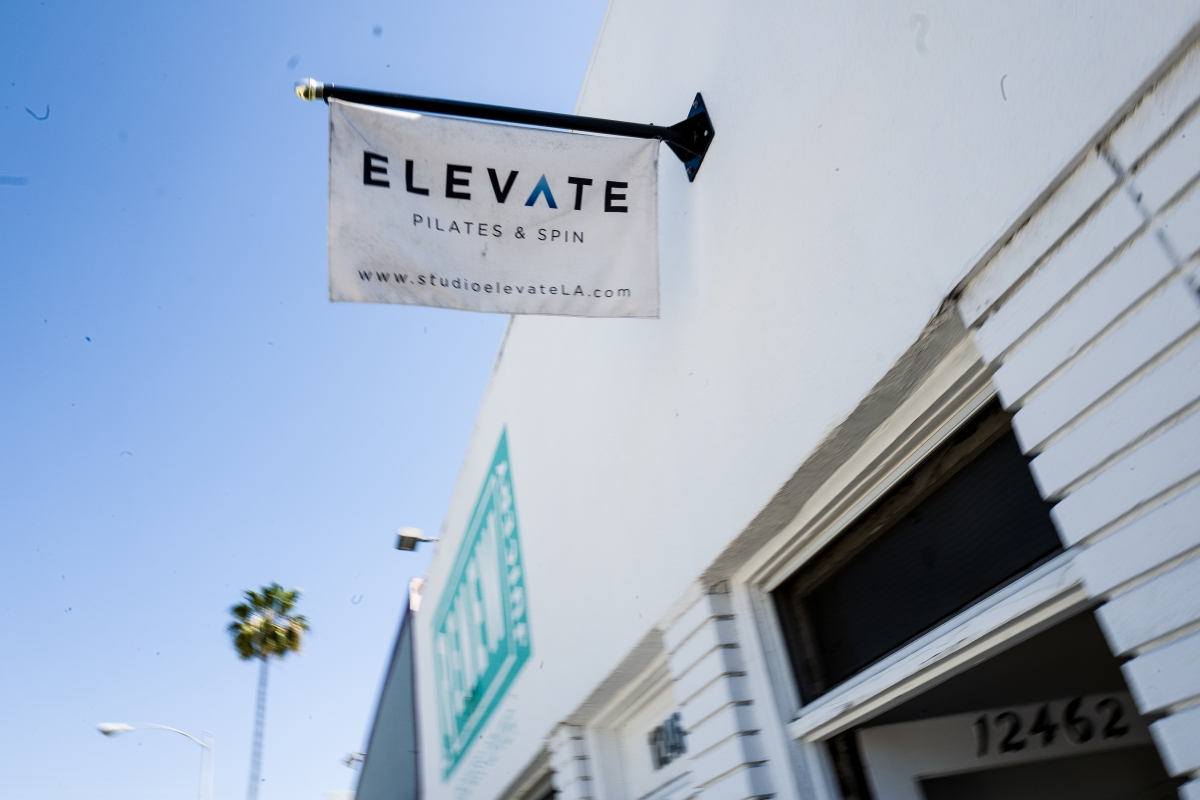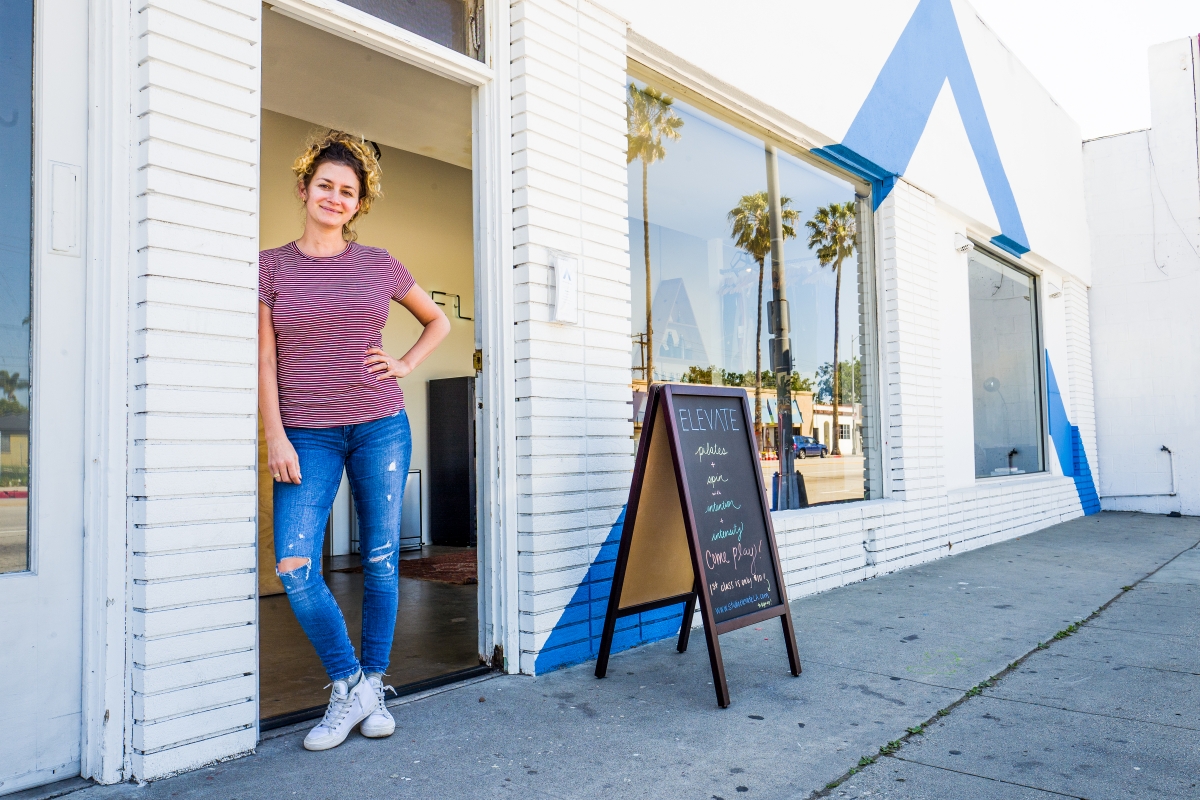 Leah Kitching is owner of one one of LA's best work out destinations, Elevate Pilates and Spin. This beauty exudes a down to earth, welcoming and confident aura that makes her glow from the inside out. Leah is a devoted mother of two amazing kids, the cutest girl Canyon and her sweet baby boy Zander. Being the ambitious go-getter that she is, she opened her studio Elevate while being pregnant with Canyon, who is now two years old. Leah teaches the most incredible pilates class, guaranteed to keep your body in shape and your mood uplifted. She always plays the best music, which keeps the good vibes flowing throughout the workout. The studio offers both pilates and spin, as well as classes that combine both. We love this approach because it offers both cardio and lengthening/toning... basically what we're all trying to achieve.
Leah takes care of her studio as if its another one of her babies, infusing it with the glowiest energy and products. We love the curation in the little shop in front. Make sure to peruse the A-frame shelf that houses delicious smelling candles, skincare and some of her favorite fitness/beauty/wellness items.
It doesn't hurt that Renew Juicery is right next door, the perfect place to grab a delicious juice and healthy snack or to drop in for a cryotherapy session to cool down/ ease sore muscles after your workout. This place is truly the perfect one-stop-shop for wellness in Culver City.
HOW THEY GLOW QUESTIONNAIRE
NAME: Leah Kitching
NICKNAME: Lee
PROFESSION: Studio Elevate Pilates & Spin Founder and Teacher
WHERE DID YOU GROW UP? Nevada City, CA
WHERE DO YOU LIVE? Venice, CA
WHEN YOU'RE EATING HEALTHY, WHAT IS A TYPICAL…
BREAKFAST: Fresh fruit, oatmeal, coffee
LUNCH: Lunch plate from Erewhon (my favorite)!
DINNER: Lentil soup with some fresh bread and an apple cider vinegar nightcap
SNACK: Apple
WHAT ARE YOUR FAVORITE SPOTS/RESTAURANTS TO EAT HEALTHY?
Erewhon for sure! Sage Vegan Bistro, Fala Bar, The Butcher's Daughter
WHAT IS YOUR FAVORITE INDULGENCE?
I love Italian and Mexican food…could live on it!
WHAT ARE YOUR FAVORITE SPOTS/RESTAURANTS TO INDULGE?
The Tasting Kitchen and Locanda Positano for the amazing pastas. La Fiesta Brava for the OG Mexican.
WHAT WOULD BE YOUR LAST MEAL ON EARTH? Broccoli, Lamb Sausage Pizza and a pot de crème from Gjelina. Of course I'd need a glass of wine to wash it all down.
WHAT IS THE BEST DISH YOU COOK/ YOUR FAVORITE RECIPE? I'm a breakfast gal. Lately I have been cooking massive amounts of quinoa and making a healthy breakfast bowl with black beans, avocado, kimchi and an over easy egg.
WHERE DO YOU GROCERY SHOP?
Either Rainbow Acres or Erewhon
TOP 3 ITEMS YOU ALWAYS HAVE IN YOUR KITCHEN?
Apple Cider Vinegar, Honey, and Bananas
WHAT IS YOUR FITNESS REGIMEN?
Obviously I love fitness, so I usually take two classes per week at my studio, and I play soccer once a week for fun. I'm about to start doing a Brazilian Jiu Jitsu class which I'm really excited about!
WHAT IS YOUR SKINCARE ROUTINE?
I wash my face in the morning and usually just use a light SPF moisturizer. I am not a big makeup girl, but if I do use it, NARS is my go-to. At night I wash my face again and do my nighttime routine of a light serum and heavier cream moisturizer. My skin can get very dry so this helps keep it quenched. Once or twice a week I exfoliate as well!
WHAT ARE YOUR FAVORITE MAKEUP/NATURAL BEAUTY PRODUCTS?
I am obsessed with the Kat Rudu Skincare line. She is a Venice local and genius aesthetician. Her face wash (AM/PM), English Rose Serum (PM) and Jet Set Cream (PM) have made my skin so even and smooth, and I love supporting local businesses. I also love Andalou Naturals for my SPF face lotion during the day.
IF YOU WERE STRANDED ON A DESERT ISLAND, WHAT 3 PRODUCTS WOULD YOU TAKE WITH YOU?
SPF lotion, Floss and my toothbrush! My hair would be dreadlocked in a week so I'd give up on it pretty quick.
WHAT PROFESSIONAL BEAUTY/HEALTH/FITNESS/SPIRITUAL GURUS DO YOU SWEAR BY?
How You Glow (obvs), Cameron Diaz, and Goop. I really respect women who embrace aging gracefully.
TOP 3 FAVORITE SONGS?
Relaxing at home - Harvest Moon, Neil Young
Feminist Manifesto – Marrow, Ani DiFranco
Workout mode – Bounce Back, Big Sean
MOST-WATCHED MOVIE?
Sex in the City!!!! Over and over again and never gets old!
MOST LIFE-CHANGING BOOK?
Confessions of an Economic Hit Man. Such an eye-opening book on our government.
FAVORITE SHOPS/BOUTIQUES? I LOVE consignment shopping. Wasteland and Crossroads for clothes. I love getting candles and beauty products from our little shop at the studio. Rainbow Acres has a great natural beauty section in the store as well!
COOLEST PLACE YOU'VE EVER VISITED?
Rio De Janeiro tops my list to date, with Tokyo as a close second.
FAVORITE HOTELS?
For local weekend getaways - Four Seasons Santa Barbara, Sparrows Lodge, and La Quinta Resort
WHAT IS THE BEST GIFT YOU'VE EVER RECEIVED?
My children, Canyon and Zander.
MOST PROFOUND HEALING EXPERIENCE YOU'VE EVER HAD?
Traveling through Europe alone when I was 20. It really made me slow down and savor life.
WHO ARE YOUR MOST TRUSTED HEALERS?
My closest girlfriends. We can talk about anything and always give each other honest advice.
WHAT IS THE BIGGEST LEARNING EXPERIENCE YOU'VE HAD TO FACE AND WHAT DID YOU TAKE AWAY FROM IT?
Getting laid off from my first 9-5 job. I realized how disposable I was working for someone else, and started creating a life where I was my own boss.
DESCRIBE YOUR PERFECT DAY.
Sleep in. Breakfast and coffee in bed. Elevate Class. Spa. Massage. Wine and dinner with my husband. Movie in bed.
WHAT IS YOUR MOST VALUABLE GLOW TIP/SECRET?
Confidence. If you believe in yourself everyone else will too!
FAVORITE QUOTE?
"We see things not as they are, but as we are." – Anais Nin
WHAT ARE YOU GRATEFUL FOR?
Our amazing community at Elevate!
WHAT MAKES YOU GLOW?
Challenges and adventures
Elevate Pilates and Spin //www.studioelevate.com
12462 West Washington Blvd, Culver City, CA 90066