Mama and Tata // Candice Miller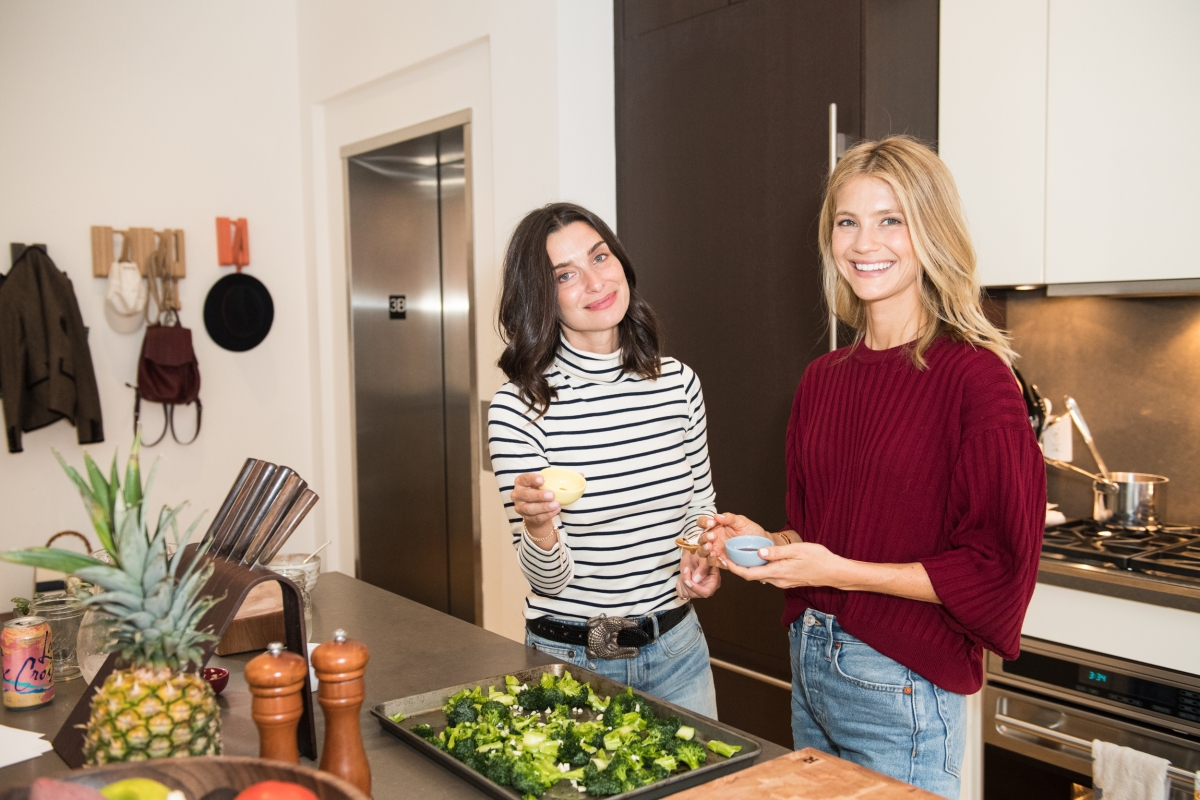 Candice Miller is one of the warmest people you'll ever meet, a true beauty inside and out. Anyone who's met this radiant glow mama knows that her genuine smile lights up any room she enters. See how Candice inspires women and mamas to glow their brightest through her site Mama and Tata.
Candice has spent years researching the best of the best for her two sweet, adorable and next-level stylish daughters Mackenzie and Leighton. Her dedication to seeking out experts in all aspects of life not only benefits Candice's family, but also inspired Mama and Tata, bringing this valuable insight to other moms. This NYC-based lifestyle site is a wealth of knowledge, not just for her kids, but also for all things fashion, wellness, fitness and just about anything that makes life easier and better. If you haven't seen one of Candice's Tracy Anderson dance videos on instagram (all of which go viral!), you are in for a real treat.
Read Candice's questionnaire to see how this mama of two keeps her glow strong.
HOW THEY GLOW QUESTIONNAIRE
NAME:
Candice Miller
NICKNAME:
Mama
PROFESSION:
Founder of Mama & Tata ...lifestyle/fashion influencer
WHERE DID YOU GROW UP?
NYC
WHERE DO YOU LIVE?
NYC
WHEN YOU'RE EATING HEALTHY, WHAT IS A TYPICAL...
BREAKFAST:
Chia seed pudding with fresh berries, green smoothie, matcha coconut latte
LUNCH:
Spinach/kale salad with tofu or chicken. Vegetable soup.
DINNER:
Roasted chicken with artichokes , potatoes, broccoli or branzino with sauteed spinach
SNACK:
Beet chips or pea chips
WHAT ARE YOUR FAVORITE SPOTS/RESTAURANTS TO EAT HEALTHY?
Two Hands, Sweetgreen, Tutto il Giorno , abc V, Sant Ambroeus, Bar Pitti, Kaffe 1668
WHAT IS YOUR FAVORITE INDULGENCE?
Dark chocolate and salted caramel
WHAT ARE YOUR FAVORITE SPOTS/RESTAURANTS TO INDULGE?
Emilios Balato, Mr Chow, Sadelle's, Babbo
WHAT WOULD BE YOUR LAST MEAL ON EARTH?
Truffle pizza, fried artichokes, chocolate soufflé
WHAT IS THE BEST DISH YOU COOK/ YOUR FAVORITE RECIPE?
I do not cook much but I make a delicious truffle mac n cheese, and great lamb chops!
WHERE DO YOU GROCERY SHOP?
Whole Foods and farmers market
TOP 3 ITEMS YOU ALWAYS HAVE IN YOUR KITCHEN?
Beet chips, pink himalayan sea salt, fresh fruit
WHAT IS YOUR FITNESS REGIMEN?
Tracy Anderson , Duh! ;) almost 2 hours a day/6 days a week
WHAT IS YOUR SKINCARE ROUTINE?
I wash my face with Tracie Martyn cleanser, then use Tracie Martyn serums and Shakti lotion on my face and neck. I use a Biologique Recherche vip o2 mask 3 times a week.
WHAT ARE YOUR FAVORITE MAKEUP/NATURAL BEAUTY PRODUCTS?
I don't really wear makeup but love Nars bronzer and lipstick in Rosebud
IF YOU WERE STRANDED ON A DESERT ISLAND, WHAT 3 PRODUCTS WOULD YOU TAKE WITH YOU?
Supergoop sunscreen, Anastasia of Beverly Hills brow pencil, Tracie Martyn shakti lotion
WHAT PROFESSIONAL BEAUTY/HEALTH/FITNESS/SPIRITUAL GURUS DOYOU SWEAR BY?
Tracy Anderson, Louise Amar (healer), Natalie Kinghorn (physical therapy), Paulina Nissenblatt (Acupuncture)
TOP 3 FAVORITE MUSICIANS?
Dave Matthews, Rolling Stones, the Doors
MOST-WATCHED MOVIE?
Pretty Woman, Jerry Maguire
MOST LIFE-CHANGING BOOK?
Fear is Not an Option by Monica Berg
FAVORITE SHOPS/BOUTIQUES?
Tenet, Kirna Zabete, Warm, Bergdorf Goodman
COOLEST PLACE YOU'VE EVER VISITED?
FAVORITE HOTELS?
BHH LA, Plaza Athene Paris, Greenwich Hotel NY, Blackberry Farm in Tennessee, Twin Farms in Vermont
WHAT IS THE BEST GIFT YOU'VE EVER RECEIVED?
My children
MOST PROFOUND HEALING EXPERIENCE YOU'VE EVER HAD?
Mama Medicine and Louise Amar reiki
WHO ARE YOUR MOST TRUSTED HEALERS?
Louise Amar and my mom! Cathy Levy CSW
DESCRIBE YOUR PERFECT DAY.
A saturday with my husband and girls! Go to Tracy Anderson, go to family lunch, drinks lots of red wine, take the kids to the park or museum, dinner with my man, early to bed!
WHAT IS YOUR MOST VALUABLE GLOW TIP/SECRET?
Sleep! Get a lot of sleep. And Happiness. A smile is the best glow. A few oxygen facials at Tracie Martyn in between!
FAVORITE QUOTE?
Spread love.
WHAT ARE YOU GRATEFUL FOR?
My husband and my children. They are the source of all my happiness. I'm grateful for health. I'm grateful for my loving parents, and of course my sister!
WHAT MAKES YOU GLOW?
Inner happiness and being true to myself. Glow comes from within.