Kendra Cole Hand // Organized by Hand
Kendra is an absolute organization GODDESS. Jessie recently moved houses and what would have been an overwhelming transition was completely seamless and manageable due to Kendra's magic. If you are moving any time soon, we can't recommend Organized By Hand enough. Kendra first came to Jessie's old home to help purge whatever wasn't needed, assisted in packing up when the movers arrived and then unpacked every single item from start to finish in the new house. She gave advice on styling, what furniture items to purchase, organizational products, and made every aspect of Jessie's home feel both functional and beautiful. There really isn't any need for an interior designer when you have Kendra!
The way that you place things in your home when you initially move in usually just sticks- so if you have an expert meticulously and intentionally deciding where everything should live, you will have such a pleasant day to day experience interacting with your space. The best part is that you will be motivated to keep everything organized and in order, so you will be way less likely to clutter your house.
Not only is Kendra the best in the organizing biz, she is also incredibly radiant. She has the best energy, and like the energizer bunny, she could literally organize all day and still be smiling and singing as she works. We needed to know how Kendra stays oh-so-glowy and what her secrets are… read on to find out!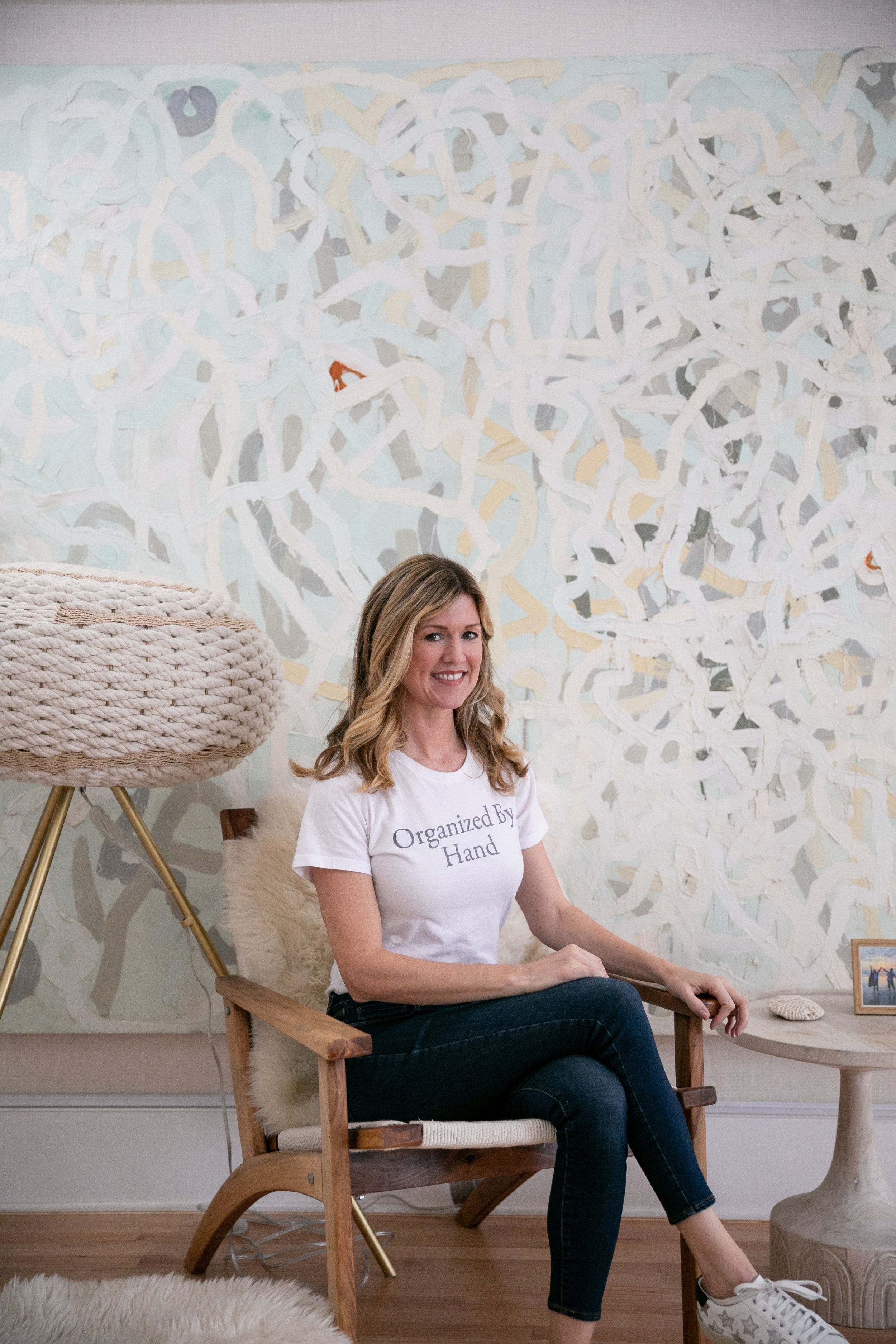 how they glow
questionnaire
NAME:
Kendra Cole Hand
PROFESSION:
Professional Organizer- CEO of "Organized By Hand" @organizedbyhand
I worked in the Hospitality Industry for 17 years as the GM of Skybar at the Mondrian Hotel. When I was pregnant with my second daughter (now 3 yrs old) I decided it was time for a change. I knew I wanted to do something meaningful, but had no idea what! I'm a big believer that whatever you are meant to do will always present itself in the right time!
had always loved organizing and had started to do a few friends homes, when suddenly friends of friends started calling me to organize their homes too! Most of my business has grown by word or mouth! Not only do I love the physical transformation that comes with each project, but I also love the emotional transformation I see in my clients once we purged the things they no longer needed and created a sense of peace by getting their homes organized. I love being able to change people's lives one room at a time!
After about a year of organizing, I started to receive inquiries about moving people. So now there is another layer to Organized By Hand where I help clients purge their homes before they move, hire the movers and oversee the move! Then once we arrive at the new home, my team and I unpack and organize everything into the new spaces! Most people find moving stressful, but I absolutely love it!


WHERE DID YOU GROW UP?
I grew up in Sacramento, went to UC Santa Barbara, lived abroad for a semester in London and then landed in Los Angeles.
WHERE DO YOU LIVE?
I live in Beverly Hills with my husband, Kevin and two little girls, Charlie and Avery

WHEN YOU'RE EATING HEALTHY, WHAT IS A TYPICAL…

BREAKFAST: I love making a smoothie every morning with avocado, mango, spinach and coconut water. I add healthy green powder and collogen powder for an extra boost!
LUNCH: Lunch is usually a wrap, grain bowl or salad.
DINNER: Dinner is sushi or fish, veggies and a grain.
SNACK: I love almonds and blueberries, seaweed or fig bars for snacks!
WHAT ARE YOUR FAVORITE SPOTS/RESTAURANTS TO EAT HEALTHY?
Urth Cafe - an oldie but a goodie!
Mainland Sushi for a tofu bowl
Il Postaio- tricolore salad and spugnette
Sugarfish for sushi

WHAT IS YOUR FAVORITE INDULGENCE?
I love getting facials with Carin at Shani Darden...makes me feel like I'm doing what I can to fight aging!
I also love to get reflexology foot massages!

WHAT ARE YOUR FAVORITE SPOTS/RESTAURANTS TO INDULGE?
Madeos Italian Restaurant
WHAT WOULD BE YOUR LAST MEAL ON EARTH?
Sugarfish- the Trust Me
WHAT IS THE BEST DISH YOU COOK/ YOUR FAVORITE RECIPE?
Anyone who knows me, can confirm cooking is not my forte! I did cook the famous "engagement chicken" and I must say it turned out amazingly and we got engaged shortly after! I still make it and it's always delicious!

WHERE DO YOU GROCERY SHOP?
Whole foods...but technically Amazon Fresh for Whole Foods delivery
TOP 3 ITEMS YOU ALWAYS HAVE IN YOUR KITCHEN?
Avocados, Blueberries and Partanna Olive Oil
WHAT IS YOUR FITNESS REGIMEN? (how often & what you do)
My job is much more physical than people think since I never sit still! I'm up and down and carrying items all over my clients houses so I don't do traditional "workouts" that often, but when I do I love going for hikes in Franklin Canyon. We live down the street from there and actually got engaged at the top of the hike! I also enjoy Plate Fit and Cardio Barre!

WHAT IS YOUR SKINCARE ROUTINE? (products, facials, etc)
I love Dr Barbara Sturm products and Juice Beauty products
WHAT IS YOUR SELF-CARE ROUTINE?
Truthfully, with two little girls and running my own company, self-care tends to get the least attention! But when I'm actually taking time for myself, I love to write in my manifestation journal and do a yoga class with my amazing and inspiring instructor Clarie Grieve. I also think an important part of my self care is date nights with my husband (which we usually do once a week) and having girls dinners with my different groups of girlfriends. I always feel reenergized after a night out!
WHAT ARE YOUR FAVORITE MAKEUP/NATURAL BEAUTY PRODUCTS?
I recently switched to Juice Beauty Makeup and Beauty Counter products...so far I'm loving the results and feel really good knowing that I'm not putting toxic products on my skin.
WHAT PROFESSIONAL BEAUTY/HEALTH/FITNESS/SPIRITUAL GURUS DO YOU SWEAR BY?
I swear by my energy healer Dr Tony Cahill! I have been seeing him for over 10 years. He heals both emotional and physical ailments! I have referred so many people to him and they've all said he's life changing!


MOST LIFE-CHANGING BOOK?
The Secret and Ask and It is Given...both very inspirational and great reminders that we create our own realities!
COOLEST PLACE YOU'VE EVER VISITED?
I love Europe in general, but have to say my favorite country is Italy. Whether it's Positano, Capri, Cinque Terre, Puglia, Florence, Rome or Lake Como....every experience is amazing!
FAVORITE HOTELS?
JK Place in Florence
Hotel de Russie in Rome
Montage in Laguna Beach
Beverly Hills Hotel in BH
WHAT IS THE BEST GIFT YOU'VE EVER RECEIVED?
My daughters! I remember right after having each of them feeling so thankful that they had chosen me!
MOST PROFOUND HEALING EXPERIENCE YOU'VE EVER HAD?
I had to have c-sections with both girls and the pain is excruciating. Most people are on pain killers for multiple days to weeks. I had a session with Dr. Tony the day after my second c-section and immediately stopped taking the pain killers. That was pretty profound! Even my mother was in disbelief!
WHO ARE YOUR MOST TRUSTED HEALERS?
Dr Tony Cahill- Energy Healer www.ahumanengineer.com
Katya Mosely - Acupuncturist www.katyamosely.com @spiritgate.la
WHAT IS THE BIGGEST LEARNING EXPERIENCE YOU'VE HAD TO FACE AND WHAT DID YOU TAKE AWAY FROM IT?
It was scary when I decided to leave Skybar (after almost 2 decades of my life and a very comfortable salary) to be able to spend more time with my daughters. I didn't know what the future would hold and would often get nervous that I wouldn't work again or find something to do that made me happy and fulfilled. That said, I kept believing that I would find something that would bring me joy and I could make money doing it! The learning experience was to trust that the right thing will always come along. I now work full time organizing my clients lives and homes and still have time to make it to my daughters dance rehearsals and gym classes. I learned that I can create the life I want and shouldn't be afraid or ever settle!
DESCRIBE YOUR PERFECT DAY.
My perfect day is sleeping in, then having a smoothie and a coffee in the yard while the girls play with their baby dolls and my husband plays the guitar. Then we walk down to Coldwater park for exercise and playtime. After that we have lunch at the Cabana Cafe at the Beverly Hills Hotel (our favorite lunch spot) and end the day with dinner at Il Postaio with a few friends!
What is your most valuable glow tip/secret?
When you truly love yourself and your life, more great things come your way! I find that I'm my most glow-y when I'm just in the moment and happy!
WHAT ARE YOU GRATEFUL FOR?
So much! I am beyond grateful for my husband, who supports and encourages me to go after my dreams! I am grateful for my two beautiful daughters who are healthy, strong willed and make me laugh everyday! I am lucky to be surrounded by family and friends who truly love me for me and are always supportive of whatever I'm doing! I am also grateful to the amazing clients who trust me to organize their lives and homes.

WHAT MAKES YOU GLOW?
Personally - Spending time with my family and friends. I absolutely love to entertain and be social...so even after a long day of moving clients or organizing closets and kitchens, I can always rally for a dinner with friends.
Professionally- The feeling I get when I help transform a clients home truly makes me glow! The entire experience of purging what isn't needed and creating the space for items that they really love, is life changing (for me and my clients)!
Photography by: Vivian Kim