Simone LeBlanc // Curated Gift Boxes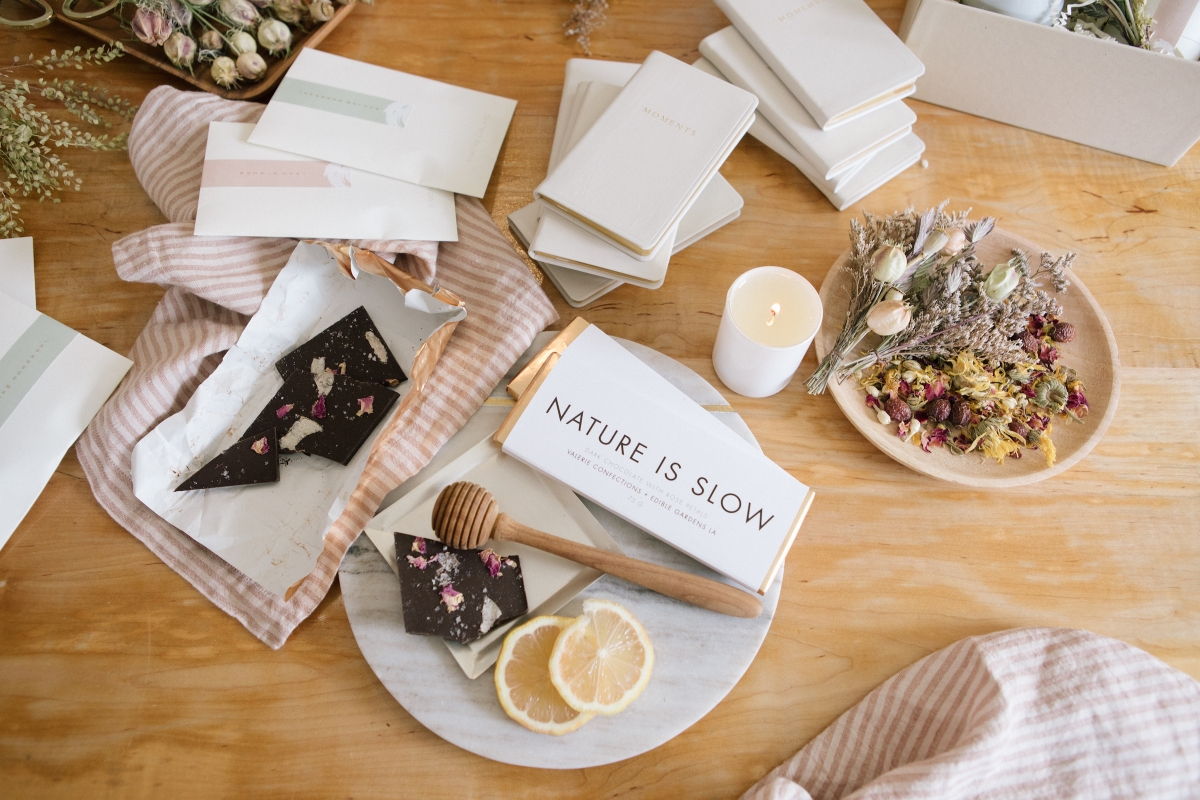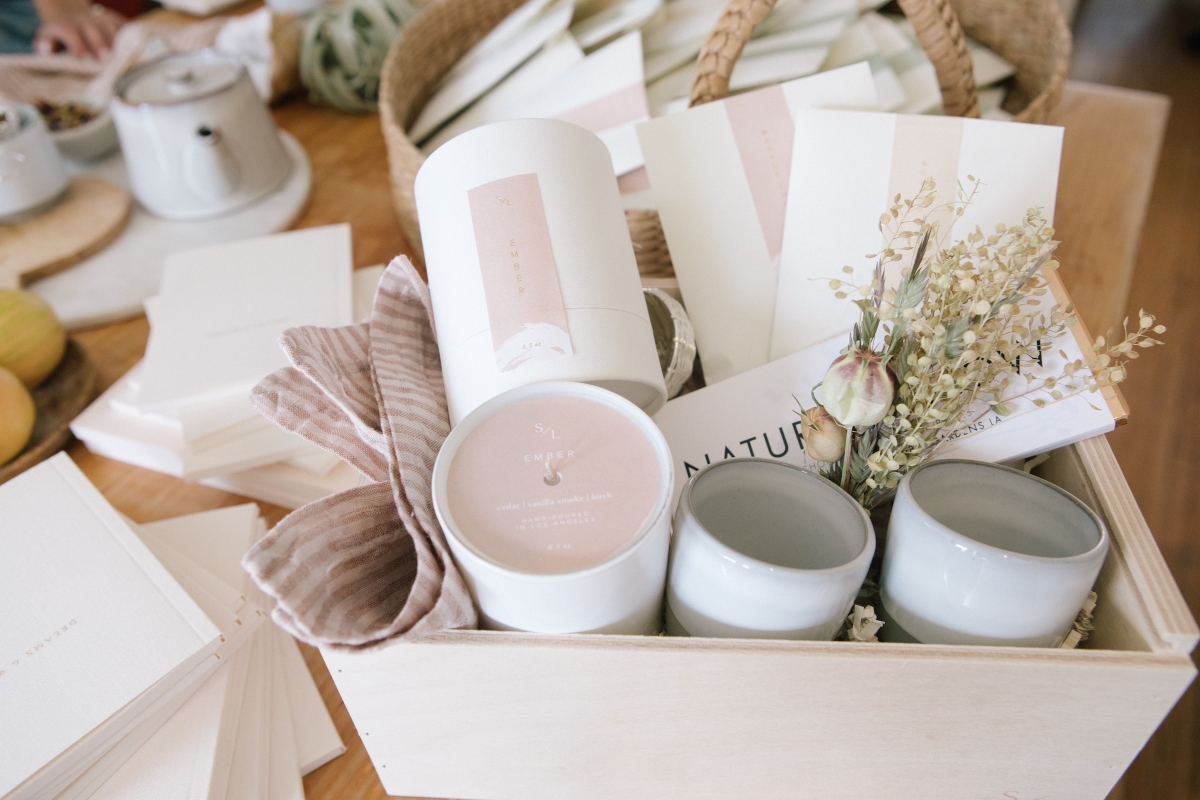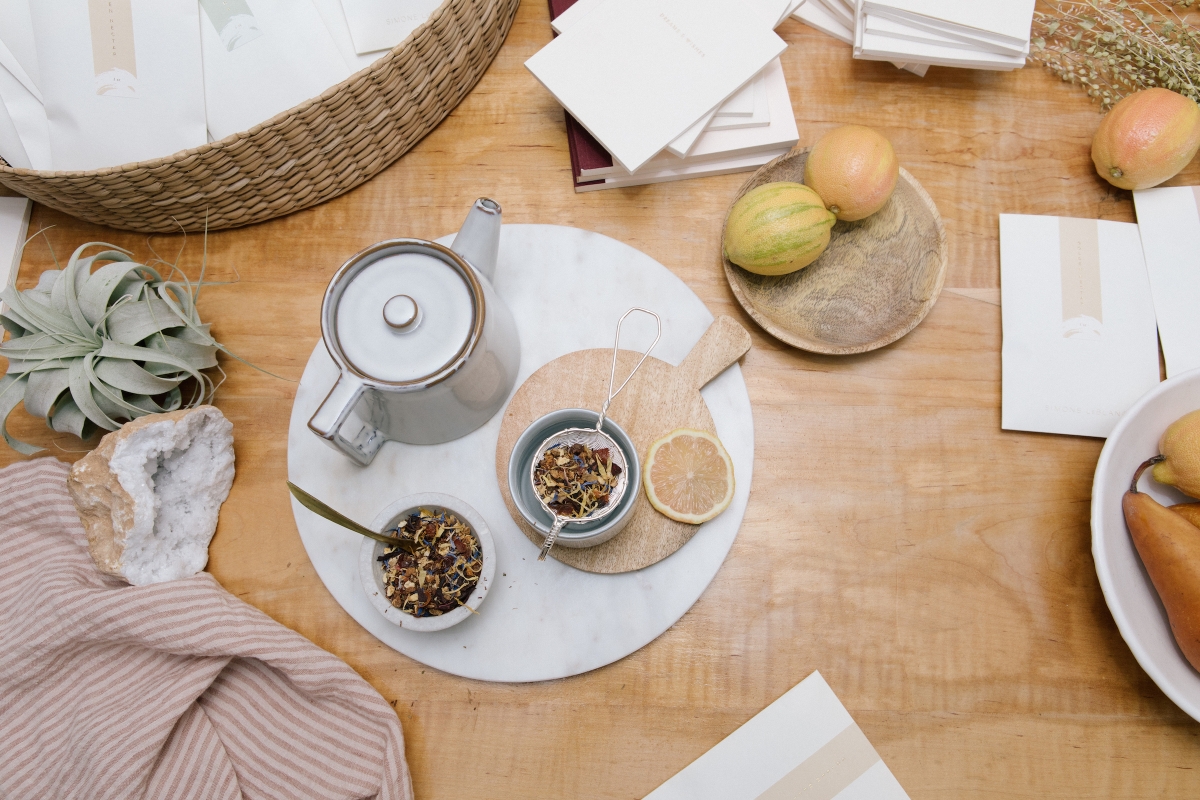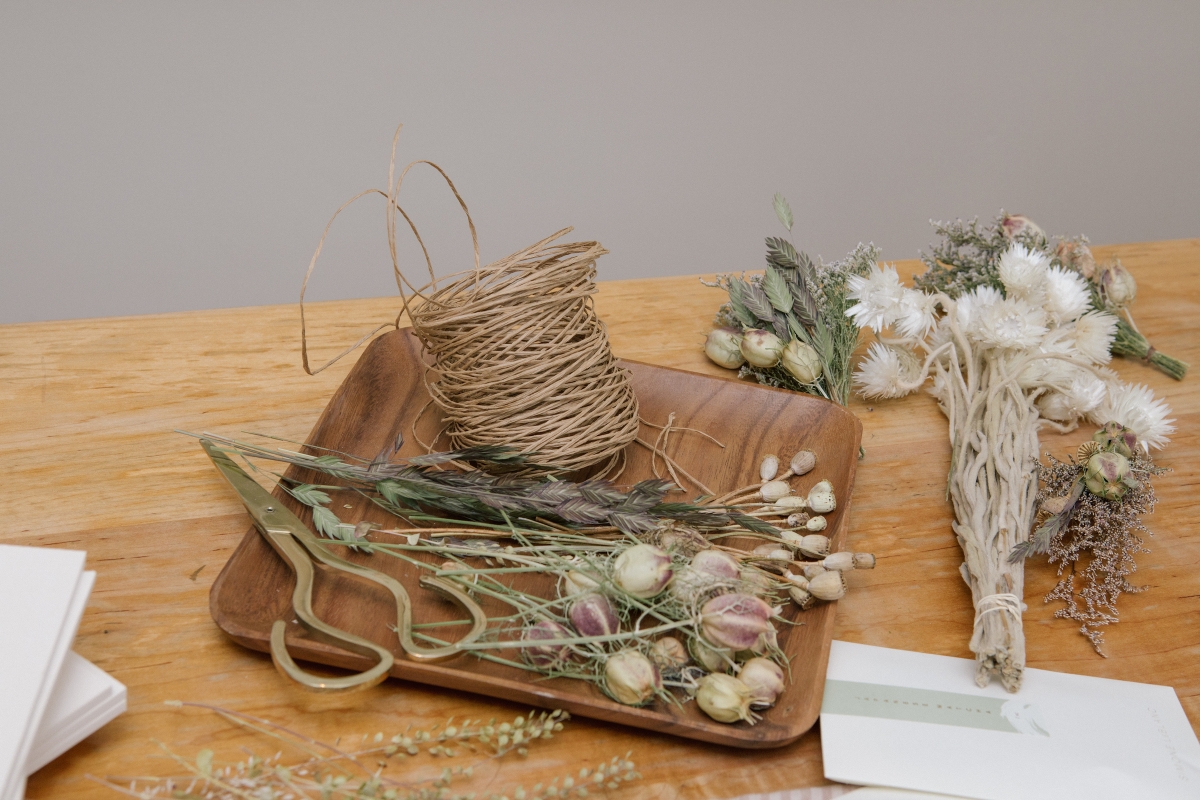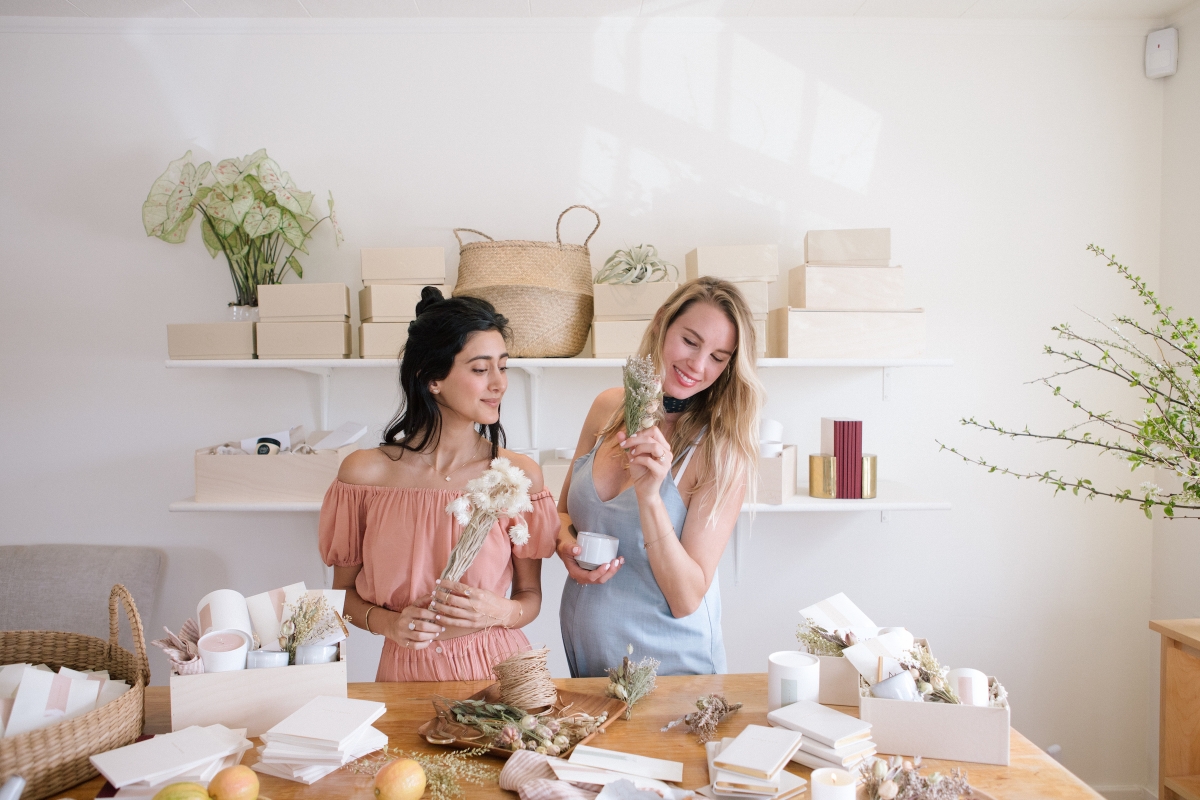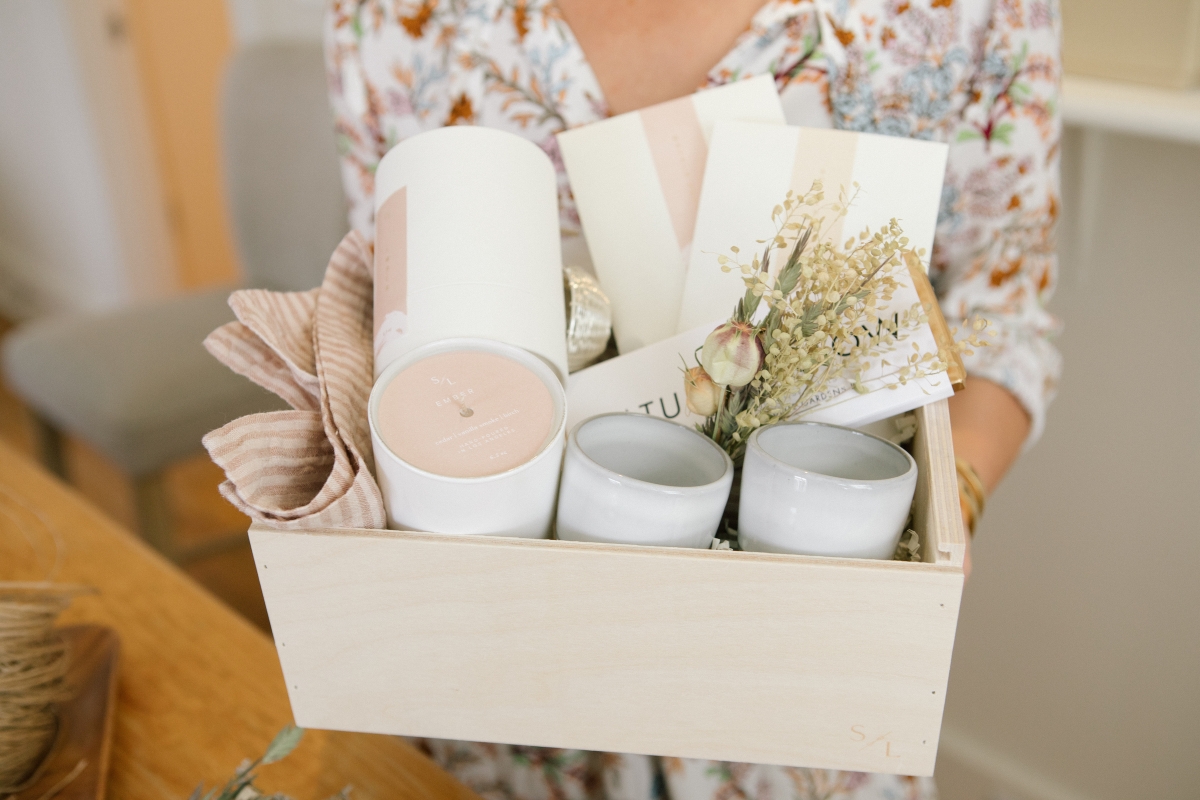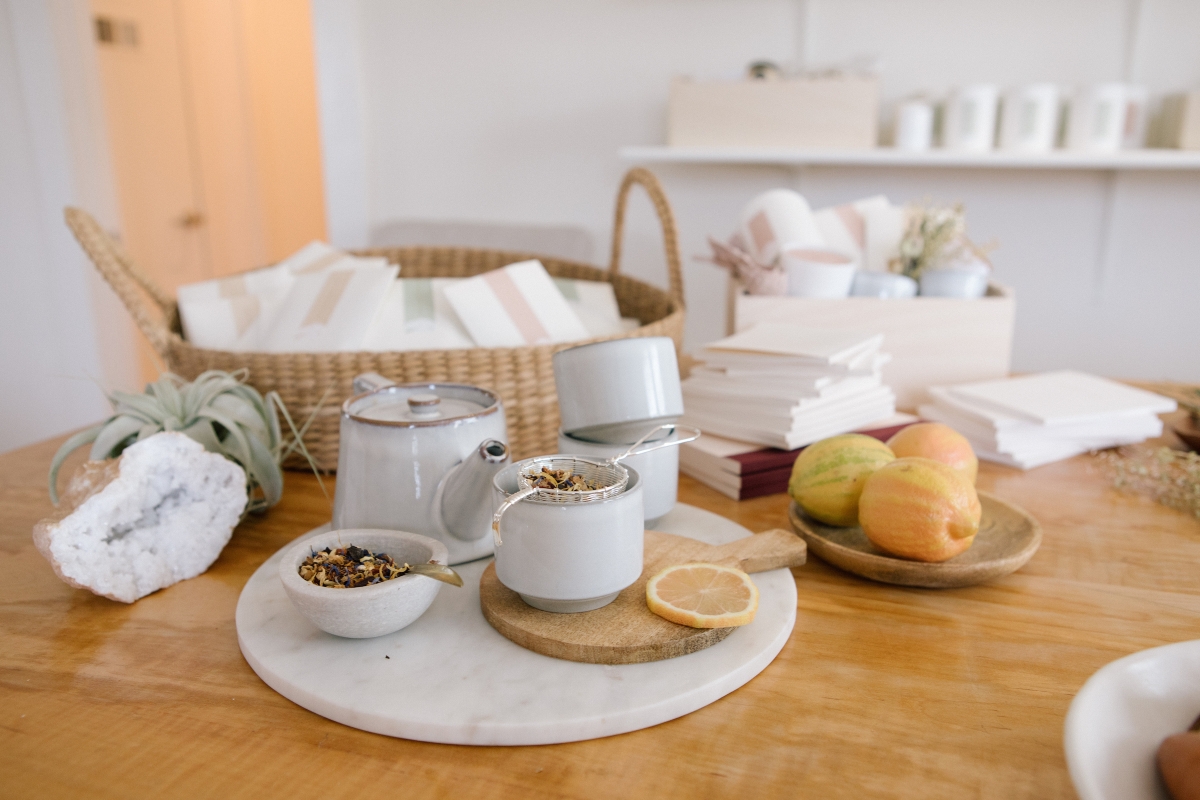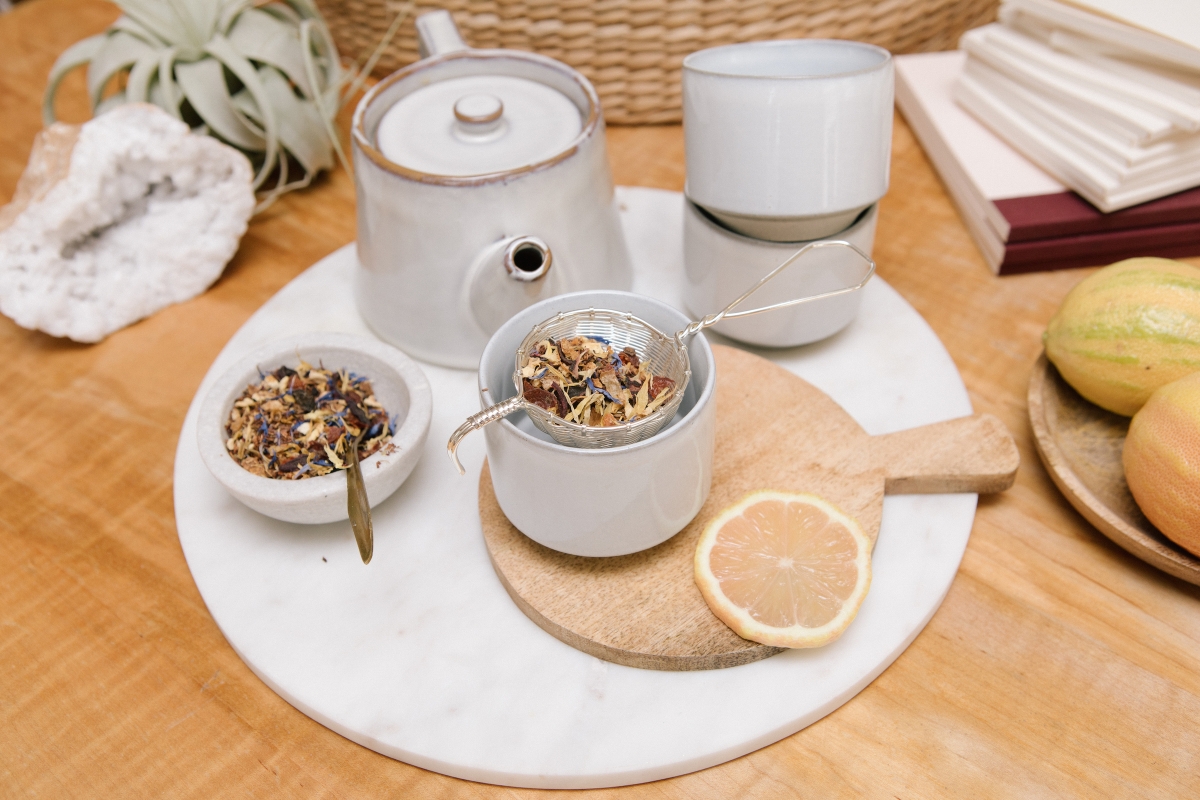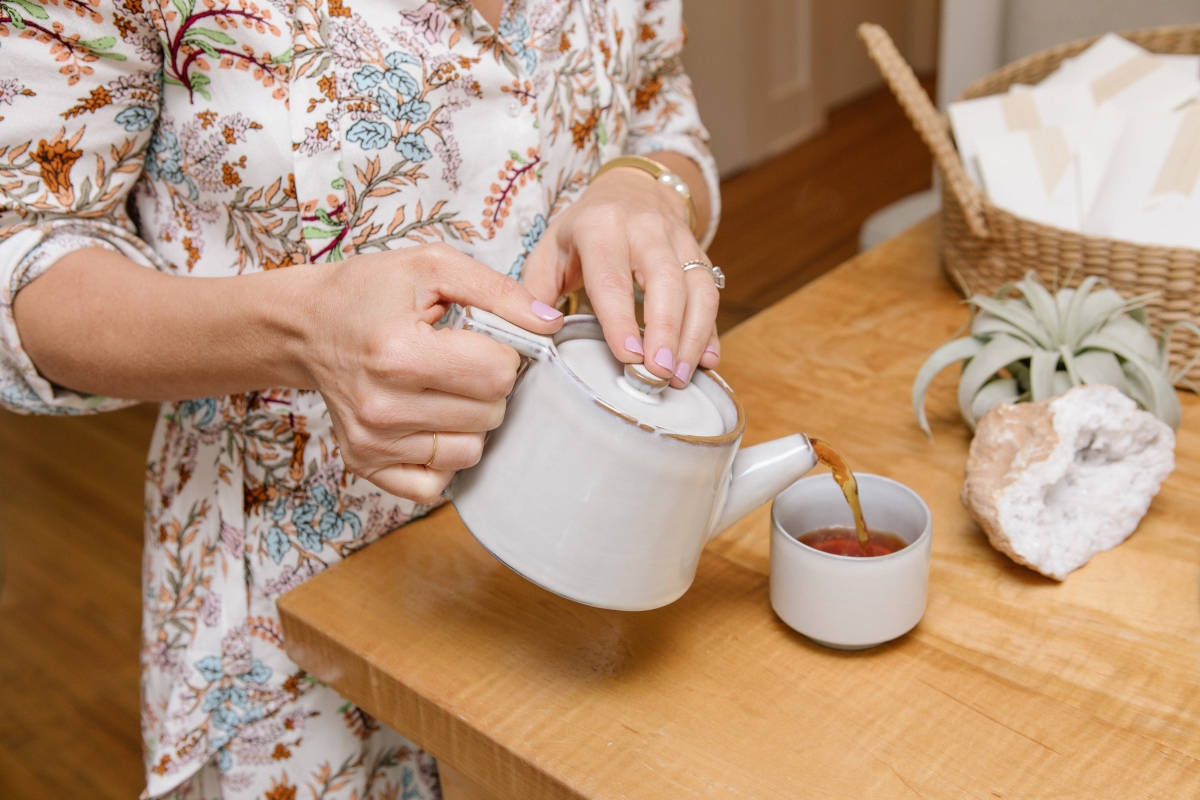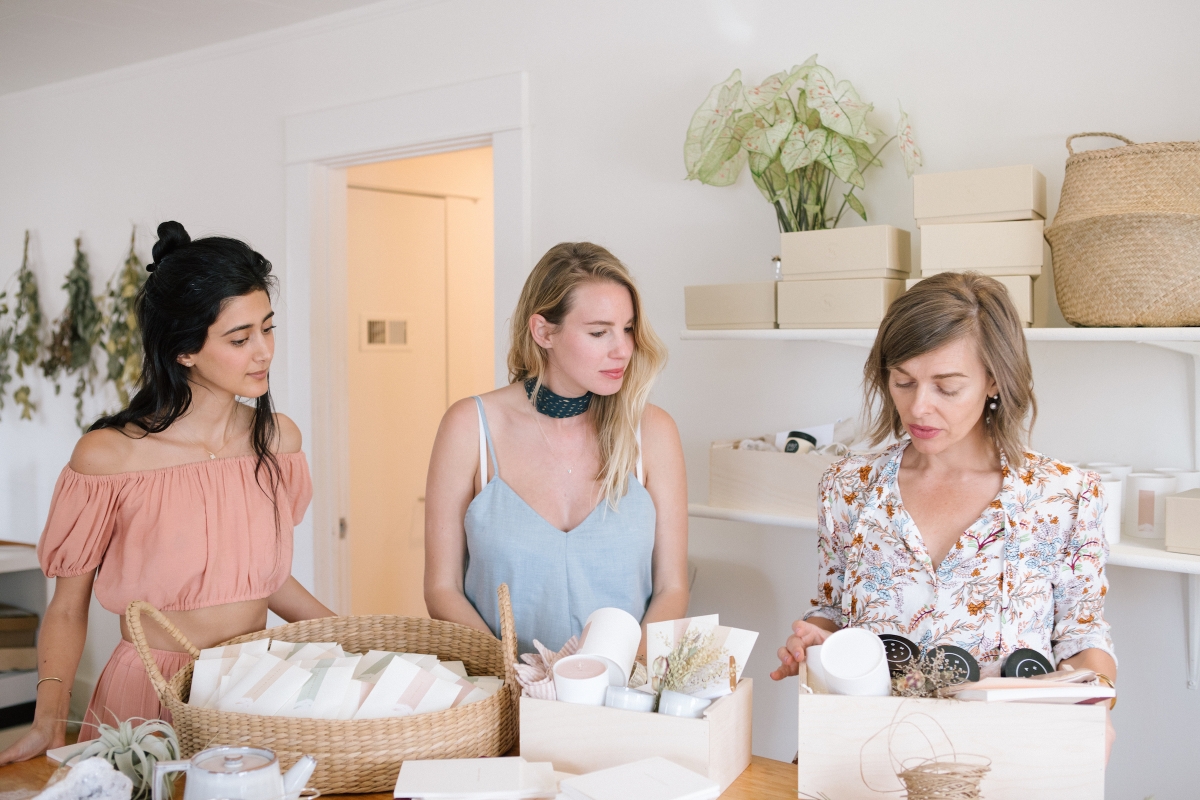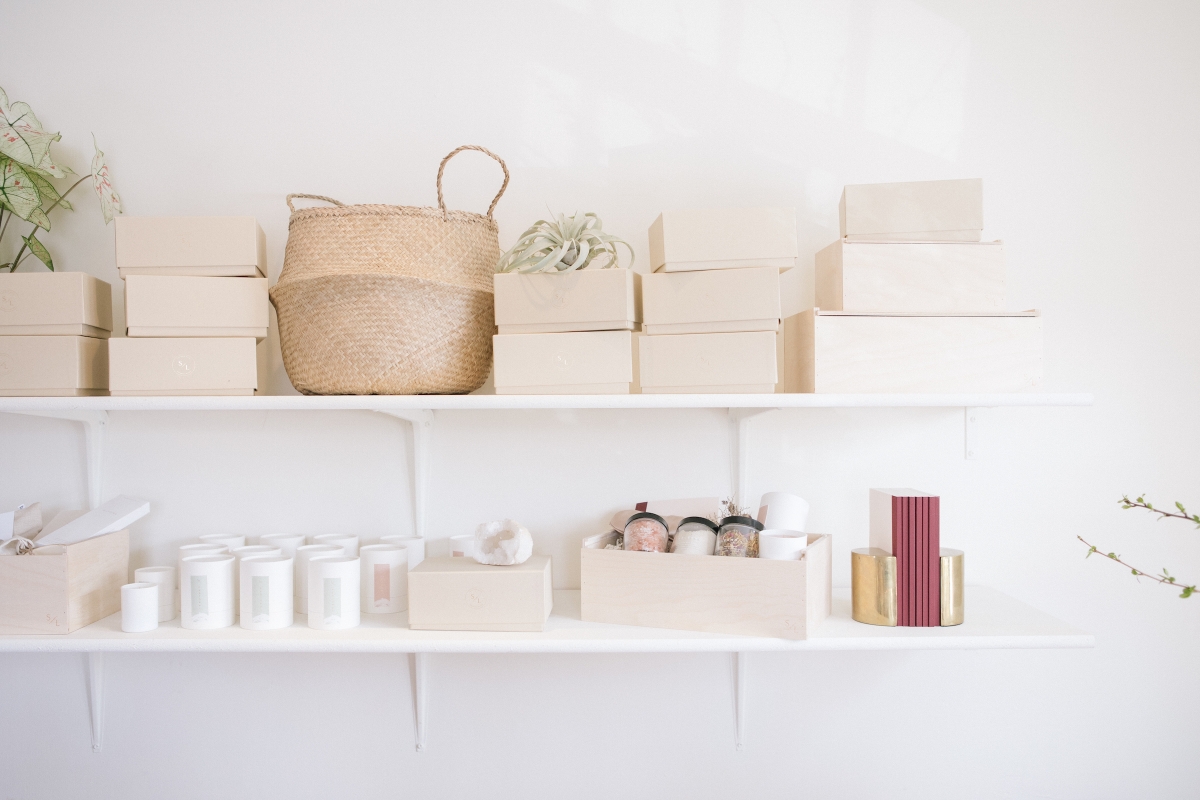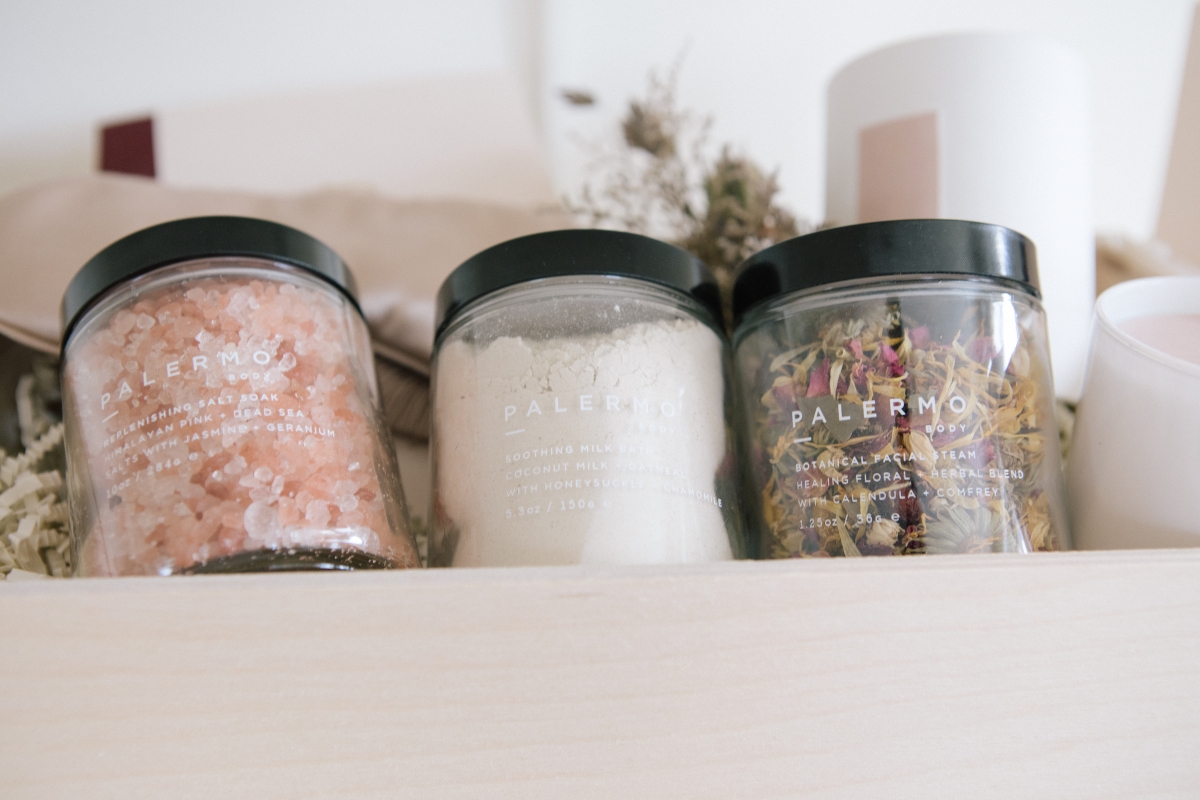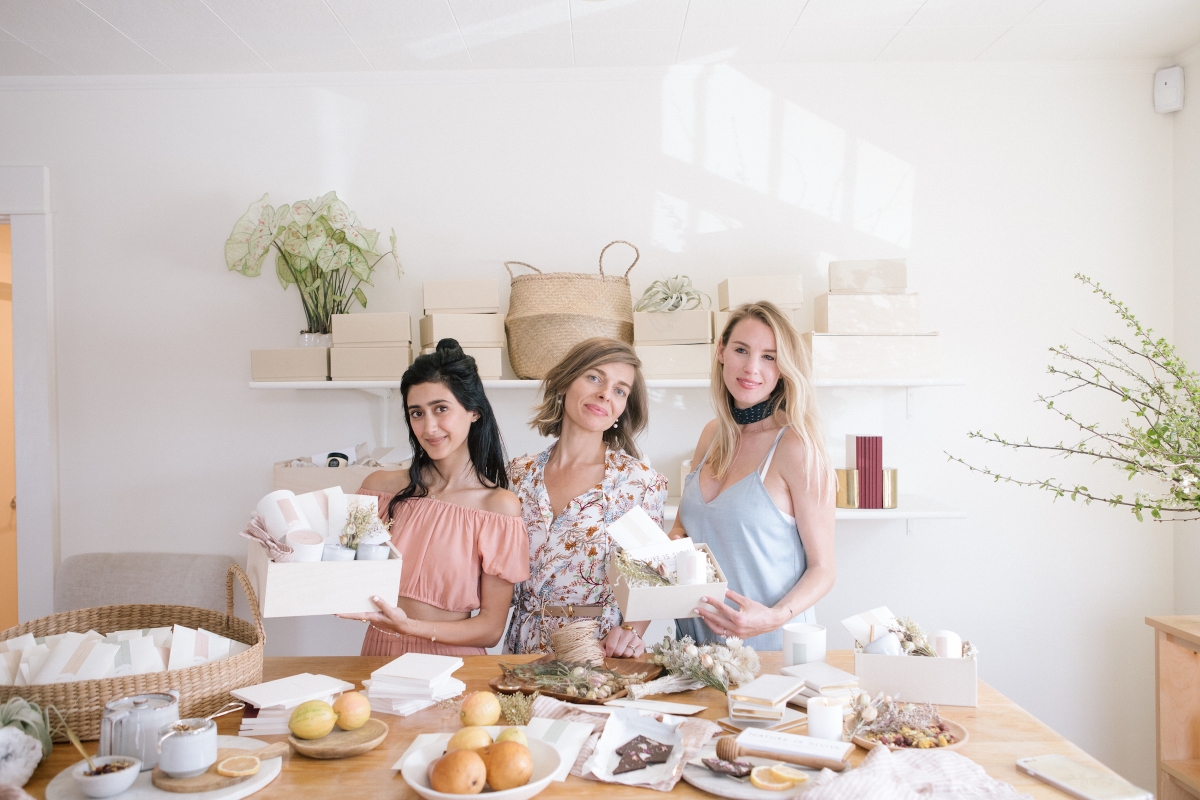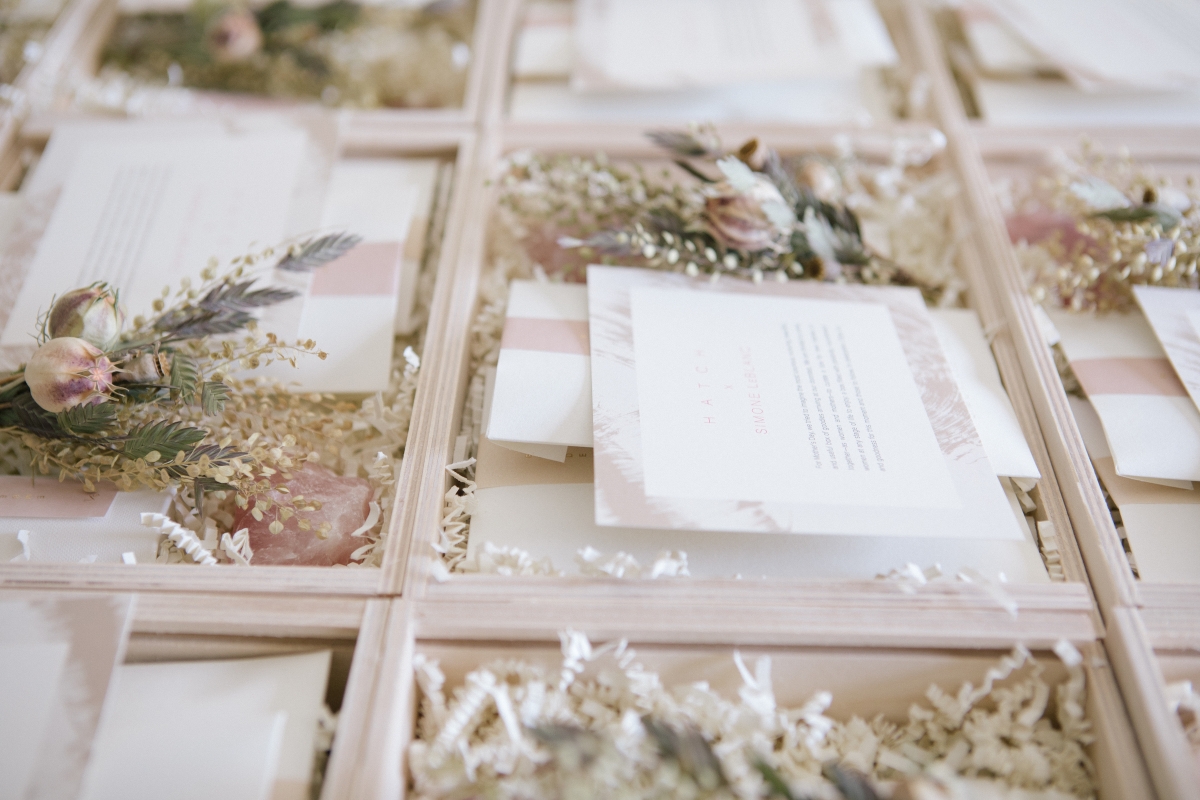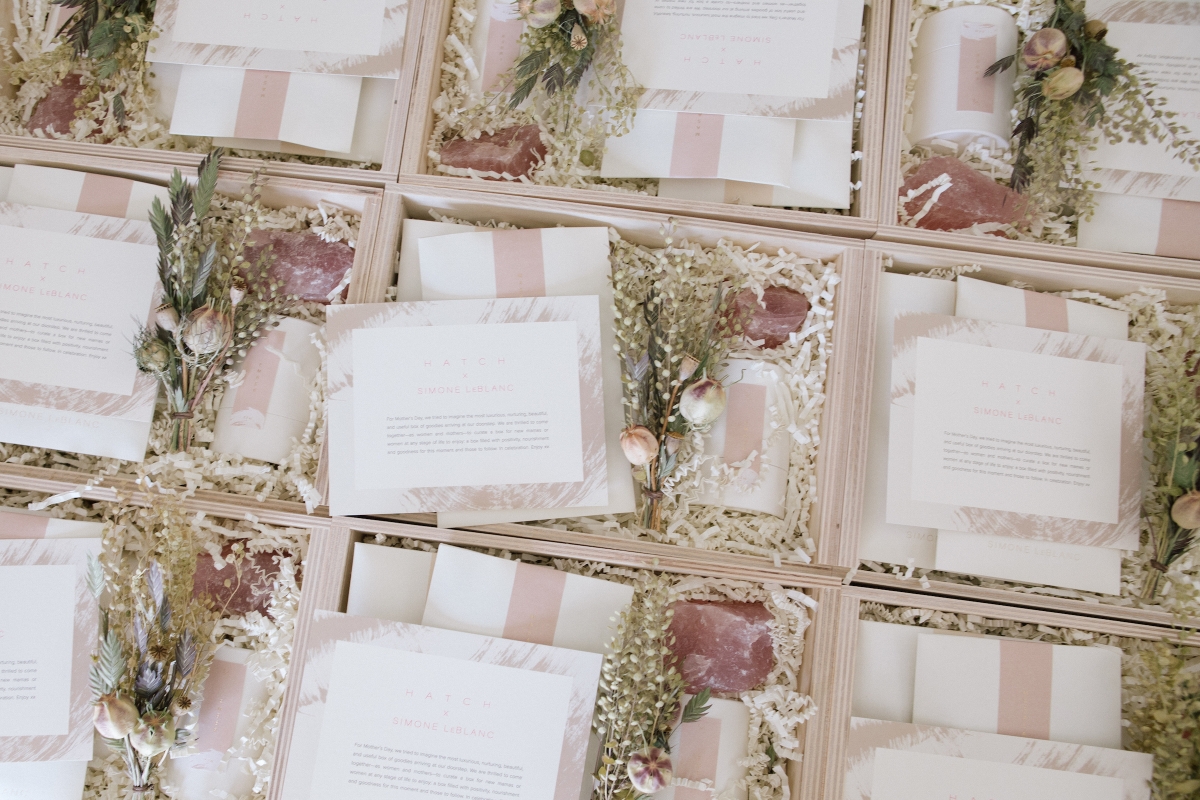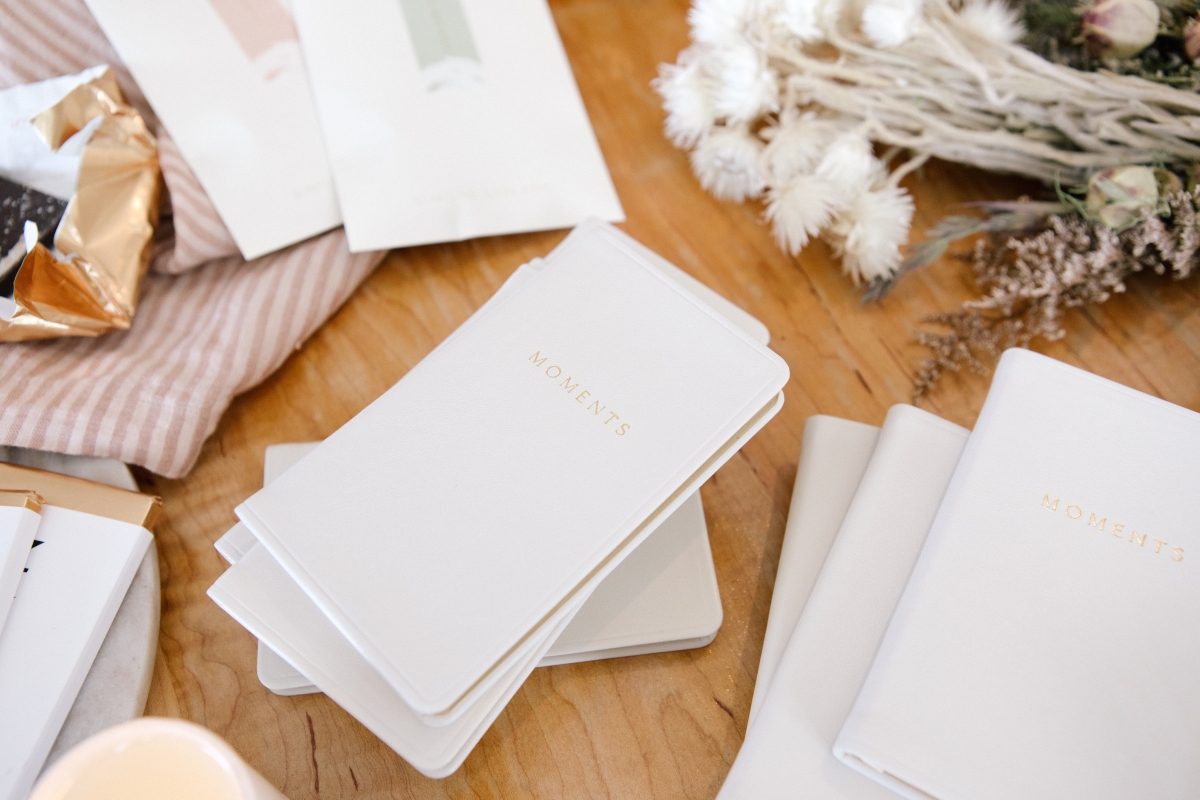 Simone LeBlanc is the creative behind some of the most stunning gift-boxes around. We met with her at her dream of a studio for some tea, to see the magic & just how this beauty GLOWS. Stepping into Simone LeBlanc's gifting studio is like walking into a magical white etherial cloud of glow. Her chic and perfectly tasteful aesthetic lends itself to the modern and dreamy sensibility but with a sophisticated and gold edge.
Since 2014, Simone has been the luxury-gift queen. She offers a commitment to convenience and ease for the discerning gift-giver, taking it all to the next level with her dedication to artistry and detail. When it comes to Mother's Day, birthdays, weddings, baby shower gifts, and the holidays, Simone's boxes are some of our top picks for that special someone. There is true delight when receiving an SLB Gift Box; exceptional + distinctive products, elegant presentation, and thoughtful touches.
Simone herself is such a lovely and stunning soul. Much like her gift-boxes, she too radiates a chic yet dreamy sensibility, understanding the romance in taking it slow and savoring the beauty life has to offer. She recently launched her own private label candles and tea which she now offers in her gift-boxes. When we say they are perfection, we mean it! From the scents, flavors, packaging, to every last detail, Simone just does it all so right.
Her gift boxes range according to theme, recipient, and price point, so there is really something for everyone you're looking to send a gift to. We are particularly excited about her Mother's Day boxes (it's just around the corner!) -- take a look here, and treat your mama to something extra special this year, because we all know she deserves it.
Simone LeBlanc // www.simoneleblanc.com
HOW THEY GLOW QUESTIONNAIRE
NAME: Simone LeBlanc
PROFESSION: Founder + CEO of namesake gifting company
WHERE DID YOU GROW UP? Mill Valley, CA
WHERE DO YOU LIVE? Los Angeles
WHEN YOU'RE EATING HEALTHY, WHAT IS A TYPICAL...
BREAKFAST: Greek yogurt with bee pollen, cashews, honey, blueberries and a cup of coffee. I do love my coffee.
LUNCH: Avocado toast with chili, salt, and lemon.
DINNER: Broiled salmon with herbs from our garden, lacinato kale salad (cut into ribbons with a dry manchego and currants) smashed fingerling potatoes cooked in ghee.
SNACK: Currently obsessed with a very simple cucumber salad with lemon, maldon sea salt + zataar or sliced fuji apple and roasted cashews. I'm obsessed with cashews these days.
WHAT ARE YOUR FAVORITE SPOTS/RESTAURANTS TO EAT HEALTHY? I love clean comfort food. Kalli on Melrose is my current go to.
WHAT IS YOUR FAVORITE INDULGENCE? My husband's homemade chocolate chip cookies. He bakes them very thin, so the edges are crispy, caramelized, and somehow chewy in just the right spots.
WHAT ARE YOUR FAVORITE SPOTS/RESTAURANTS TO INDULGE? AOC, John + Vinny's, Bestia, Gjelina, Kismet.
WHAT WOULD BE YOUR LAST MEAL ON EARTH? Thomas Keller's simple roast chicken, my husband's homemade bread with the butter from Wayfare Tavern (creamy with salt rocks), a simple tri-colore salad and a very large glass (or 2) of Kistler Chardonnay...or my Mom's biscuits.
WHERE DO YOU GROCERY SHOP? Hollywood Farmers Market for produce and specialty, Gwen for meat, Cape Seafood and Provisions, the big Bristol on Beverly. My daughter Lillian loves all of the activity (and balloons) there.
TOP 3 ITEMS YOU ALWAYS HAVE IN YOUR KITCHEN? Cashews, coffee, fuji apples.
WHAT IS YOUR FITNESS REGIMEN? (how often & what you do) Hot Vinyasa flow...it's the perfect way for me to detox and reconnect. I try to go three times week at least, but that's not always possible these days. That's a balance I'm really trying to work on - more yoga time for me. I walk in the neighborhood with my daughter as often as possible as well - early evening walks.
WHAT IS YOUR SKINCARE ROUTINE? (products, facials, etc) It's so incredibly simple. Cleanse and moisturize at night, sunblock in the morning.
WHAT ARE YOUR FAVORITE MAKEUP/NATURAL BEAUTY PRODUCTS? For my bath, I love Palermo Body. They have a gorgeous, simple, natural collection that is perfectly edited. We carry their products in some of our gift boxes, and I'm always so happy when they're en route to someone as a gift. I also love May Lindstrom's products for face and body, as well as Tata Harper for face products.
IF YOU WERE STRANDED ON A DESERT ISLAND, WHAT 3 PRODUCTS WOULD YOU TAKE WITH YOU? Burts Bees lip balm in Rhubarb, Nucifera Coconut Balm, Sachajuan Ginger Flower lotion.
WHAT PROFESSIONAL BEAUTY/HEALTH/FITNESS/SPIRITUAL GURUS DO YOU SWEAR BY? I have a teacher that I have worked with for years. I also love to read those whom I consider the greats; Paolo Coelho, Deepak, William Blake, Rilke, Marianne Williamson to name a few.
TOP 3 FAVORITE SONGS?
1. Sea of Love - the Catpower version 2. TB Sheets - Van Morrison 3. Gymnopédie No.1 - Erik Satie
COOLEST PLACE YOU'VE EVER VISITED? My birthplace, Kauai, and a 19th C farmhouse in the Loire Valley that was filled with spirits.
FAVORITE HOTELS? San Ysidro Ranch in Montecito, La Malcontenta in Costa Brava, and I'm currently looking for my new NY favorite. Open to suggestions...
WHAT IS THE BEST GIFT YOU'VE EVER RECEIVED? My daughter Lillian and the ego-freedom that motherhood brings.
MOST PROFOUND HEALING EXPERIENCE YOU'VE EVER HAD? Leaving my body to witness myself and experience love.
WHO ARE YOUR MOST TRUSTED HEALERS? The ocean, the moon, and my guides.
WHAT IS THE BIGGEST LEARNING EXPERIENCE YOU'VE HAD TO FACE AND WHAT DID YOU TAKE AWAY FROM IT? Seeing myself in others at different stages of my life. It's a student and the teacher, the persecuted and the jury type of thing. It feels karmic and cyclical, and although I don't always know what the specific lessons are at the time, for me, the learning is the recognition that I have been in the other person's shoes, often in the exact situation. This creates in me a multi-faceted ability to empathize.
DESCRIBE YOUR PERFECT DAY. Waking up very early, slowly, while everyone else is still asleep. Sipping coffee quietly, listening to the breeze in the trees while the world wakes up. Slow family time out and about, a low-key gathering with family and friends, food, wine...and a favorite book in bed that night.
WHAT IS YOUR MOST VALUABLE GLOW TIP/SECRET? Cultivate your inner world and build a beautiful friendship with your intuition.
FAVORITE QUOTE? "The only journey is the one within." - Rilke
WHAT ARE YOU GRATEFUL FOR? So many things. My past that has led me to the place I am today.
WHAT MAKES YOU GLOW? My daughter, being in love with my husband, my creativity, art, laughter, music....I could go on!
Photography by: Emily Knecht