Tierra Sagrada // Stefani Padilla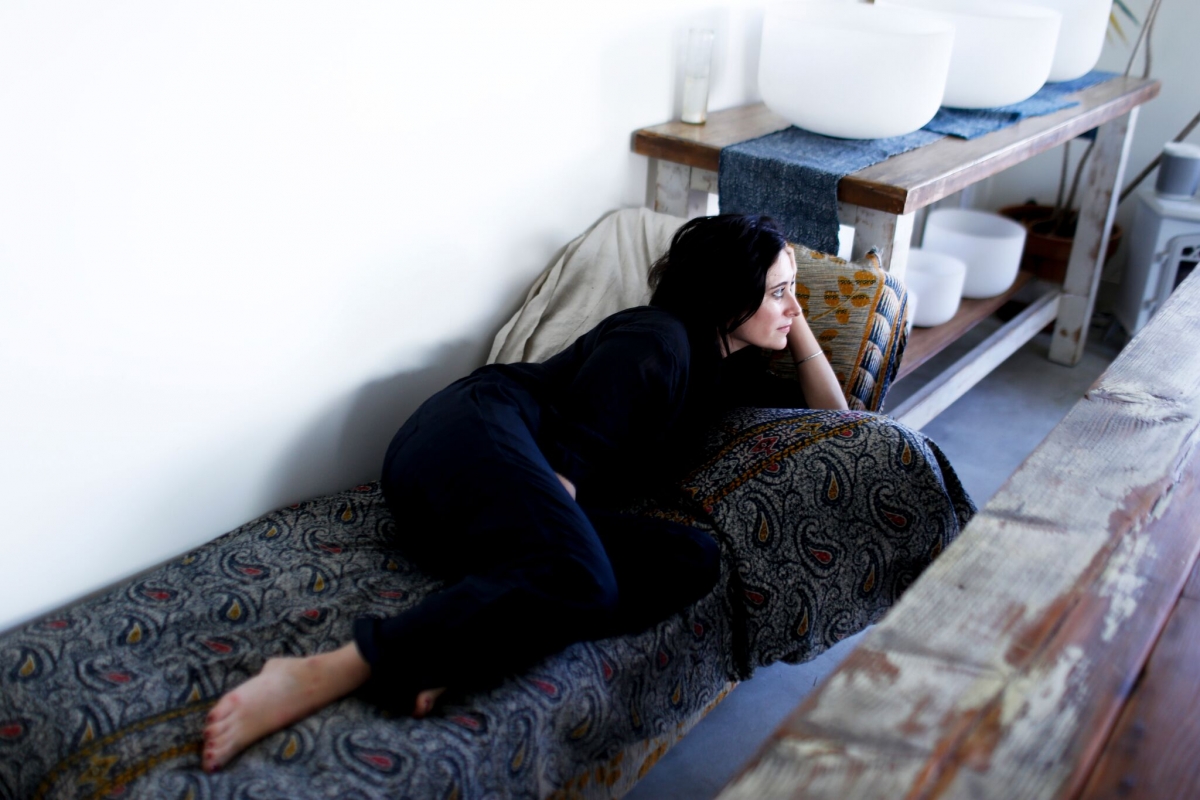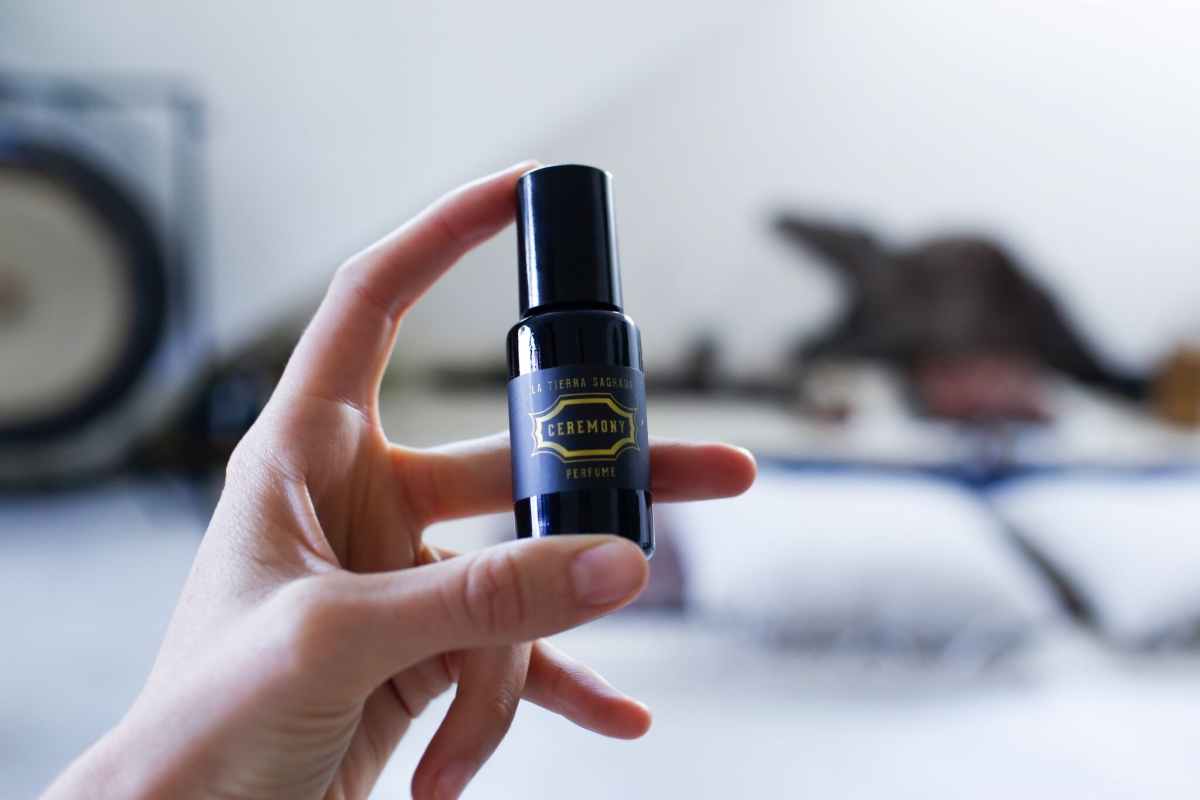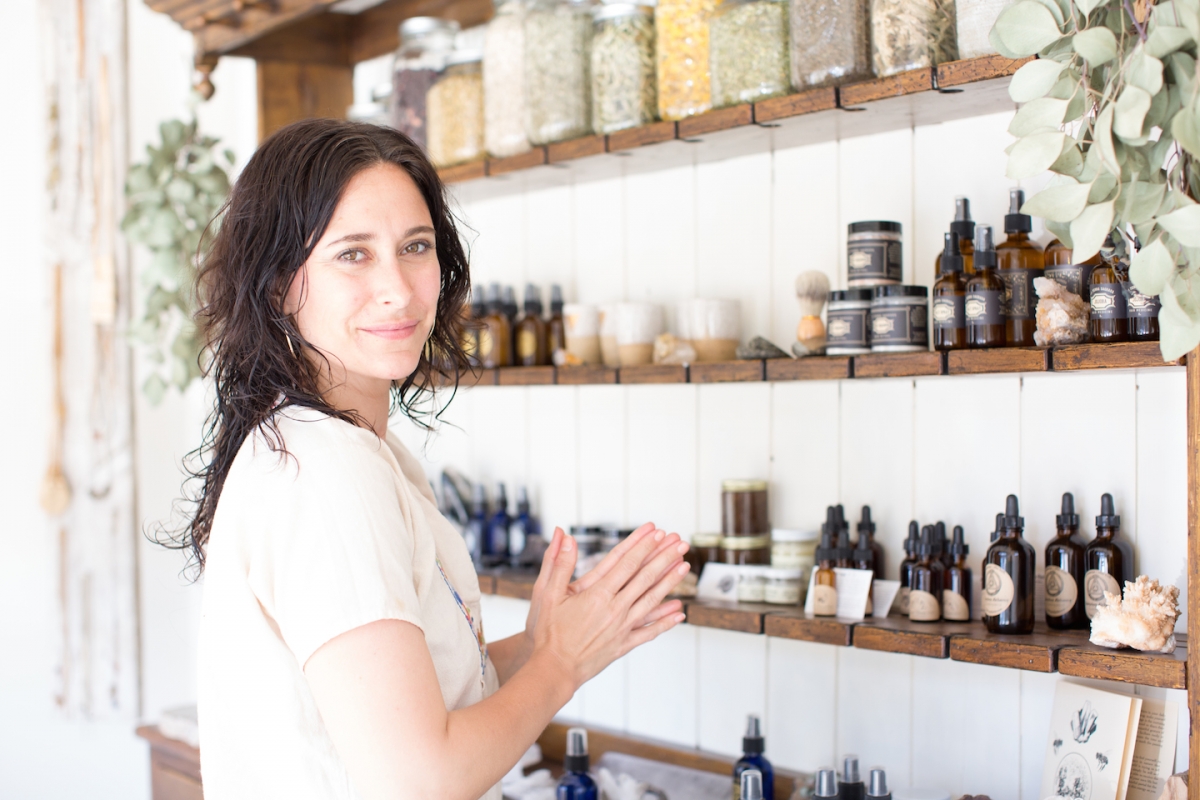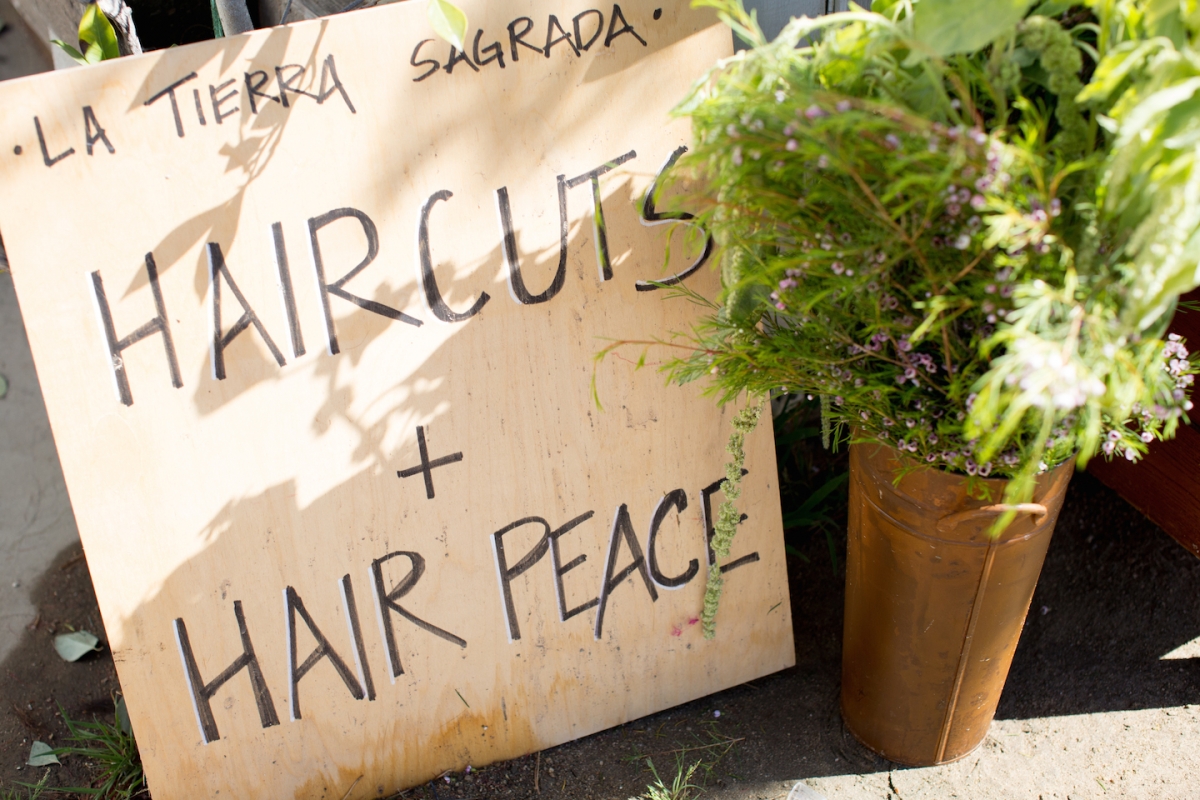 La Tierra Sagrada (the sacred Earth) is an all natural hair care line created by hairstylist and glow goddess, Stefani Padilla. See how this unique and natural product line promotes beauty, peace and healing. Alongside steadily transforming hair for clients in New York and LA, Stefani spent seven years working with a shaman exploring the extraordinary healing powers of plants, including ayahuasca. At the natural meeting point of these twin journeys, it was in ceremony that La Tierra Sagrada was born.
With an all-natural hair product line, La Tierra Sagrada comes from the desire to share her learned wisdom of plant medicine in the form of hair medicine.
La Tierra Sagrada's sought-after, hand-crafted, and healing regimen of hair products includes a shampoo, conditioner, Jojoba Oil, The Treatment, and Salt Spray. The products smell like Palo Santo wood, transporting you to a meditative state with each use. The salt spray is one of our all time favorites, keeping our hair perfectly beachy and smelling naturally delicious.
The Treatment is especially magical, and can be used to help regenerate the scalp and combat thinning of hair. Stefani had her own experience with hair loss, therefore was able to personally experience the emotional stress and self consciousness that this can cause. This particular product is very close to her heart and was created as an offering to help an issue that effects so many people. The Treatment is recommended for anyone who wants to give their hair and scalp a dose of extra glow, as well as those losing hair, including mamas in their fourth trimester (after giving birth), when hair loss is common.
Stefani resides in Portland but regularly comes back to LA to see clients and friends.
HOW THEY GLOW QUESTIONNAIRE
NAME: Stefani Padilla
NICKNAME: Hair Shaman ( Thanks Vogue! )
PROFESSION: Hair Stylist + Creator of La Tierra Sagrada Hair + Peace Movement
WHERE DID YOU GROW UP? The Southwestern deserts of Arizona
WHERE DO YOU LIVE? In the forests of the Northwest, Portland
WHEN YOU'RE EATING HEALTHY, WHAT IS A TYPICAL…
BREAKFAST: Broth and/or Green Juice
LUNCH: Salad with Protein of sorts and Fermented Veggies
DINNER: Protein and grounding veggies
SNACK: Dark Chocolate and Ginger Kombucha (Everyday)
WHAT ARE YOUR FAVORITE SPOTS/RESTAURANTS TO EAT HEALTHY?
These are my go-to's for breakfast, lunch, juice, snacks
WHAT IS YOUR FAVORITE INDULGENCE?
TEA!
I go out to see Po of Heavens Tea once a week..if not more...
I fully indulge in all the beauty of each tea journey.
WHAT ARE YOUR FAVORITE SPOTS/RESTAURANTS TO INDULGE?
https://www.tuskpdx.com/ - Super yummy mediterranean tapas
http://mauricepdx.com/ - Cute french cafe in the city
http://www.noranekoramen.com/ - BEST RAMEN with GF options ( hard to find)
http://www.damerestaurant.com/ -Neighborhood Favorite
http://broderpdx.com - Scandinavian breakfast / brunch so good!
http://www.sweedeedee.com/ - THE BEST BREAKFAST EVER
http://www.milkglassmrkt.com/ - One of my favorite tiny cafes- great tea, and good bfast too
http://trinketpdx.com/ - Also, delicious brunch spot.
http://www.navarreportland.com/ Intimate restaurant with great small plates, sweet date spot.
http://www.luceportland.com - Cute spot with fresh food, amazing wine, great for small bites.
WHAT WOULD BE YOUR LAST MEAL ON EARTH?
I was diagnosed with Celiac back in 2008 while living in NYC.
One of my favorite meals prior to my gluten-less life was the Truffle Mac and Cheese at the Waverly Inn...I still fantasize about this $55 plate of gooey delicacy.. I'd eat it for sure my last day on Earth.
WHAT IS THE BEST DISH YOU COOK/ YOUR FAVORITE RECIPE?
I Love a good Salade Nicoise, mainly because there's such a massive variety of all of my favorite ingredients. It's not just 1 flavor I have to commit to.. It's a whole rainbow!
WHERE DO YOU GROCERY SHOP?
I strive to get all of my food from Farmers Markets and Co-ops, luckily New Seasons is the local grocery store in Portland and it is pretty great as well.
TOP 3 ITEMS YOU ALWAYS HAVE IN YOUR KITCHEN?
Chocolate ( I have a Zen Bunni Addiction)
Anandaminde (Sun Potion)
Coffee (Usually Canyon Coffee only)
WHAT IS YOUR FITNESS REGIMEN?
Portland has some of the most gorgeous hiking trails.
I love getting outside and getting fresh air as often as possible.
I try to do yoga with my favorite teacher in Portland, Sarah Robinette, at least a few days a week.
If I am needing a bit more of a kick in the but, luckily my favorite workout class in Los Angeles is online at lekfit.com
Or when I need a deeper spiritual connection, I drop into one of Guru Jagat's online classes via Rama TV
WHAT IS YOUR SKINCARE ROUTINE?
Ally Draizin is my face guru. She not only offers the BEST facials on the planet, but he extensive, conscious beauty line is by far the most transformative I have used.
WHAT IS YOUR SELF-CARE ROUTINE?
I always start the day off with Mantra.
Followed by my morning routine of oil pulling, then a warm cup of lemon water to alkalize before either my coffee ritual or tea ceremony.
This is all done, everyday, before I begin ANYTHING.
I dry brush and guasha before taking a nice epsom salt soak. A daily bath is my most grounding medicine.
Once a week I do a hair ritual with the La Tierra Sagrada Hair Treatment and hit Loyly Spa for some sauna healing
WHAT ARE YOUR FAVORITE MAKEUP/NATURAL BEAUTY PRODUCTS?
Alima Pure-a local Portland based Make Up line
For hair, Im a bit biased, and only use La Tierra Sagrada products.
And for everything else, Im so fortunate to have so many friends that are creators of the some of the BEST natural beauty products on the market!
IF YOU WERE STRANDED ON A DESERT ISLAND, WHAT 3 PRODUCTS WOULD YOU TAKE WITH YOU?
Mohave Desert Skin Shield Moisturizer
Poppy and Someday Gypsy Rose Toner
WHAT PROFESSIONAL BEAUTY/HEALTH/FITNESS/SPIRITUAL GURUS DO YOU SWEAR BY?
BEAUTY: Jessa Blades of Blades Natural Beauty
HEALTH: Nature
FITNESS: Lauren Kleben of LEKfit
SPIRITUAL GURUS: Amma, Lennon, Chogyam
TOP 3 FAVORITE SONGS?
Nina Simone- Who knows where the time goes
Lennon- Imagine
Neil Young- Harvest Moon
MOST-WATCHED MOVIE?
16 Candles
MOST LIFE-CHANGING BOOK?
The Alchemist by Paulo Coelho- Reading this book at 18 really guided me to break past all of my self-created barriers, and to charge forward towards accomplishing every dream I envisioned. I feel I still carry some of the powerful lessons I learned through that story now, 15 years later.
FAVORITE SHOPS/BOUTIQUES?
COOLEST PLACE YOU'VE EVER VISITED?
The Amazon Jungle
I was there on dieta.
Dieta is the most transformative experience I've had thus far.
It was the real initiation into creating and following through with the product line.
Diving deeper into the world of healing plants and animals and learning the importance of their infinite teachings, inspired me to share this wisdom through La Tierra Sagrada. It also opened my eyes to the importance of protecting the Amazon. The product line is my way to bridge the medicines of the north and south to create balance and protect the planet and all of her living beings.
FAVORITE HOTELS?
Friends' Homes
And my friends over at Shelter Social Club Hotels in Southern California.
WHAT IS THE BEST GIFT YOU'VE EVER RECEIVED?
My Life and my Journey
AND La Tierra Sagrada, of course!
MOST PROFOUND HEALING EXPERIENCE YOU'VE EVER HAD?
In the ayahuasca ceremony where La Tierra Sagrada Hair was birthed.
One of the most common questions I'm asked is
"How did you create the line?"
Ultimately, in the 5 hour ceremony, I became a vessel for allowing in information. In the ceremony I was taught how to create and share a healing product line, comprised of all natural, plant based ingredients.
It became a clear message to heal through sacred plant medicines, heavily centered around community consciousness, ritual and self care practices through sharing of experience and knowledge with others.
WHO ARE YOUR MOST TRUSTED HEALERS?
The Ocean, Nature, Trees
WHAT IS THE BIGGEST LEARNING EXPERIENCE YOU'VE HAD TO FACE AND WHAT DID YOU TAKE AWAY FROM IT?
Overcoming Fear
I believe, as humans, we get stuck when we allow our fears to limit us. It's important to dissect the fears, and identify where they are coming from. Most of the time, all that it takes to move beyond my own self-limiting beliefs is becoming aware of the core of where the fear is stemming from, and then remembering that we are fearless, limitless, expanding creatures by nature.. It's really up to us when we want to move beyond the fear that is holding us back.
DESCRIBE YOUR PERFECT DAY.
I keep waiting for there to be one day where every single thing on my to-do list is done!
That sounds like real perfection..
But until then, a day at the Korean Spa will always suffice.
WHAT IS YOUR MOST VALUABLE GLOW TIP/SECRET??
Water, Mediation and SLEEP!
FAVORITE QUOTE?
"When the Power of Love overcomes the Love of Power, the World will know PEACE"
--Sir Hendrix
WHAT ARE YOU GRATEFUL FOR?
Each day I am alive.
WHAT MAKES YOU GLOW?
BEing at Peace and BEing in Love