Von Holzhausen // Vicki von Holzhausen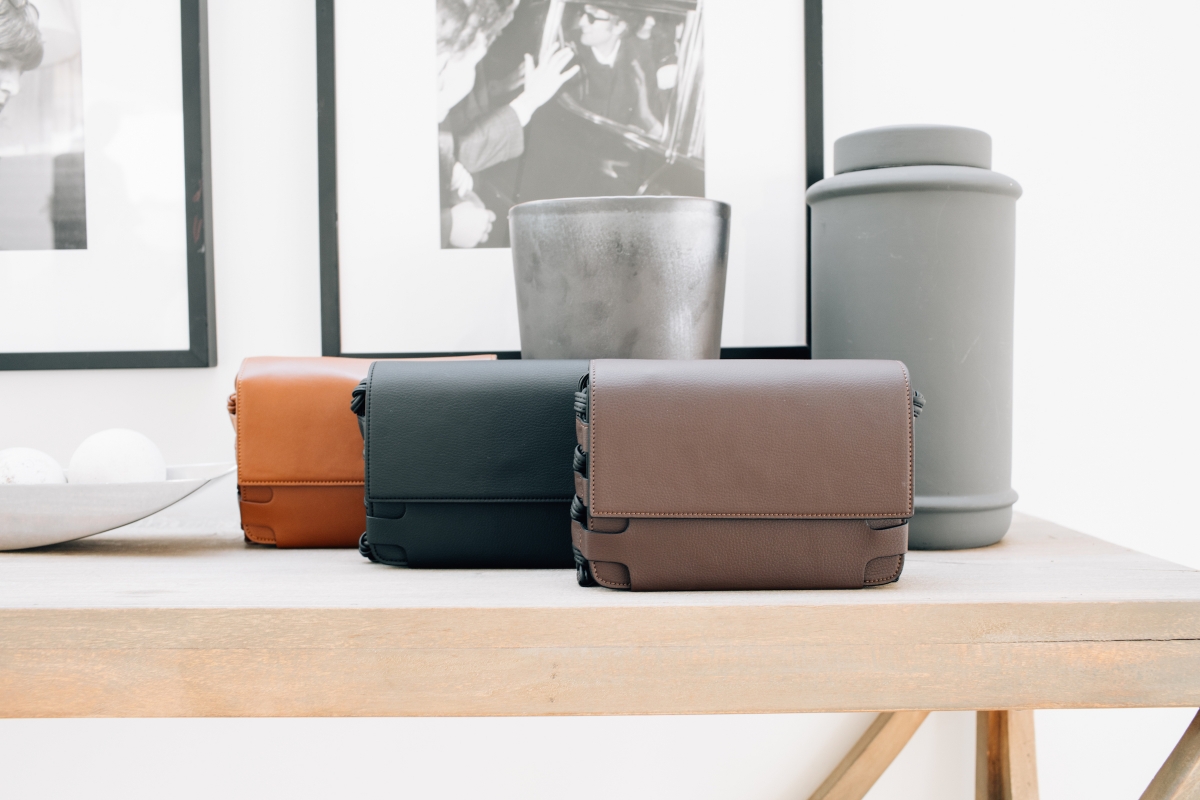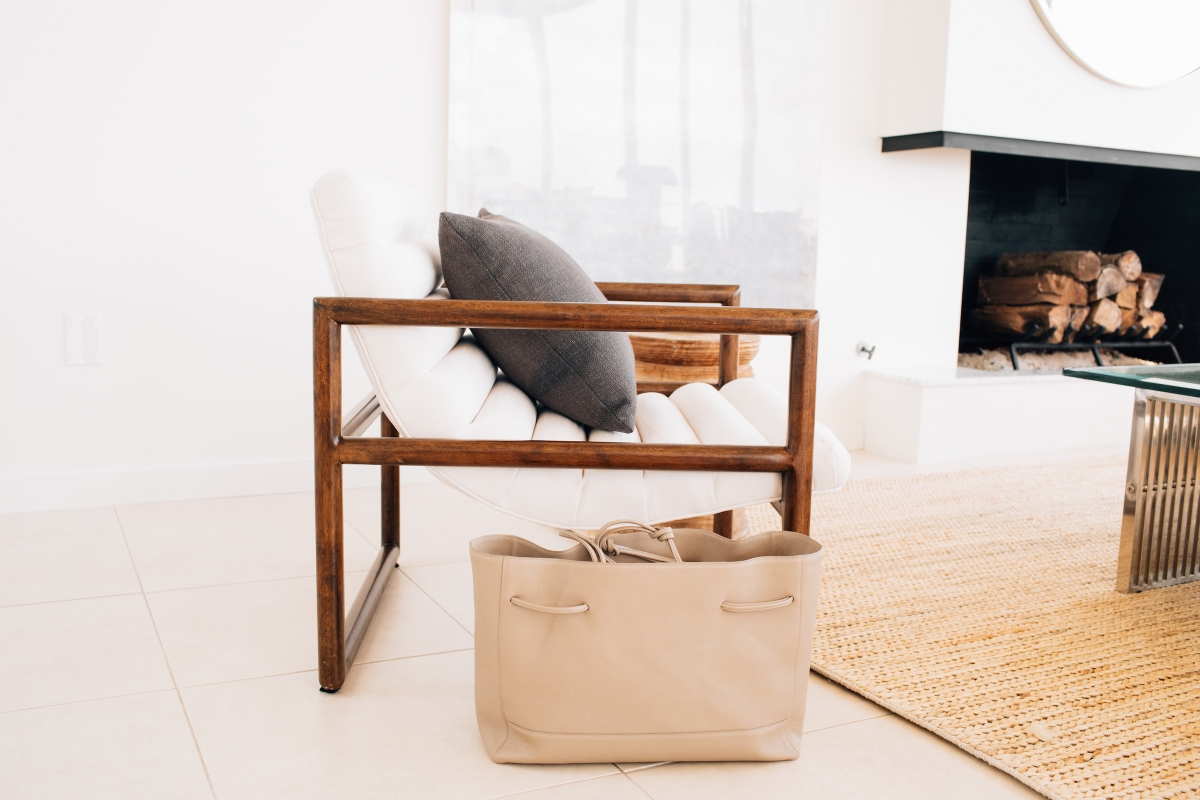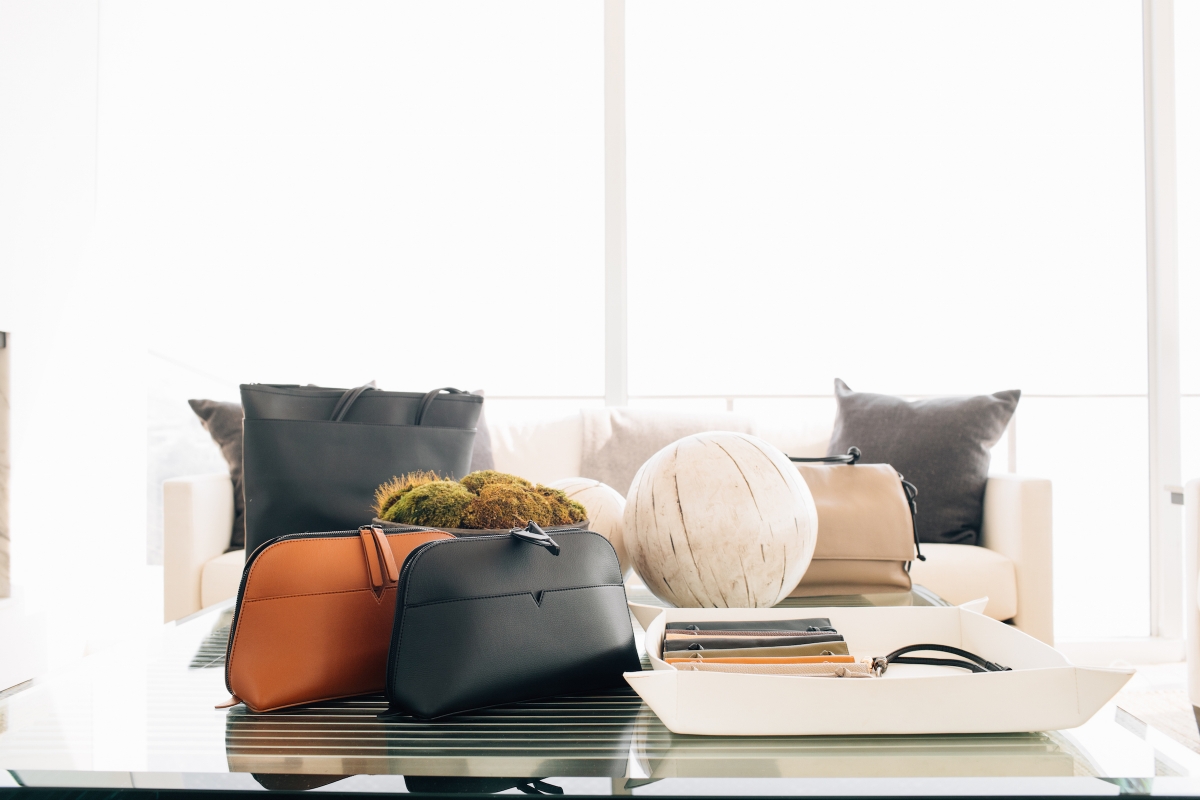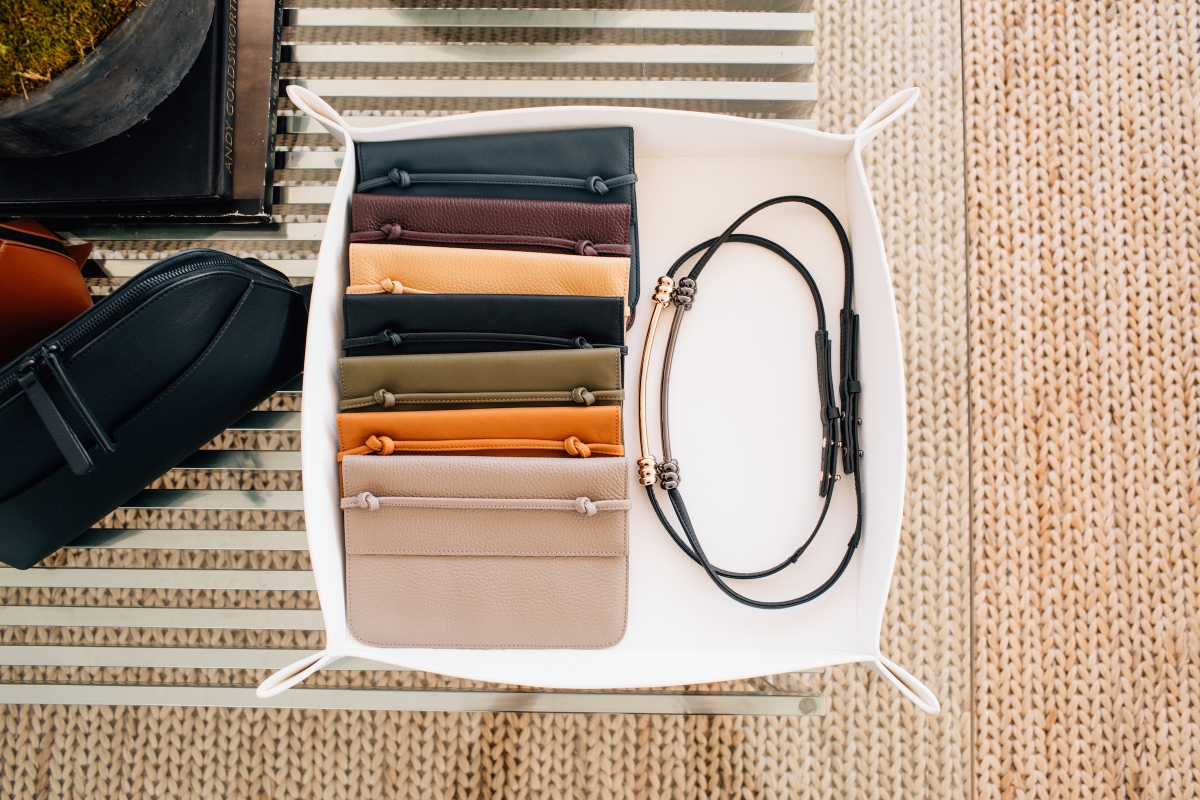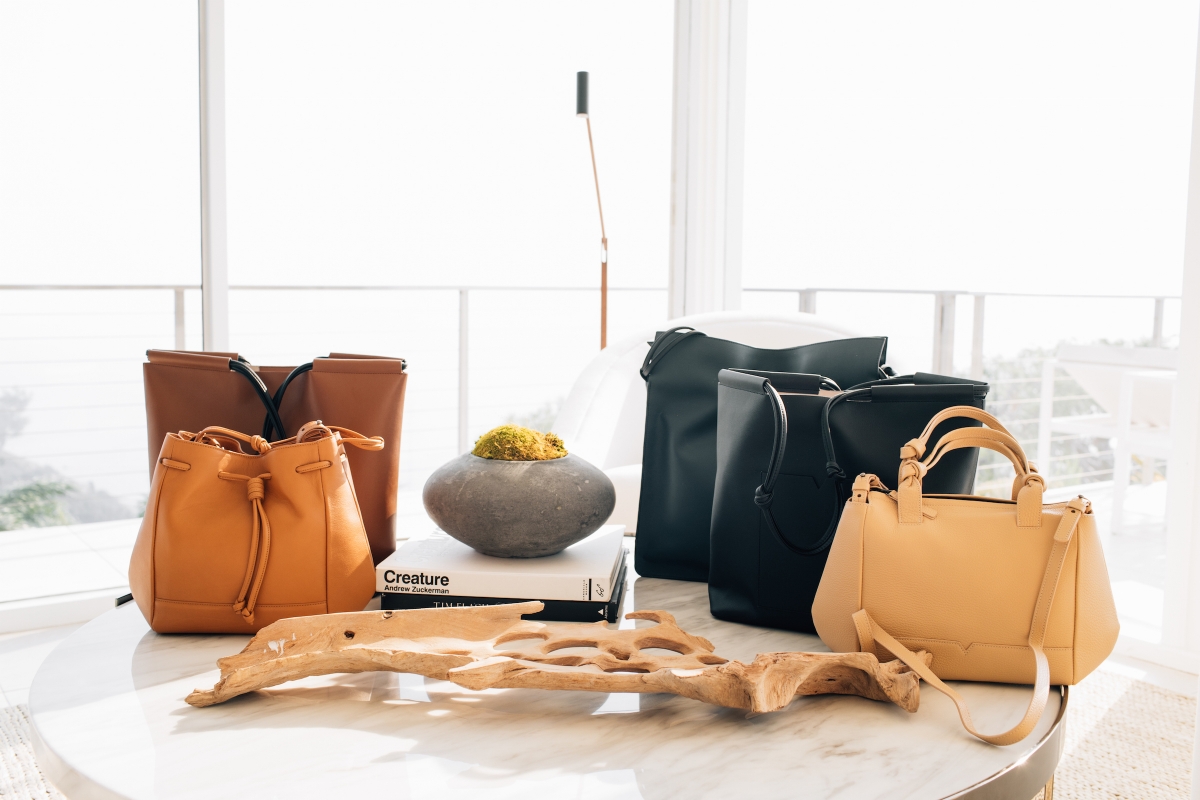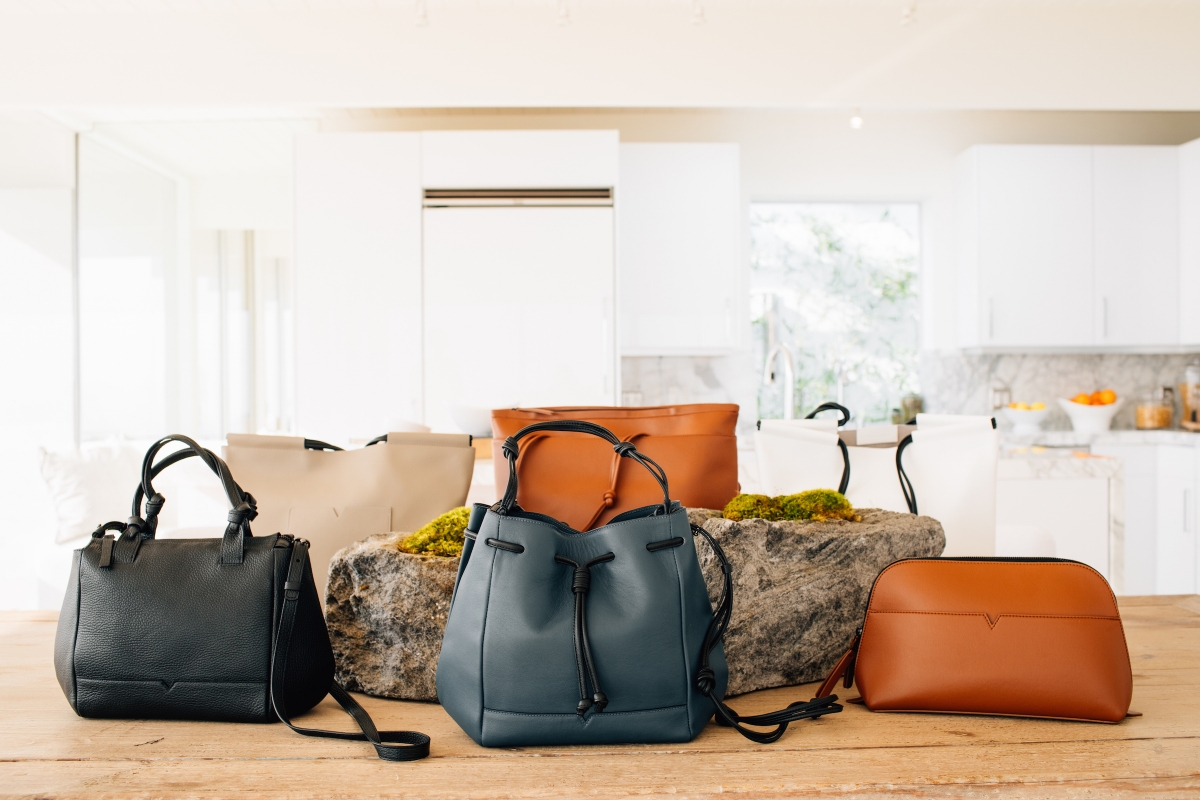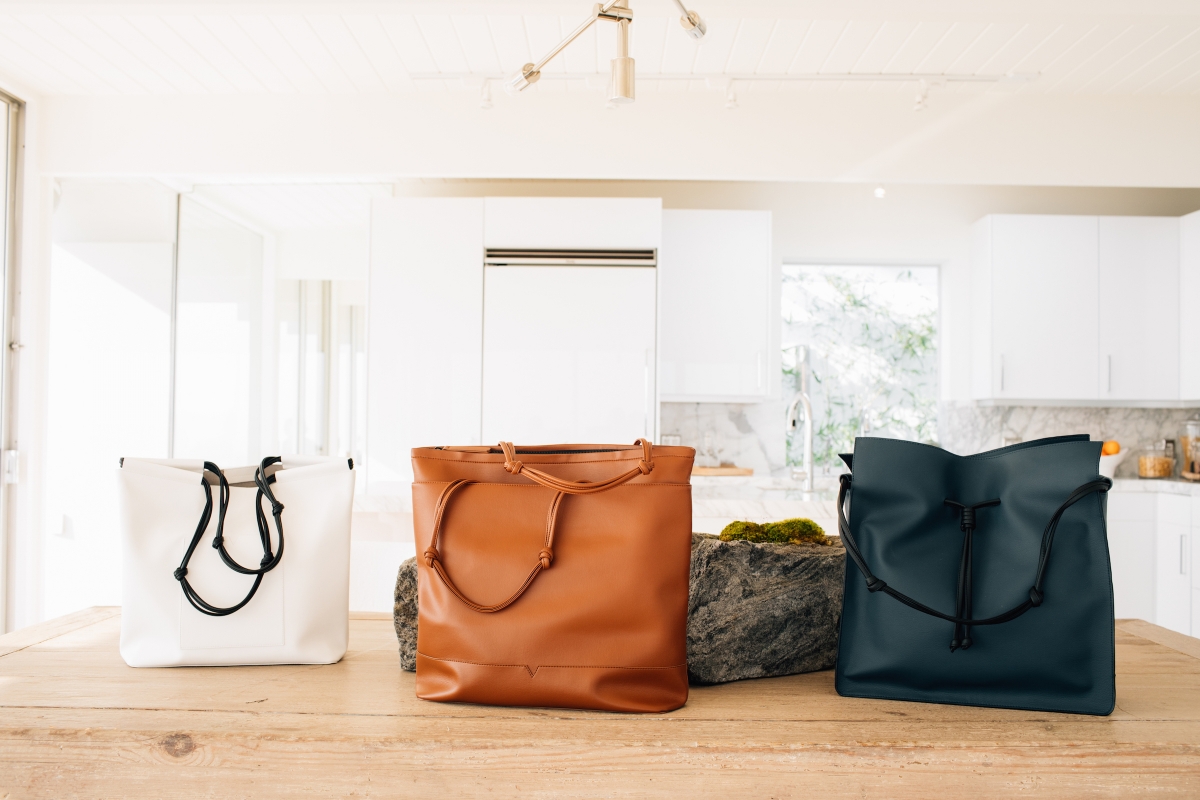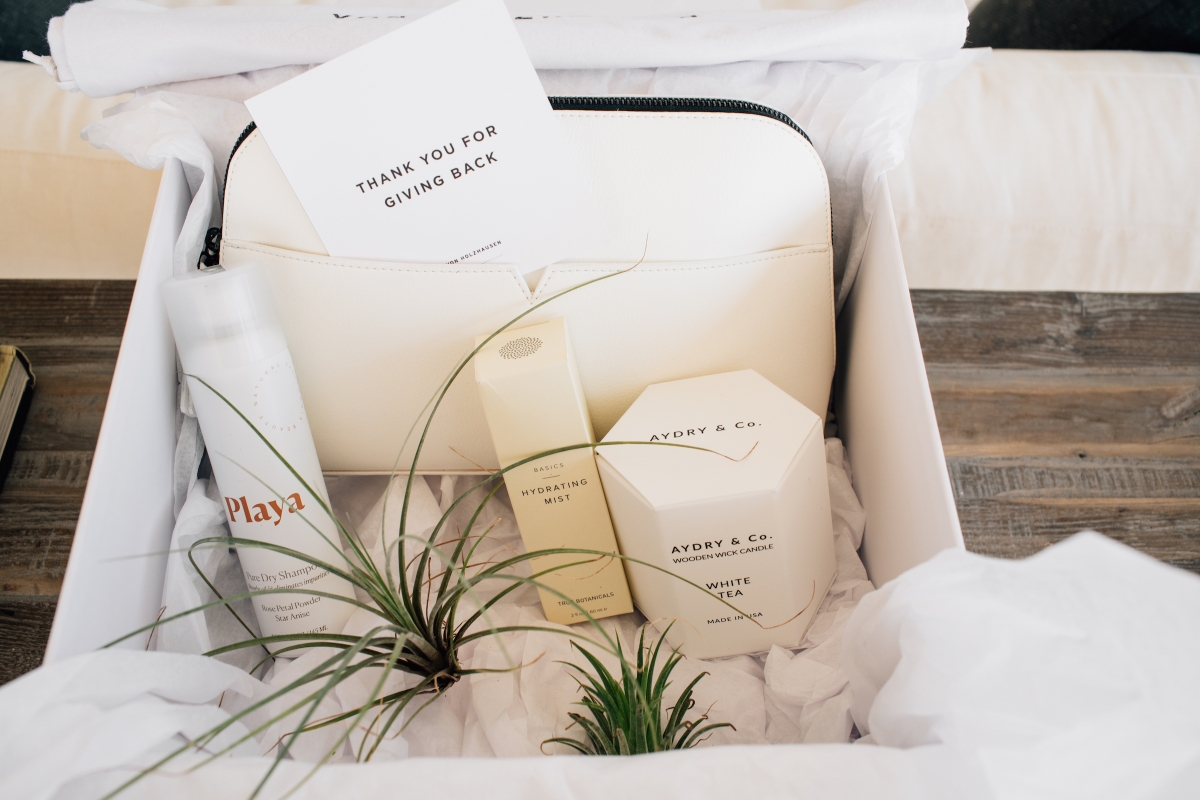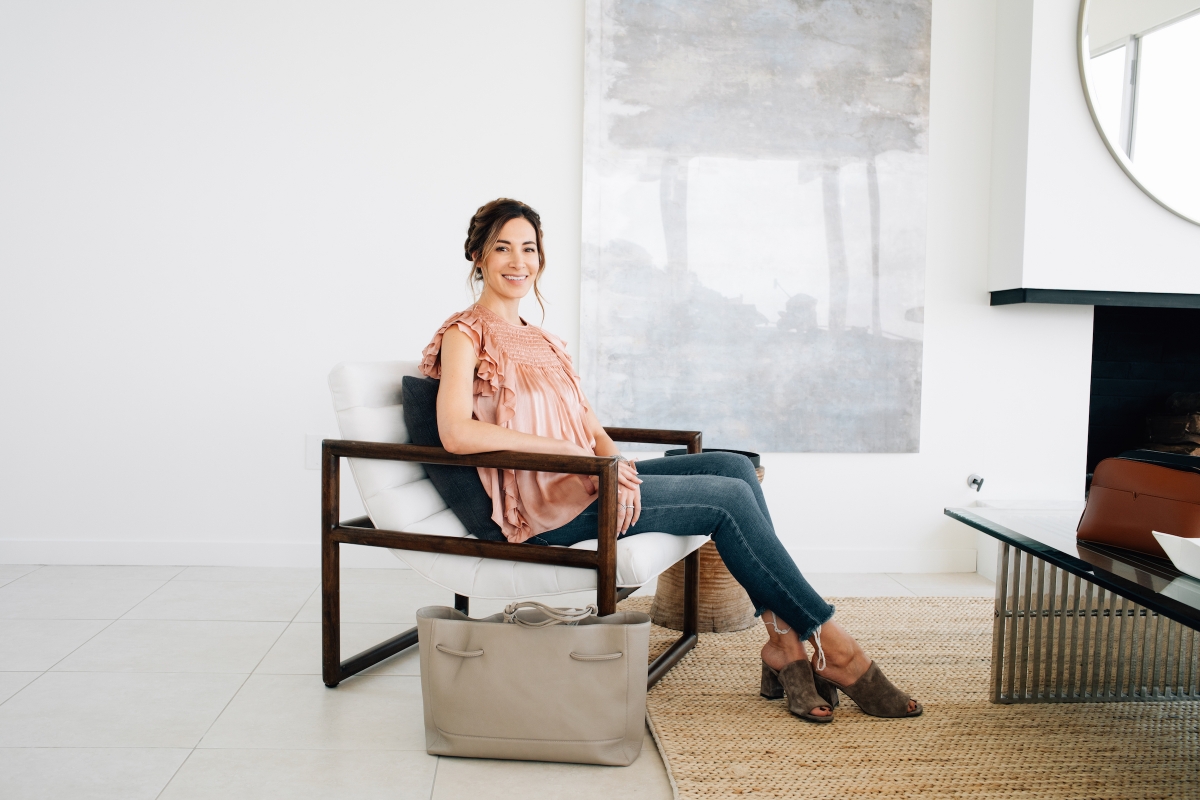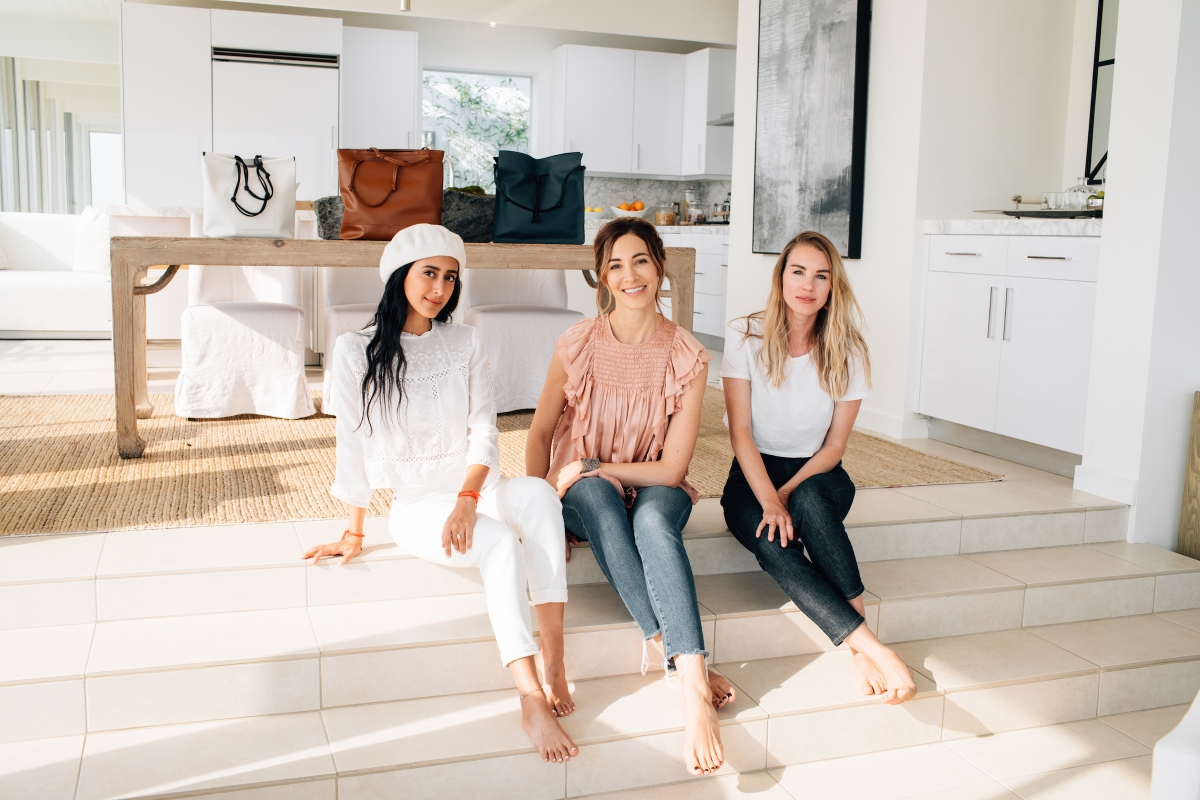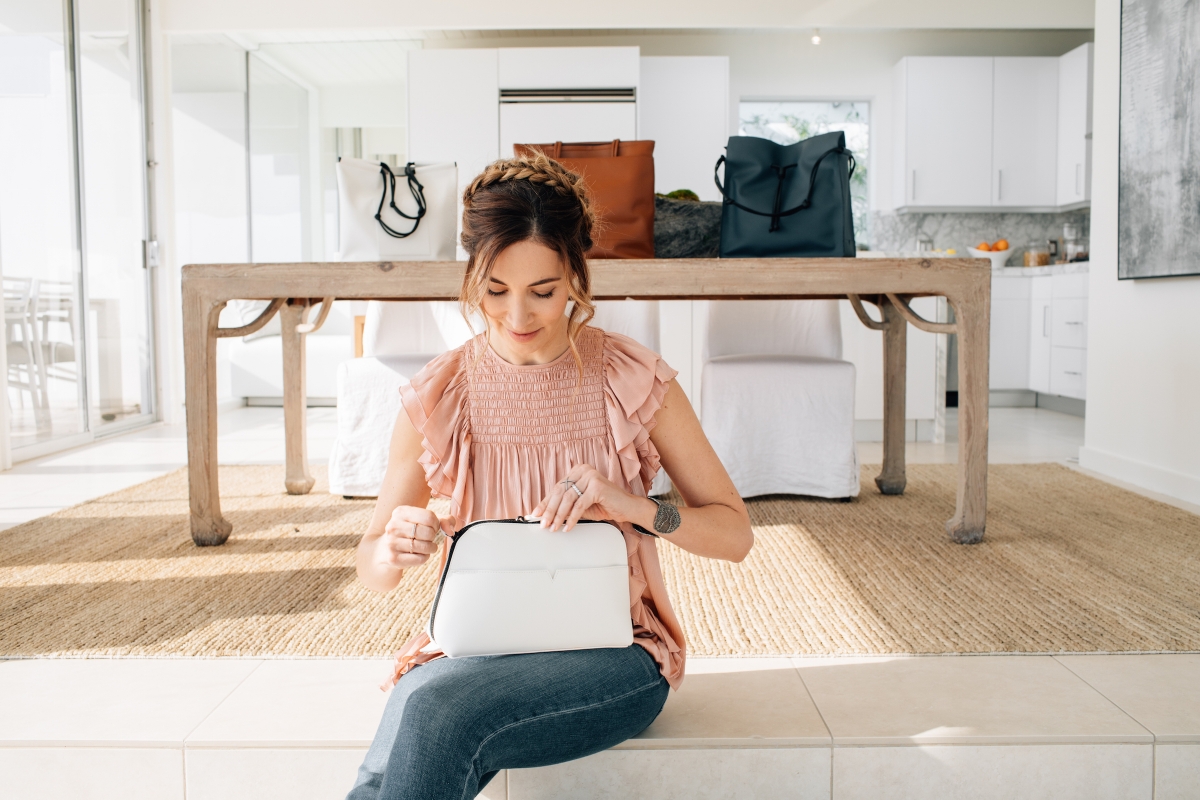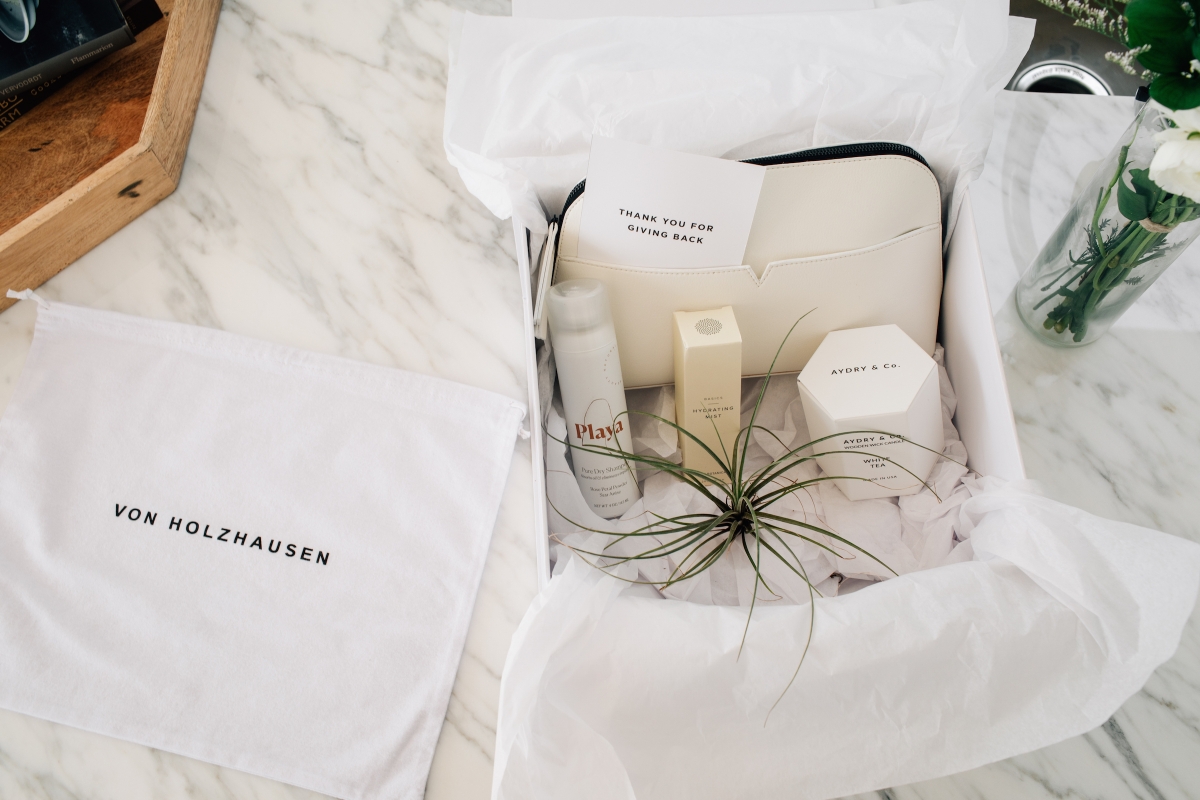 von Holzhausen is a future focused brand that believes in ethical style. Founded by designer Vicki von Holzhausen, the brand makes everything in the USA out of materials that minimize social impact. See her ethical gifting tips, after the jump.
Launched in 2015, von Holzhausen is a Malibu–based collection of accessories with a focus on design, sustainability, and quality of life. Created by Vicki von Holzhausen, the line offers a well–edited assortment of essential, easy to wear bags and accessories in timeless palettes, at prices that leave out the traditional retail mark–up.
An award–winning designer, Vicki began her career in the automotive industry, working for Audi and Mercedes–Benz in Europe. After returning to her native Los Angeles, she sought to create a brand combining her technical expertise with an ethical approach to consumerism in order to offer products that add value to the world.
Vicki von Holzhausen uses her expertise from her previous career to find traditional materials made in an environmentally conscious ways. Employing more advanced, unique materials from the auto industry, combining them with clean and timeless shapes, Vicki created her ethical and sustainable handbag brand, von Holzhausen.
Her innovative Technik–leather is a 100% animal free, intelligent material with science behind it. It has the supple feel of traditional leather combined with the durability of an engineered performance fabric. What we love about Technik–leather is that it is made with the utmost concern for the environment and with care for the long–term impact on our present and future life. The manufacturing processes used to create it focuses on conservation of raw materials, toxic-free solutions, and a minimal dependency on natural resources. Also, 99% of solvents used in processing the Technik–leather are recaptured and recycled.
With the holidays around the corner, Von Holzhausen bags make the perfect ethical gift. There's nothing glowier than getting a beautiful gift that is sustainable and ethically made. And that's why we're giving away one lucky winner a zip clucth -- find all the details on how to enter on our instagram.
As a leader in the leather-alternative accessories space Vicki has a distinct point of view when it comes to eco-consciousness and sustainability and has some really great tips and advice on gifting from ethical perspective.
// Vicki's Tips for More Ethical Gifting //
The conversation about sustainability and bringing more ethical practices to the fashion industry is slowly becoming more mainstream. But in the rush and chaos of holiday shopping, it's easy for the typically discerning shopper to throw their ethical consumer mindset by the wayside, and try to work down their shopping list as quickly as possible without regard to the types of products and brands they're supporting.
As an ethically minded brand ourselves, we've carefully honed our sustainability process since launching our Malibu-based accessory brand in 2015 and have even trademarked the first ever animal-free, sustainable performance fabric called Technik-Leather. In addition, we give back a portion of proceeds of each sale to women's centered charities. The road to shifting our perspectives regarding sustainability and ethical processes in the industry hasn't been an easy one, but it's been 1000% worth it, which is why in anticipation of the upcoming holiday season, we want to share some of the things we've learned along the way to help you seamlessly get into the gifting spirit this season in a way that you can feel good about.
1. Think Classic & Timeless. // Think twice before you purchase. Ask yourself: will they really love this item into next year and beyond? Will you or the person you are gifting be able to wear or use it often? Does it go with other things they already have? Mindfulness might be a buzz word in the wellness space, but it also applies to consumerism. Ditch the trends, and focus on longevity, so that you're consuming less frequently but retaining more value from your purchases. To ensure items last longer, consider picking up items that will help with the lifespan of your gift, such as quality hangers, special cleaning supplies, dust bags, etc.
2. Plan Ahead. // Have you ever been in the situation where it's a week before Christmas, and you walk into a department store and buy the first thing in your budget that you think your loved one may or may not like? When you're pressed for time, it's difficult to make more informed choices, so avoid this type of stressful shopping by starting to think about gifts at least a couple months in advance. Start by making a list of everyone in your life you'll be purchasing a gift for and then brainstorming what they may like this year. Then start to do your research. Are there brands and stores that carry these items that put a premium on sustainability or giving back to the community? Choosing to support smaller, local businesses rather than rushing to get all your shopping done in a mall or chain store will mean you're often supporting more ethical practices by default.
3. Think Outside the Gift. // Beyond the actual item you're shopping for, start to consider other ways you can reduce waste during this busy shopping season. For example: gift wrapping and shopping with your own reusable bags. Start to ask yourself a few questions like, 'Does the gift I'm giving really need traditional wrapping? Is it essential that I use a different themed wrapping paper for each person I'm gifting, or can I go with something more simple and natural for all? Is there something at home I can re-use for a more non-traditional look?' Consider stocking stuffers as well and if it's necessary for these to all be individually wrapped.
4. Focus on Quality. // Research brands that reduce waste, care about the environment, and create products that are made to last. At this time, all brands have a shared responsibility to take care of our world and contribute to positive change. Take a bit of time to discover such brands and support their efforts. We like to create a bookmark on our web browser toolbar with a list of e-commerce sites we've found that put a premium on ethical practices. This way, when a new gifting season approaches, we're not scrambling to remember all of the amazing ethical brands we've discovered over the years and can enjoy the process of giving meaningful items to our loved-ones.
5. Always Read the Labels. // Finding out where an item was made can give you a lot of insight into the brand's production process. Try to support products made in the USA whenever possible, as these items likely use less fuel to be transported and also support fair wages for the workers who craft them. For items made globally, don't be afraid to inquire with the sales staff or customer service team to find out if the products they sell support responsible manufacturing and artisan work in developing communities.
6. Go natural. // Research and understand the chemicals (or hopefully lack thereof) that are used in or on the products you are purchasing. If it is something that your loved ones will put in or on their body, try to stick with natural products that don't included engineered fragrances. They are cleaner, better, and your bodies will thank you.
10 ETHICALLY-MINDED QUESTIONS TO ASK YOURSELF BEFORE MAKING YOUR NEXT FASHION PURCHASE
Does this purchase fit in a passing trend, or is it more timeless?
How often will I actually use this item?
Does it go with anything I already have in my closet?
Is it made from an all-natural material or are chemicals used?
How far is the product being shipped to make its way to me?
How is this brand contributing to positive change in the world if at all?
Does the brand support fair wages for its workers?
Can I see myself using this item in 5 years?
Will this item need to be washed often?
Does this purchase feel rushed or is it something I truly want and need?
HOW THEY GLOW QUESTIONNAIRE
NAME: Vicki von Holzhausen
NICKNAME: Vicki
PROFESSION: Designer
WHERE DID YOU GROW UP? Pasadena, CA
WHERE DO YOU LIVE? Malibu, CA
WHEN YOU'RE EATING HEALTHY, WHAT IS A TYPICAL… I try and eat a mostly plant-based diet with a variety of seasonal veggies and get protein from nuts, Greek yogurt, wild caught fish, and love Beyond Burgers, which are made from pea protein.
BREAKFAST: Coffee, yogurt and honey, a handful of nuts, maybe some egg whites if I'm really hungry. LUNCH: Kale salad with some nuts and berries, more coffee DINNER: Salmon with veggies. Yogurt and honey for dessert. SNACK: Vega One protein shake, Lara bars, Vega bars, veggies and hummus, apples, more coffee.
WHAT ARE YOUR FAVORITE SPOTS/RESTAURANTS TO EAT HEALTHY? I enjoy Plantfood and Wine in Venice, Malibu Farm, and the Farmhop in Brentwood. Basically, any farm to table restaurant.
WHAT IS YOUR FAVORITE INDULGENCE? Dick Taylor Fleur de Sel chocolate bar
WHAT ARE YOUR FAVORITE SPOTS/RESTAURANTS TO INDULGE? Soho House Malibu, Gjelina in Venice, Gjusta in Venice
WHAT WOULD BE YOUR LAST MEAL ON EARTH? Seared scallops with butter sauce, truffle fries, and chocolate lava cake.
WHAT IS THE BEST DISH YOU COOK/ YOUR FAVORITE RECIPE? I wish I was a better cook but I always rush it, especially since becoming a mom. I grill veggies well and my favorite dish right now is shishito peppers on some fresh made hummus.
WHERE DO YOU GROCERY SHOP? PC Greens in Malibu and Gelson's in Pacific Palisades
TOP 3 ITEMS YOU ALWAYS HAVE IN YOUR KITCHEN? Mary's crackers, blueberries, fresh hummus
WHAT IS YOUR FITNESS REGIMEN? (how often & what you do) I like interval training and functional training and I try to go 3-4 times a week. The classes I take are similar to Crossfit, without the competitive component.
WHAT IS YOUR SKINCARE ROUTINE? (products, facials, etc) I'm a minimalist when it comes to products. All I really use is hydrating lotion and a day cream with sunscreen. I use Cle de Peau face wash and I switch up between different organic skincare brands all the time. I really like True Botanicals currently and I've been using their hydrating oil as a lotion.
WHAT ARE YOUR FAVORITE MAKEUP/NATURAL BEAUTY PRODUCTS? I don't really use too much makeup. I use Cle de Peau under eye concealer and Anastasia brow pencil and lip stain. I also love tubing mascara since it doesn't give me under eye smudges, but I haven't found the perfect one yet. They all dry out too quickly. Someone needs to make a good one!
IF YOU WERE STRANDED ON A DESERT ISLAND, WHAT 3 PRODUCTS WOULD YOU TAKE WITH YOU? Chantecaille sunscreen, cold pressed Coconut Oil (dual purpose), By Terry Lip Balm with a hint of tint.
WHAT PROFESSIONAL BEAUTY/HEALTH/FITNESS/SPIRITUAL GURUS DO YOU SWEAR BY? I love endurance training and I think it really helps boost my energy and alertness level and keeps me from feeling fatigued. My friend, Brandon Brazier wrote a great book a while back called Thrive and I think there's some solid advise in there about realistic self motivation, plant-based eating, and fitness.
TOP 3 FAVORITE SONGS? The Ship Song - Nick Cave Where is My Mind? - The Pixies Helplessness Blues – Fleet Foxes
MOST-WATCHED MOVIE? The Notebook
MOST LIFE-CHANGING BOOK? Invisible Cities Italo Calvino
FAVORITE SHOPS/BOUTIQUES? Blick Art Store, Mohawk General Stone, the previous Collette in Paris (sad to see it go), and Maxfield pop-up store in Beverly Hills.
COOLEST PLACE YOU'VE EVER VISITED? Vals Spa, Switzerland designed by my favorite architect, Peter Zumthor.
FAVORITE HOTELS? The Biltmore in Santa Barbara, Hotel Healdsburg
WHAT IS THE BEST GIFT YOU'VE EVER RECEIVED? My two boys.
WHO ARE YOUR MOST TRUSTED HEALERS? God
WHAT IS THE BIGGEST LEARNING EXPERIENCE YOU'VE HAD TO FACE AND WHAT DID YOU TAKE AWAY FROM IT? Stepping away from my previous career and taking a risk by starting my own business. The take away is that you have to turn off everyone else's opinion and follow your dreams.
DESCRIBE YOUR PERFECT DAY. Sleeping in, going for a walk at our local beach with my husband, boys, and 2 dogs, having time to read a book, and having friends and neighbors over for a BBQ.
WHAT IS YOUR MOST VALUABLE GLOW TIP/SECRET? Enjoy the moment, count your blessing, and stop worrying about things that you can't control.
FAVORITE QUOTE? "Imagination is more important than knowledge." - Einstein
WHAT ARE YOU GRATEFUL FOR? My family, our health, the California sunshine, working on projects I enjoy.
WHAT MAKES YOU GLOW? Hearing my little boys sing songs in the morning.
Photography by: Emily Knecht