DEERDANA // Dana Veraldi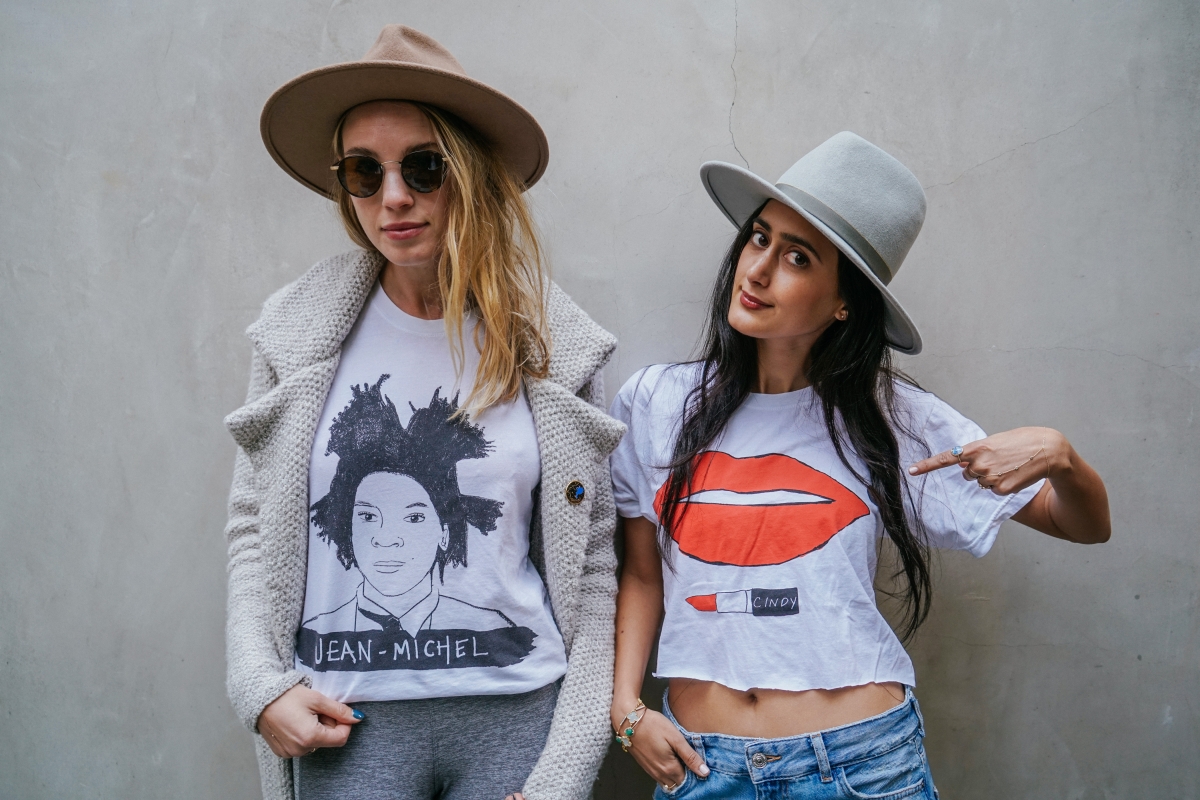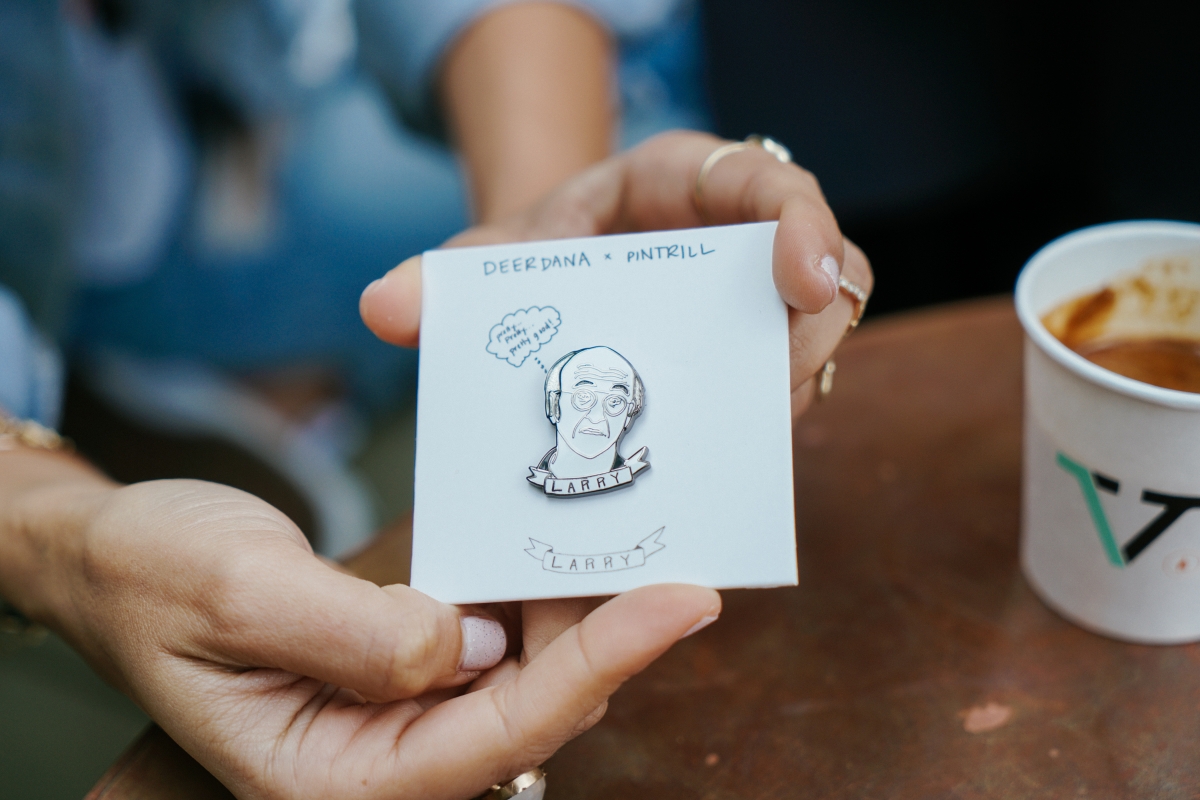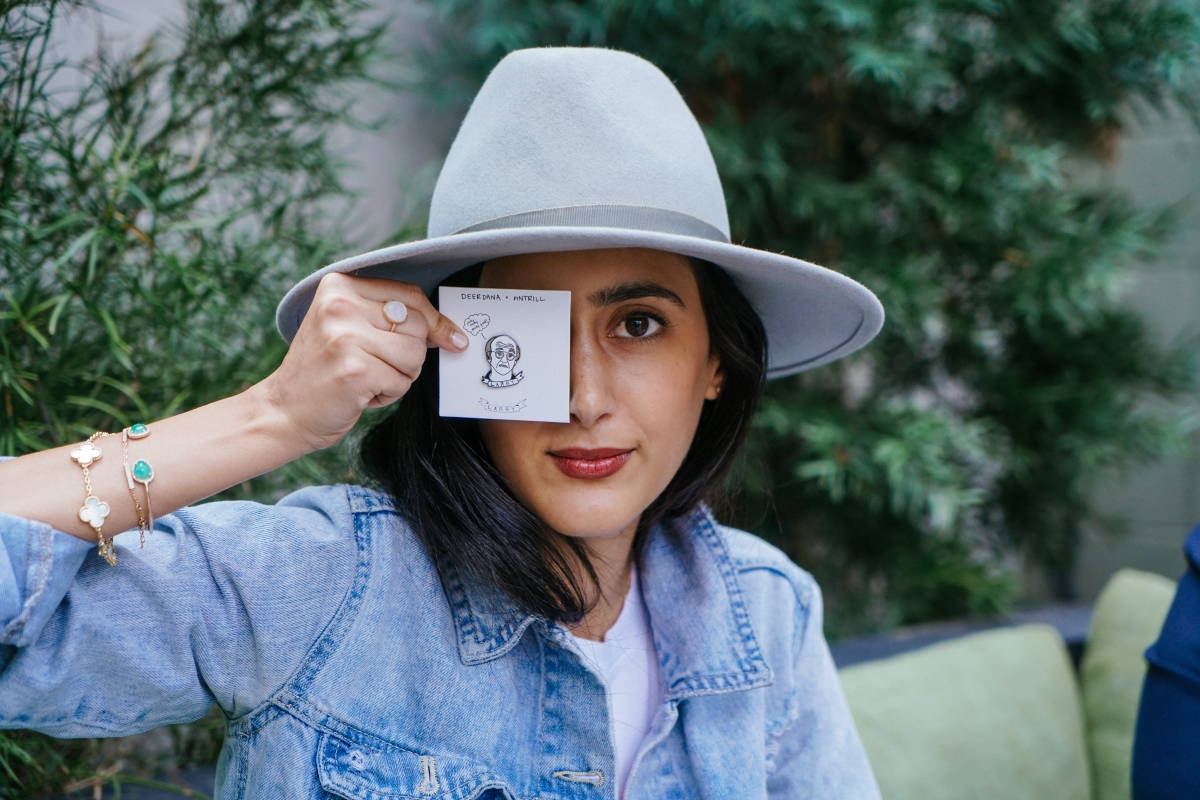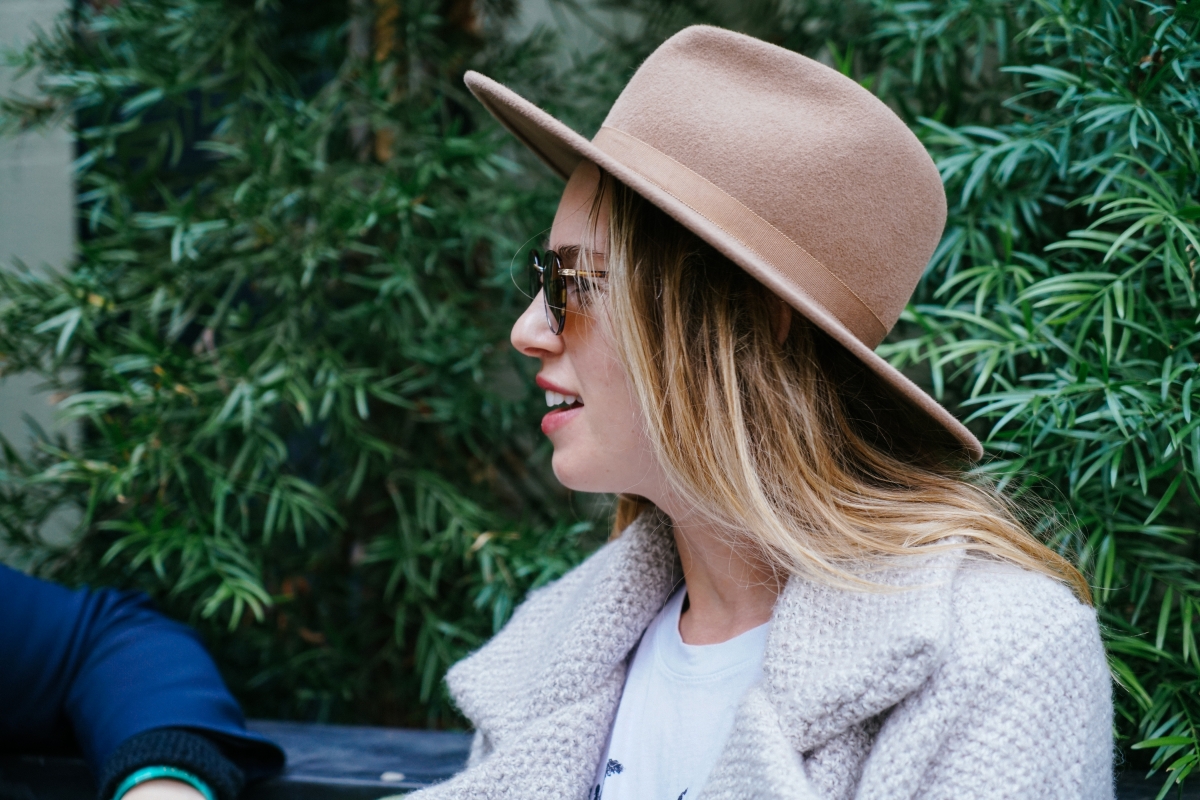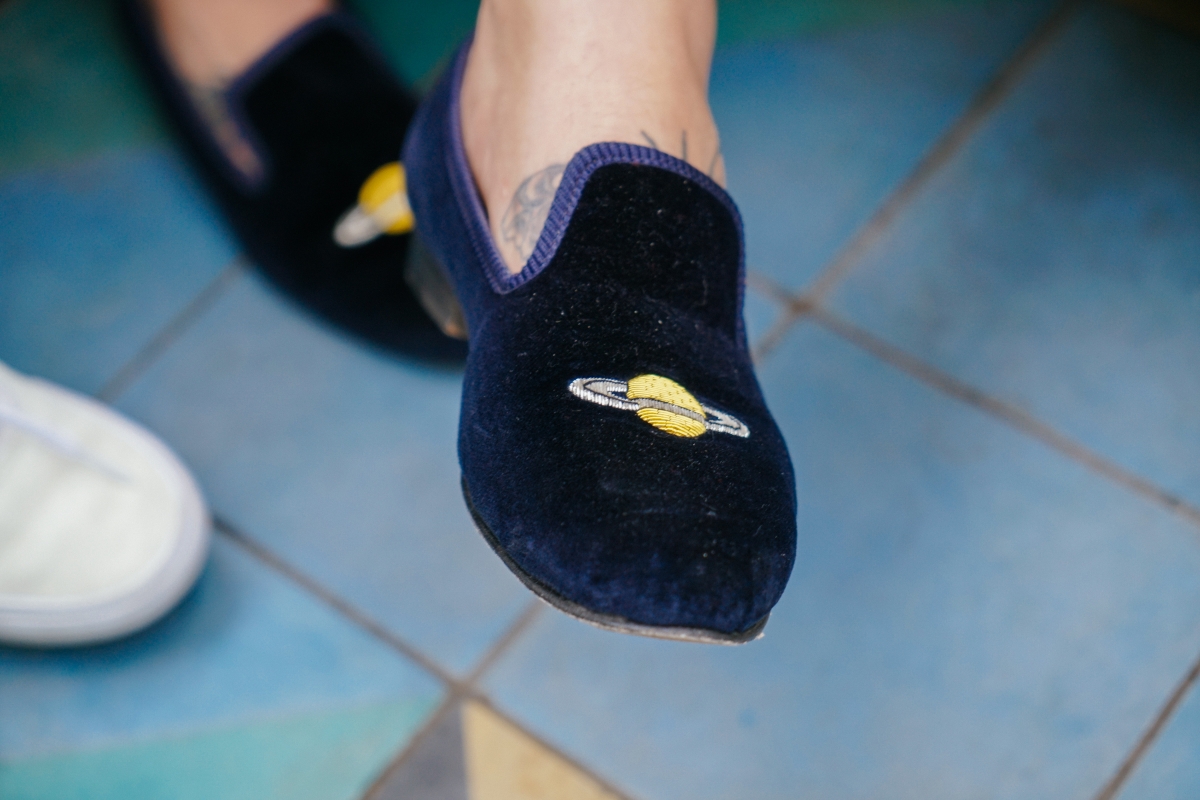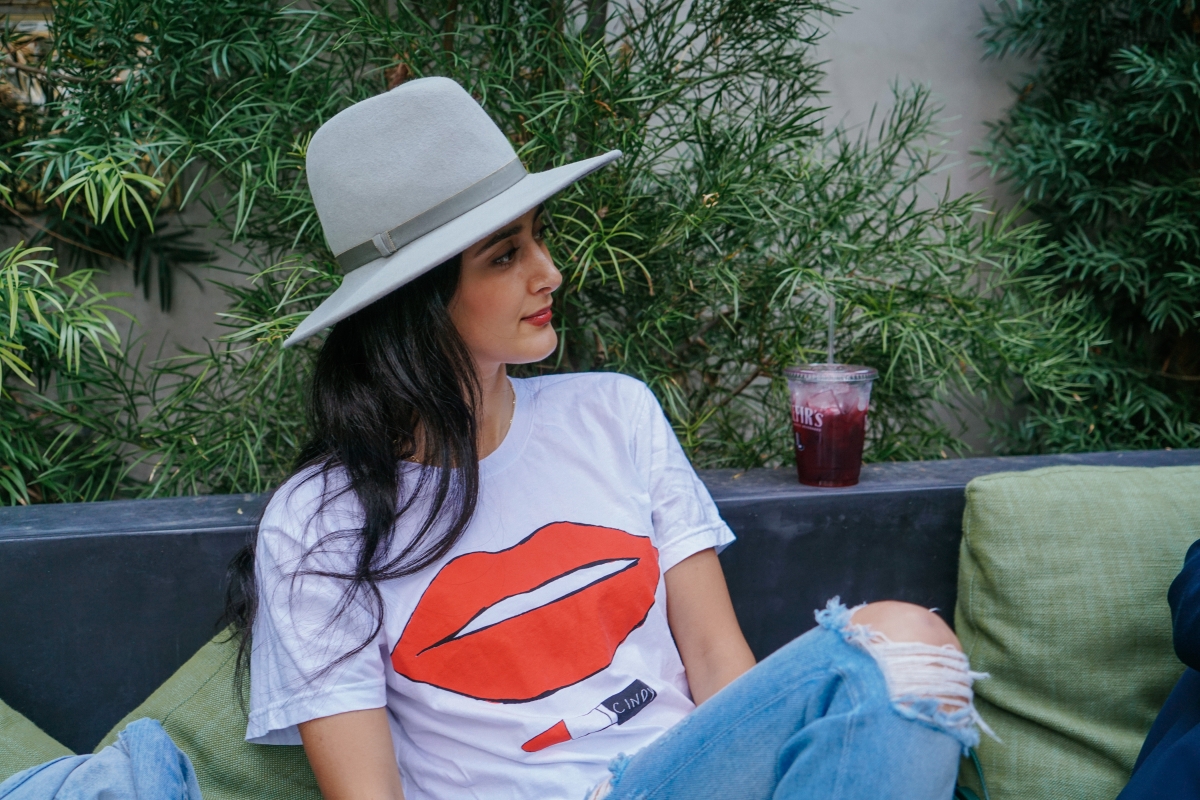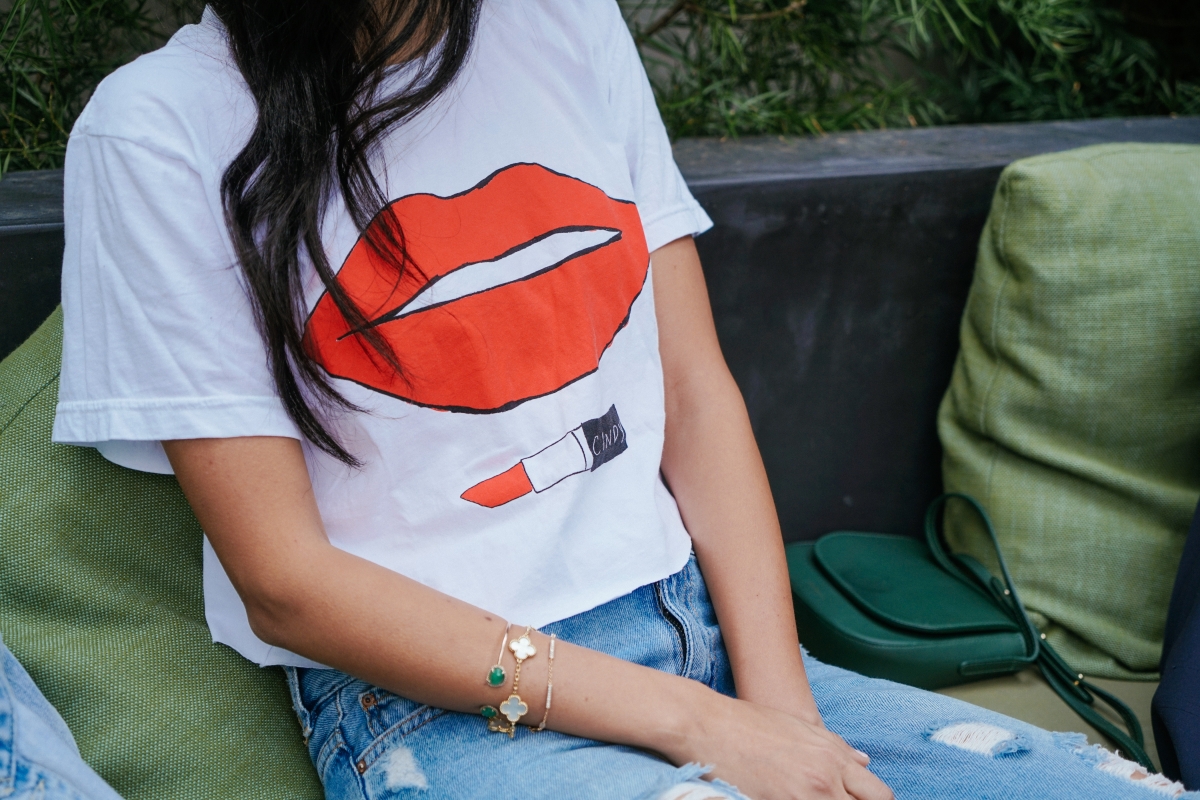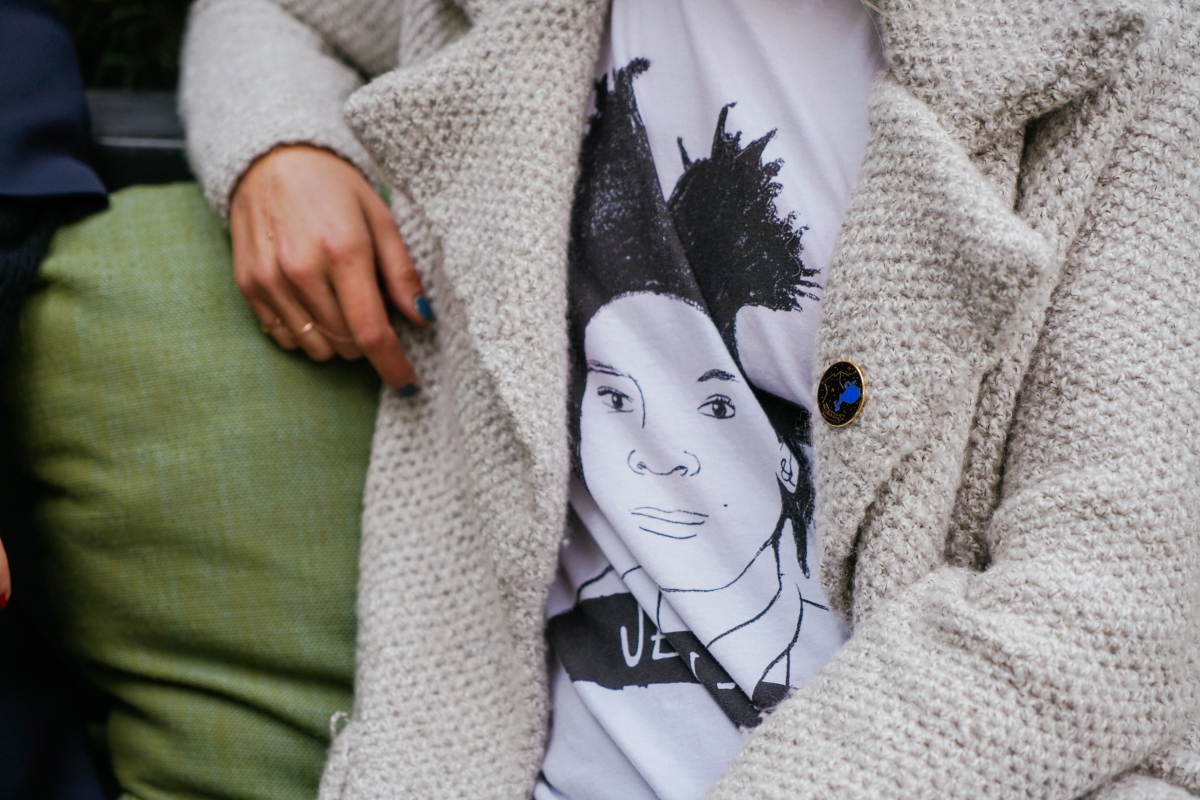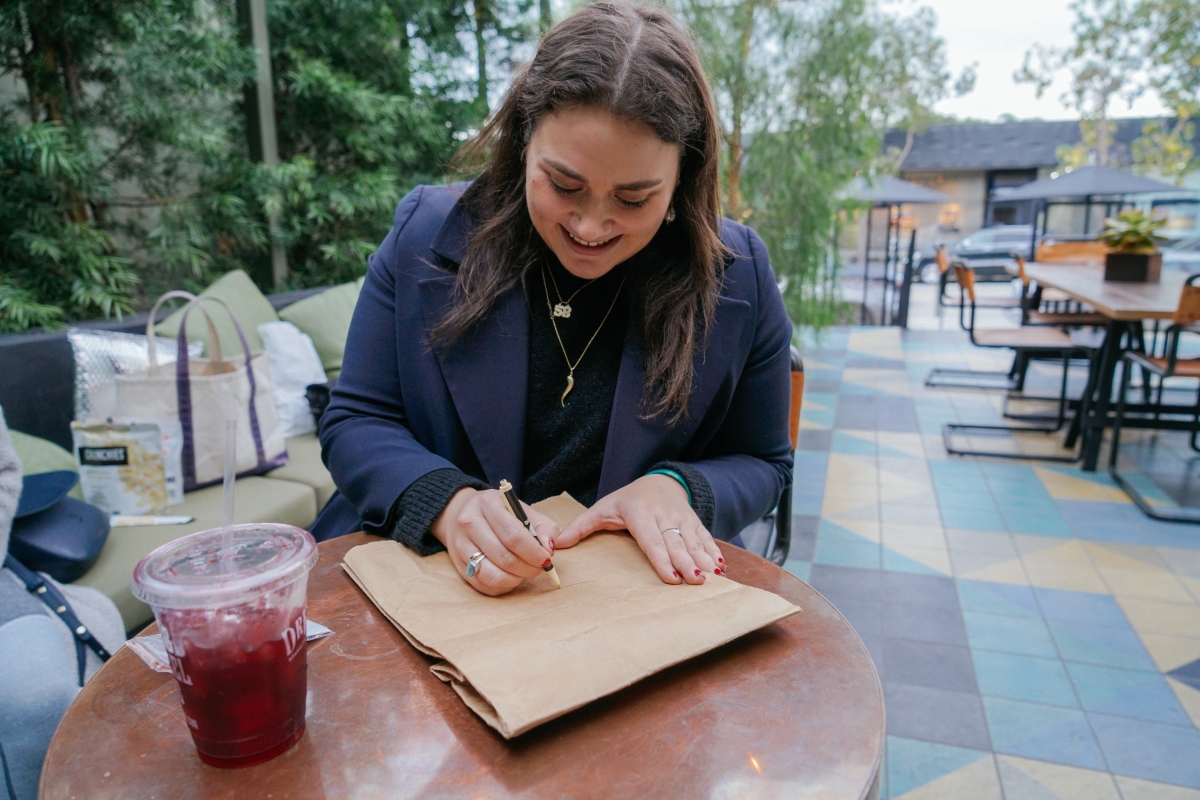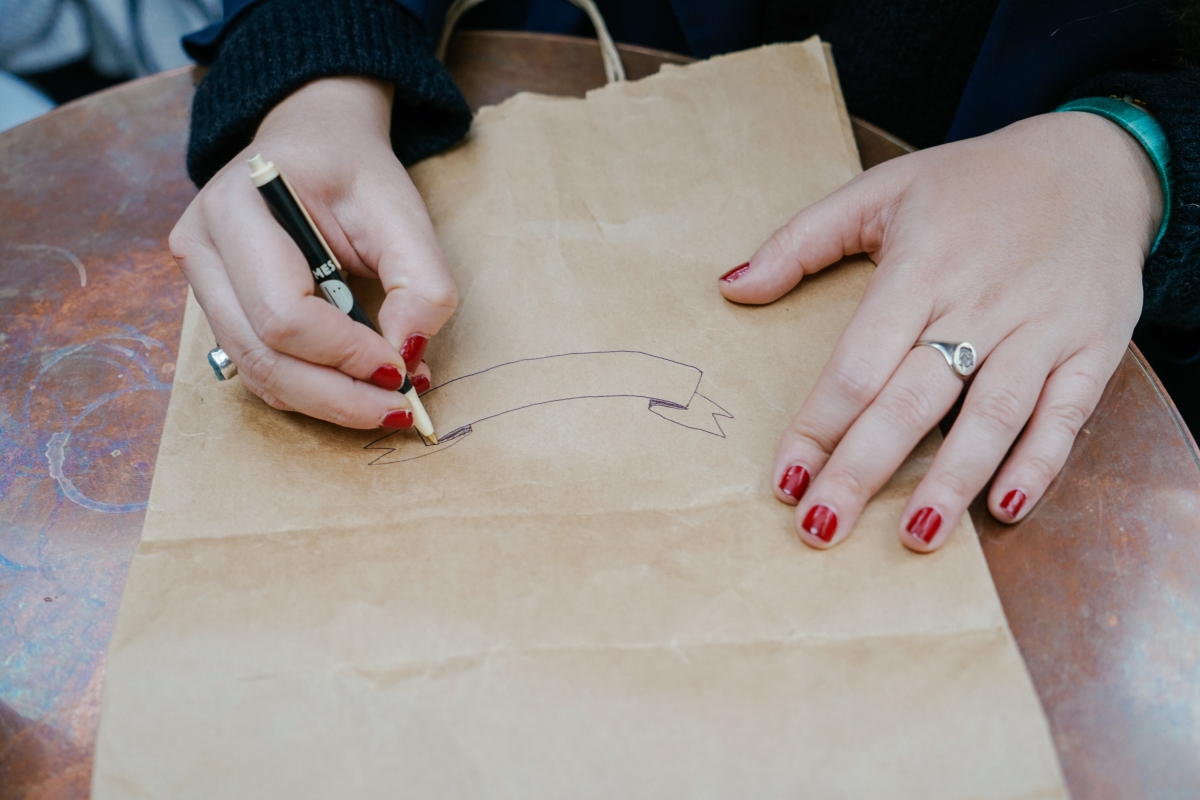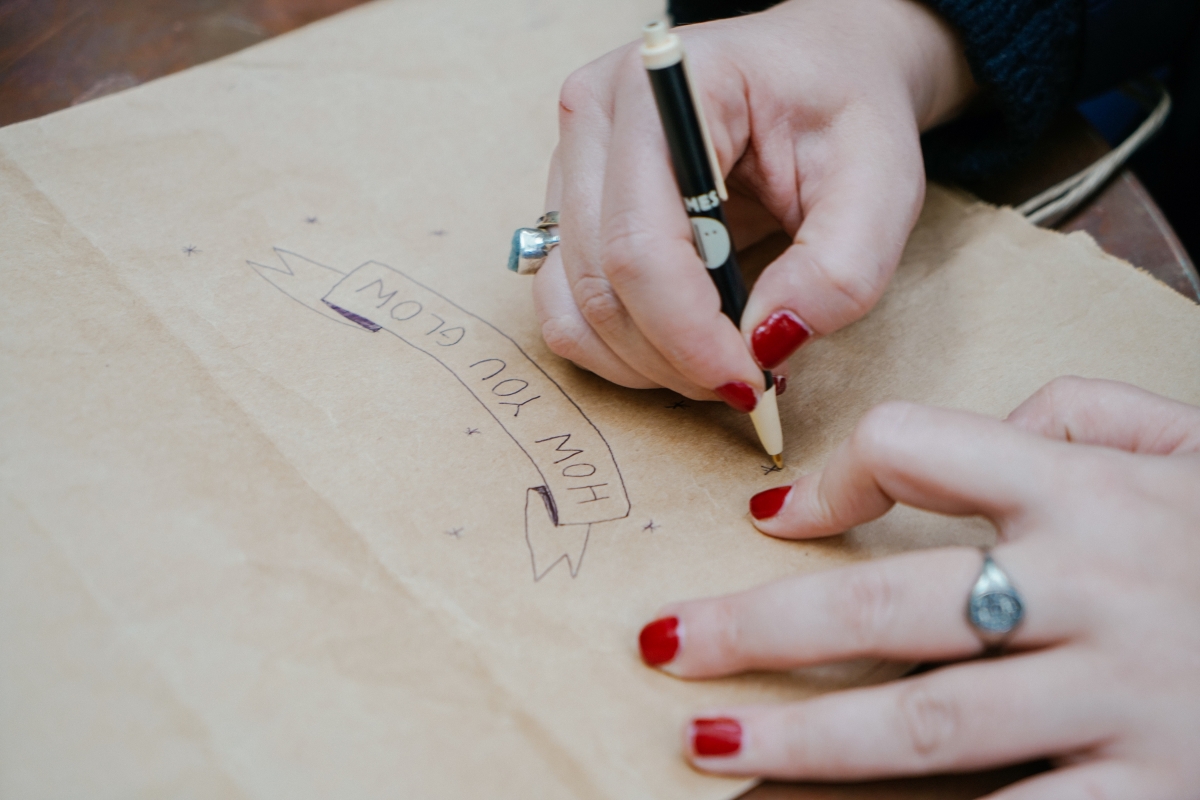 Meet the glowing creative talent behind DEERDANA, the hand-illustrated brand of wearable art that all the cool kids love.
Dana Veraldi is founder of DEERDANA, an awesome line of hand-illustrated T-shirts, tote bags and pins. The illustrations feature minimalist-cartoonish portraits of contemporary icons like Kanye West, Martin Scorsese, Larry David, Sade, Jean-Michel Basquiat, and Lil Wayne. Dana draws each portrait by hand, "because I'm not trained in fine art, there is a sense of childlikeness, a sense of humor and imperfection to it," she said. All shirts and totes are individually hand-printed in NYC by LQQK STUDIO, so the minor inconsistencies are the nature of the screen-printing process and add to the unique vibe.
Dana started making T-shirts as a photography student at the Maryland Institute College of Art, and continued to do so for her friends when she moved to New York. People started to take notice within her circle and began placing orders. In 2008, Agyness Deyn, a friend of Dana's and well-known model, wore a DeerDana T-shirt with an illustration of herself in a magazine and that's when DeerDana blew up. Since then many celebrities have been rocking her shirts and they've become a coveted cozy item. The shirts are cut extra long so they make the perfect sleep top, yet they are also narrow and surprisingly flattering. Always nice to give it a little snip to make it a crop top too :)
We caught up with Dana over some hibiscus tea at Verve Coffee Shop in LA to ask this creative beauty how she glows.
HOW THEY GLOW QUESTIONNAIRE
NAME: Dana Veraldi
NICKNAME: Dana Lou
PROFESSION: Artist, founder of DEERDANA
WHERE DID YOU GROW UP? Philadelphia, Detroit and Paris!
WHERE DO YOU LIVE? New York City
WHEN YOU'RE EATING HEALTHY, WHAT IS A TYPICAL…
BREAKFAST: Smoothie containing some of the following: kale or spinach, frozen blueberries, frozen banana, almond butter, Moon Juice Brain Dust, coconut water, cacao, Maca powder, chia seeds, MCT oil OR some sort of egg/avocado toast situation.
LUNCH: Usually a salad I make in the morning and bring to work with me.
DINNER: Japanese – sushi or soba!
SNACK: Almonds, Dark Chocolate
WHAT ARE YOUR FAVORITE SPOTS/RESTAURANTS TO EAT HEALTHY? In NYC: By Chloe, Souen, Grass Roots Juicery, Café Henrie, Cocoron In LA: Sqirl, Moon Juice, Sage, Gjusta
WHAT IS YOUR FAVORITE INDULGENCE? In NYC: Sundae at Polo Bar or steak at Raoul's In LA: Trout at Petit Trois
WHAT ARE YOUR FAVORITE SPOTS/RESTAURANTS TO INDULGE? Balthazar and Sant Ambroeus in NY, Jon & Vinny's in LA
WHAT WOULD BE YOUR LAST MEAL ON EARTH? Trofie with lamb ragu & Negronis from Sant Ambroeus
WHAT IS THE BEST DISH YOU COOK/ YOUR FAVORITE RECIPE? I am the queen of breakfast. From baked eggs to chia puddings – I really enjoy breakfast cooking most when I am feeding others (the Italian grandma in me).
WHERE DO YOU GROCERY SHOP? In NYC: Whole Foods, Fresh Direct In LA: Erewhon, my love
TOP 3 ITEMS YOU ALWAYS HAVE IN YOUR KITCHEN?
1. Olive Oil 2. Tahini 3. Harissa
WHAT IS YOUR FITNESS REGIMEN? (how often & what you do) I go to hot yoga at Modo twice a week and to Equinox 2-3 days a week. When it's warmer out I often walk a lot outside, sometimes walking home from Soho over the Brooklyn Bridge to Brooklyn Heights. Sometimes I go to Soul Cycle - one of my best friends, Lily, is an amazing instructor in NYC!
WHAT IS YOUR SKINCARE ROUTINE? (products, facials, etc) I use a toner from Biologique Recherche or Weleda or SKII every night. I switch up my face creams/gels often – right now I use Crème De La Mer or Neutrogena Hyrdo Boost Water Gel. I go to Aida Bicaj for a facial a few times a year. My skin is really easy and I love trying new products.
WHAT ARE YOUR FAVORITE MAKEUP/NATURAL BEAUTY PRODUCTS? Pat McGrath gel eyeliner – I am obsessed Dior Nude Air foundation – has the best consistency Bobbi Brown lipsticks – my fave Mountain Ocean Skin Trip Coconut Lotion – I love this lotion in the summer Dr. Bronner's Magic Soap – a staple Fig + Yarrow Coffee Cardamom Scrub – this stains the tub but it's worth it ☺ Aesop products – I love how they smell
IF YOU WERE STRANDED ON A DESERT ISLAND, WHAT 3 PRODUCTS WOULD YOU TAKE WITH YOU?
1. A pillow 2. Biologique Recherche p50 Lotion 3. Elizabeth Arden 8 Hour Cream
WHAT PROFESSIONAL BEAUTY/HEALTH/FITNESS/SPIRITUAL GURUS DO YOU SWEAR BY? Sofia at Aida Bicaj in NYC for facials Modo Yoga for heated yoga Various late-night foot massage parlors in NYC
TOP 3 FAVORITE SONGS?
1. The-Dream – Rockin' That Shit 2. UB40 – The Way You Do The Things You Do 3. Michael Jackson – Human Nature
MOST-WATCHED MOVIE? Drop Dead Fred
MOST LIFE-CHANGING BOOK? Mandela's Way & Steve Jobs
FAVORITE SHOPS/BOUTIQUES? Trademark in NYC, Arcana in LA
COOLEST PLACE YOU'VE EVER VISITED? Marche region of Italy & Toas, New Mexico
FAVORITE HOTELS? Deetjen's in Big Sur, Sunset Marquis in LA, Greenwich Hotel in NYC
WHAT IS THE BEST GIFT YOU'VE EVER RECEIVED? Italian horn necklace from my Grandmother.
MOST PROFOUND HEALING EXPERIENCE YOU'VE EVER HAD? Ojo Caliene mineral springs and natural mud baths in New Mexico.
WHO ARE YOUR MOST TRUSTED HEALERS? Dr. Li in NYC for cupping/acupuncture
DESCRIBE YOUR PERFECT DAY. Sleeping in, lazy breakfast and coffee at home with family/friends, an adventure of sorts – ideally outdoors (art museum, farm, beach, or Barneys), yoga, shower, dinner, movie at a theater with reclining seats ☺
WHAT IS YOUR MOST VALUABLE GLOW TIP/SECRET? Gets lots of sleep Travel with a baby pillow Listen to loud music in the morning Laugh a lot
FAVORITE QUOTE? For small creatures such as we the vastness is bearable only through love. Carl Sagan
WHAT ARE YOU GRATEFUL FOR? My family and friends, NYC, airplanes, pillows, the ocean, my pets and Uber.
WHAT MAKES YOU GLOW? Nature, being home with my parents and siblings in PA or NJ, the beach with friends, laughing in bed.
Photography by: Brian Charles Lehrer