Kitchen Matters // Pamela Salzman's Cookbook + Recipes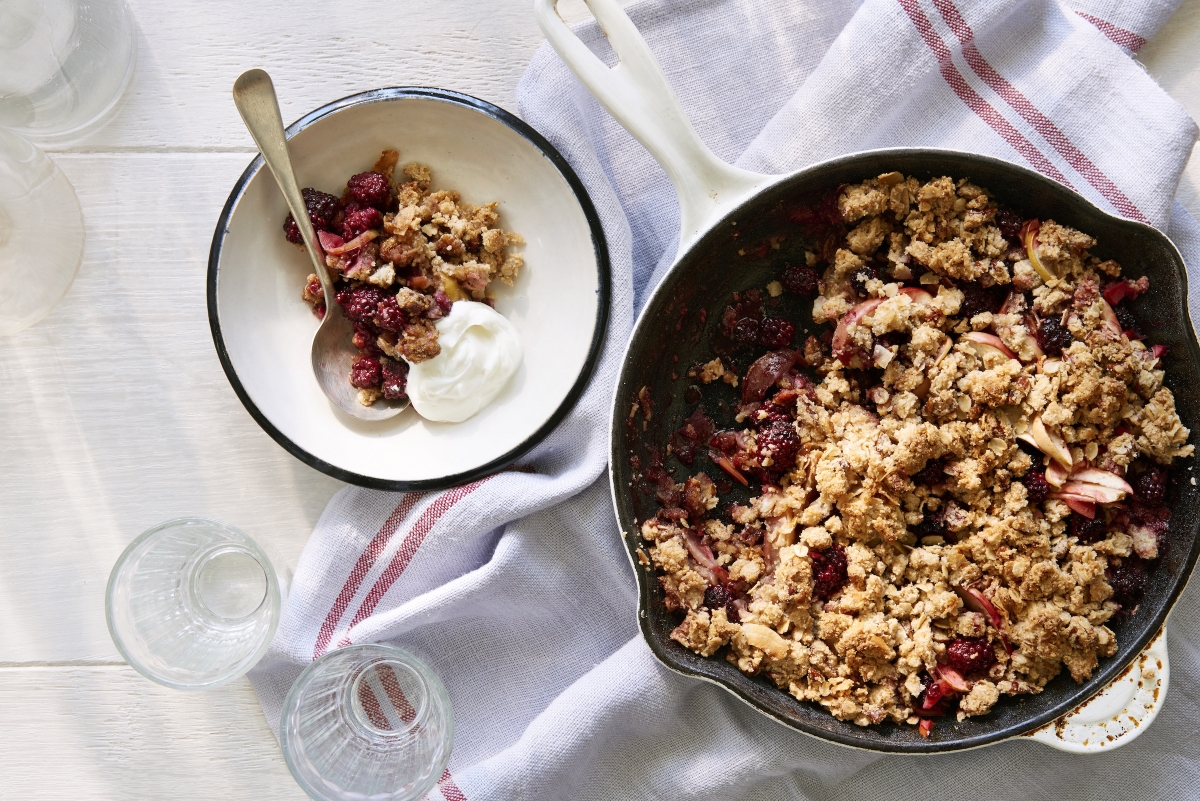 Our ultimate kitchen muse Pamela Salzman just came out with the most wonderful and seriously useful cookbooks ever, filled with tons of kitchen tips and healthful recipes all made from scratch. She's shared with us 3 healthy recipes for a summer day, check them out!
Pamela Salzman is our kitchen-idol. She cooks and bakes everything from scratch, and as a mom of three she does it all with love. We've cooked with Pamela in her home-kitchen a few times (anyone remember her EPIC Cauliflower Crust Pizza!?) and we are just her biggest fans. This glow goddess radiates so much goodness, and that truly infuses in the food she makes. Her recipes are healthful but most importantly delicious. She can literally whip up anything, and she does it with the biggest smile on her face. When we met Pamela over three years ago we talked to her about her dreams of writing a cookbook, and now it's finally here (and it's PERFECT).
Filled with kitchen staples, do-ahead tips, and over 100 healthful recipes, Kitchen Matters will really help you transform the way you cook and eat. Pamela's book will be a kitchen-staple of ours, and a go-to manual for all things simply delicious. This cookbook is really a type of kitchen bible; perfect for the amateur cook and advance chef alike, getting back to truly reliable and impressive simple dishes that all can enjoy.
Pamela shared 3 of her exclusive recipes straight from her cookbook, perfect for a Summer Entertaining Soiree. Her honey Ginger Lemonade, Summer Chopped Salad, and Apple Blackberry Crisp will be superstar crown pleasers and easy to whip up and enjoy with company. We couldn't be more proud of Pamela and her incredible work with this book, and so honored to call this glowing chef our friend.
HONEY-GINGER LEMONADE MAKES 8 CUPS · VEGETARIAN, GF, DF "One of my favorite flavor combinations is lemon and ginger. This is a healthier version of lemonade and my kids love it. I sweeten it with both raw honey and freshly squeezed orange juice instead of loads of refined sugar. I love the kick that ginger adds; if you're like me, feel free to add even more ginger!" -- Pamela Salzman
INGREDIENTS ::
6 cups room-temperature water

½ cup honey, preferably raw, plus more to taste
1/3 cup peeled, sliced fresh ginger
1 ½ cups freshly squeezed lemon juice (9 to 11 lemons)
½ cup freshly squeezed orange juice
3 to 4 cups ice cubes
DIRECTIONS ::
1. Place 2 cups of the water and the honey and ginger in a blender and blend on high speed until emulsified. Strain the liquid through a fine-mesh sieve into a large bowl or pitcher.
2. Add the remaining 4 cups of water, lemon juice, orange juice, and ice to the pitcher and enjoy.
TIPS :: If you don't like the flavor of honey or want to prepare this recipe as totally vegan, you can use ½ cup of superfine cane sugar instead, but honey is much more natural. Raw honey is unrefined (except by bees) and contains many enzymes, vitamins, and phytonutrients, making it a higher-quality choice over refined sugar. Pasteurized honey, however, has lost all of its live enzymes and may have actually been chemically refined. Raw honey is still a concentrated sweetener and therefore should be consumed in moderation.
--
SATURDAY CHOPPED SALAD Serves 6 : Vegetarian, GF, Vegan adaptable, DF adaptable "One Saturday at lunchtime, I took some leftover undressed salad and chopped it all into the smallest pieces I could, transferred it to a big bowl, and tossed it with my "house dressing." It was the most addictive salad I have ever eaten, and it was the first salad my son (who is not the biggest consumer of vegetables) inhaled enthusiastically. I started making a chopped salad every Saturday for lunch. I can't say I've ever made a chopped salad the same way twice, nor do you really need a recipe, but this is a good place to start. I'm sure you see that the goal in preparing the vegetables is to cut them about the size of a pea. I use my Everyday Salad Dressing here because it goes with anything and everything." -- Pamela Salzman
INGREDIENTS ::
1 head romaine lettuce, finely chopped (about 6 cups)

3 cups diced red cabbage (or a mix of cabbage and chopped endive)
3 radishes, finely diced
1/2 pint cherry tomatoes, quartered (optional)
1/3 cup pickled shallots, diced or 5 pepperoncini, seeded and finely chopped
1/2 bunch chives, finely chopped
2 Persian cucumbers, finely diced
2 carrots, finely diced or julienned and finely chopped
2/3 cup Everyday Salad Dressing (below)
1 avocado, peeled, pitted, and diced
3 ounces feta, preferably goat's milk feta, crumbled (omit for vegan/DF)
Additional protein: quinoa, diced cooked chicken (not vegan), tuna in olive oil (not vegan), canned salmon (not vegan), chopped hard-boiled egg (not vegan), chickpeas
DIRECTIONS ::
1. Combine the lettuce and cabbage in a large bowl. Add the radishes, cherry tomatoes, pickled onions, chives, cucumber, and carrots. Toss with enough dressing to coat lightly. Add the avocado and feta and drizzle with a small amount of dressing. Toss very gently with your hands to incorporate into the salad without smearing avocado and feta everywhere.
Other variations :: -- Chopped oranges instead of tomatoes and toasted sunflower seeds instead of cucumbers in the winter and spring; -- Radicchio and endive in place of some of the romaine; -- Fresh or grilled corn in place of the carrots.
EVERYDAY SALAD DRESSING This is a bold statement, but no vinaigrette out there is better than one you can make with high-quality ingredients at home, especially a good unrefined oil. This is truly the perfect vinaigrette. It has the most delicious balance of acidity and oil, a little sharpness from the shallots, and hint of sweetness. I make a double recipe every week and use it on almost every green salad, no matter what the ingredients, as well as on any salad I am spontaneously pulling together.
INGREDIENTS ::
1 small shallot, minced (about 2 teaspoons)

3/4 to 1 teaspoon sea salt
Freshly ground black pepper
1 teaspoon Dijon mustard
2 teaspoons raw honey (omit for vegan) or pure maple syrup
2 tablespoons unpasteurized cider vinegar or red wine vinegar
2 tablespoons unseasoned rice vinegar
3/4 cup unrefined, cold-pressed extra-virgin olive oil, or 1/2 cup olive oil + 1/4 cup flax oil
DIRECTIONS ::
1. Either whisk together all the ingredients, including black pepper to taste, in a small bowl or place them in a glass jar with a lid and shake until emulsified.
2. The dressing can be made ahead and kept in a glass jar in the refrigerator for 5 to 7 days. Because olive oil solidifies when chilled, you will need to remove it from the refrigerator well before you want to use it, for it to become pourable. Or you can leave the dressing at room temperature in a cool, dark place for a few days. If you use flax oil in the dressing, it must stay refrigerated.
--
APPLE-BLACKBERRY CRISP SERVES 6 · GF, VEGAN ADAPTABLE, DF ADAPTABLE "I love making fruit crisps for dessert, especially when I have friends over. I am always tempted to sneak some for breakfast the next morning, but dessert isn't the best way to start the day—so I developed this low-sugar, high-protein crisp that's suitable for brunch or breakfast. And guess what? Most of my students think this is plenty sweet and could work for dessert as well. You can definitely adapt the fruit according to what's in season" -- Pamela Salzman
Filling ::
1 pound apples, peeled only if desired, cored and sliced thinly (4 to 5 small apples)

12 ounces fresh or frozen and defrosted blackberries
Juice of 1/2 orange (about 3 tablespoons)
1 tablespoon arrowroot powder
Topping ::
1 1/4 cups almond meal or almond flour

3/4 cup certified-GF old-fashioned rolled oats
2/3 cup raw pecans, chopped
6 tablespoons unsweetened coconut flakes
5 tablespoons pure Grade A maple syrup
1/2 teaspoon sea salt
1 teaspoon ground cinnamon
Pinch of ground nutmeg
1/2 cup unrefined virgin coconut oil, at room temperature, or 8 tablespoons (1 stick) unsalted butter (not vegan/DF)
Greek yogurt for serving (optional; omit for vegan/DF, or look for coconut or almond milk yogurt as a vegan/DF alternative)
DIRECTIONS ::
1. Preheat the oven to 375°F.
2. Prepare the filling: Combine the apples, blackberries, orange juice, and arrowroot in a bowl and pour everything into a 9- or 10-inch pie plate or cast-iron skillet and spread evenly.
3. Prepare the topping: Combine all the topping ingredients in a bowl and mix with your hands until no longer dry, forming small "nuggets" of topping. Alternatively, use an electric mixer to combine everything. Using your hands, arrange the crisp topping on the filling and place the baking dish or skillet on a rimmed baking sheet. Bake for 40 to 50 minutes, or until the fruit is soft and bubbling and the topping is golden brown. If the topping is getting too golden before the fruit is soft, tent with aluminum foil. Serve warm with yogurt, if desired.
TIP :: The crisp topping can be made up to 3 days ahead and kept refrigerated. Remove from refrigerator and break up into pieces and arrange directly on top of fruit. The topping can also be frozen for up to 3 months.
ASK PAMELA :: Can I make my own almond meal in a blender and substitute that for almond meal in any recipe? "Not exactly. You won't be able to duplicate the fine texture of almond meal or almond flour, and you'll probably turn it into almond butter trying!"
ALL RECIPES Excerpted from Kitchen Matters: More than 100 Recipes and Tips to Transform the Way You Cook and Eat—Wholesome, Nourishing, Unforgettable by Pamela Salzman. Copyright © 2017. Available from Da Capo Lifelong Books, an imprint of Perseus Books, LLC, a subsidiary of Hachette Book Group, Inc.