NutinBut Endo // Olesya Rulin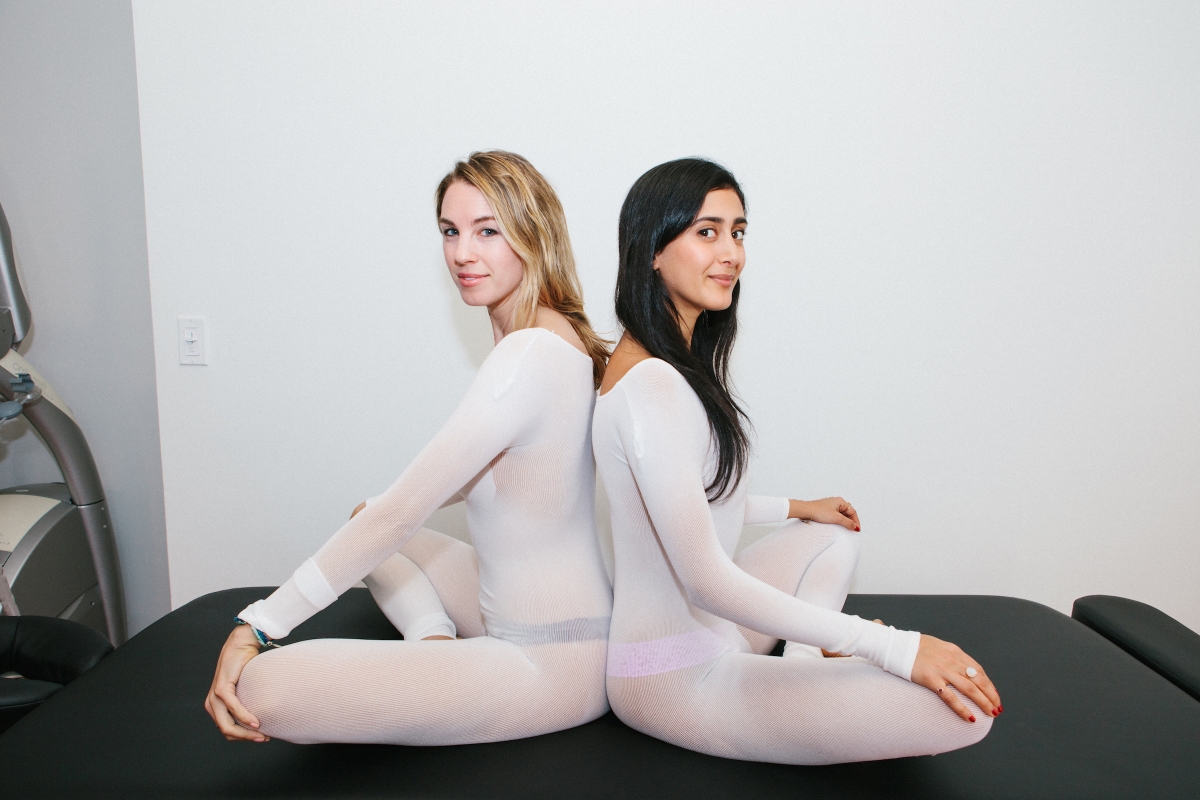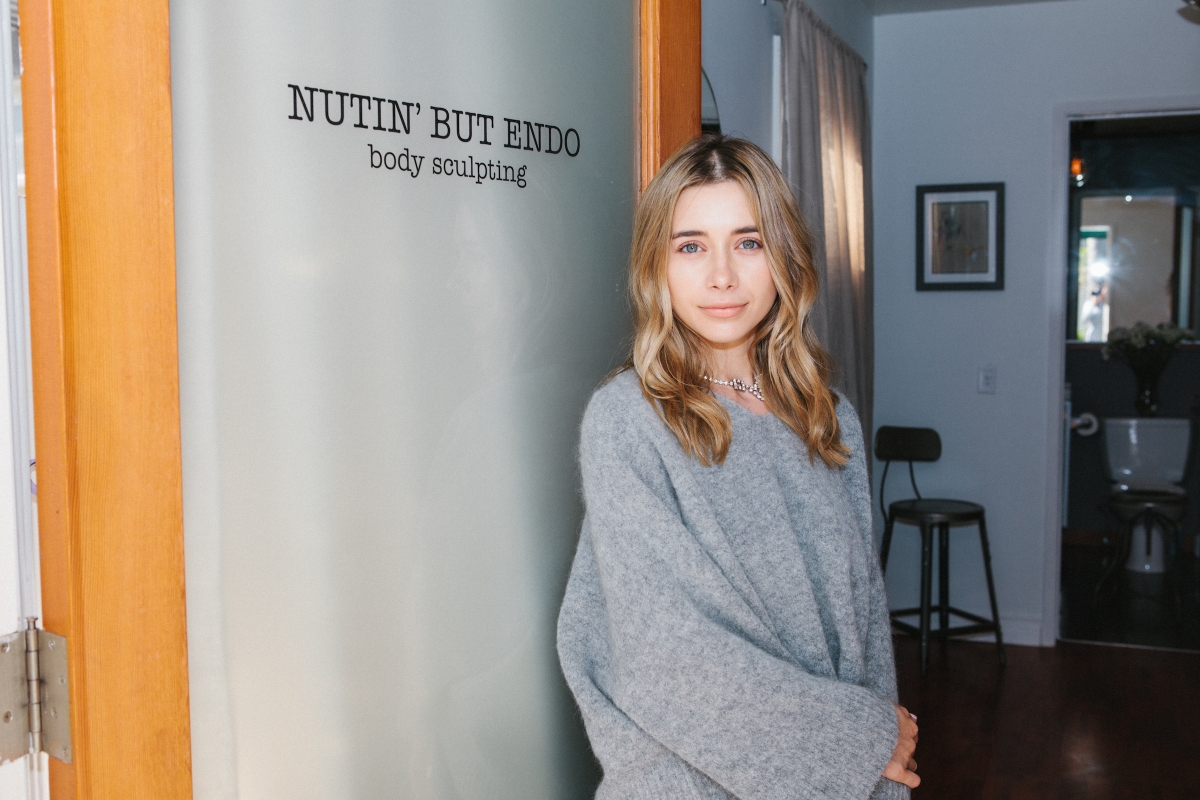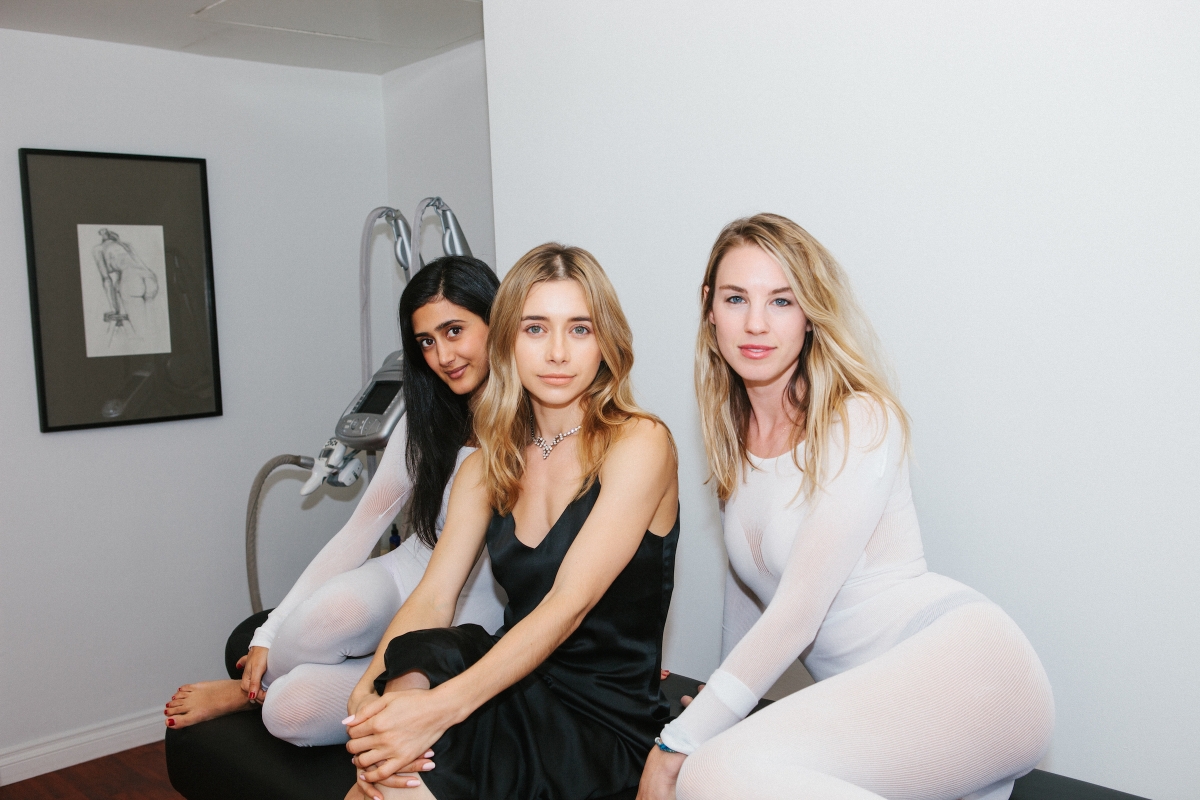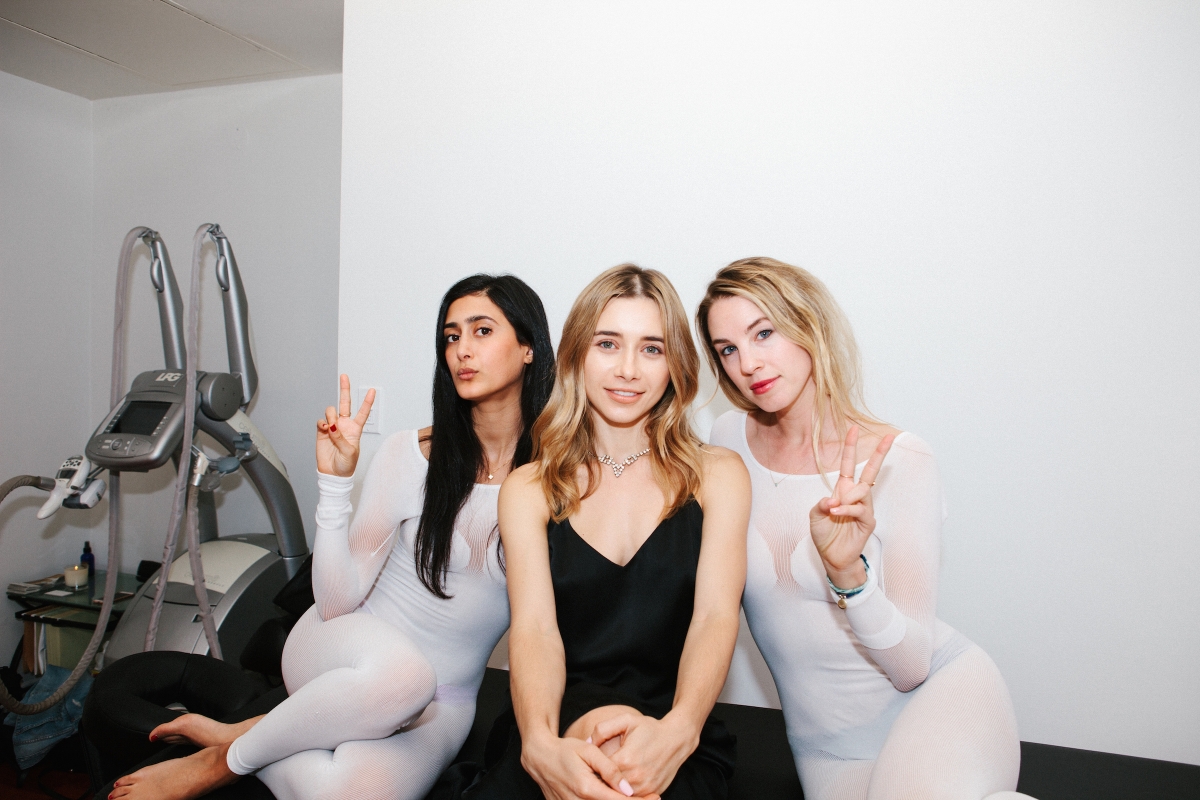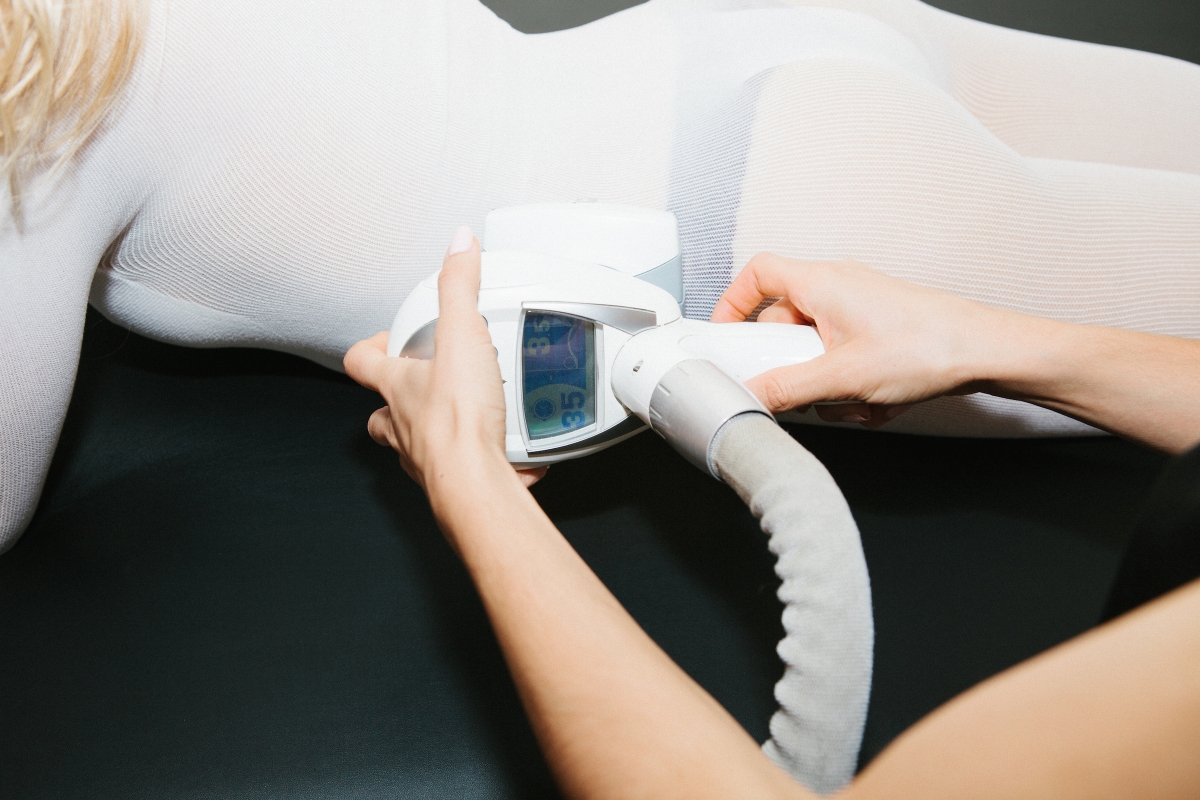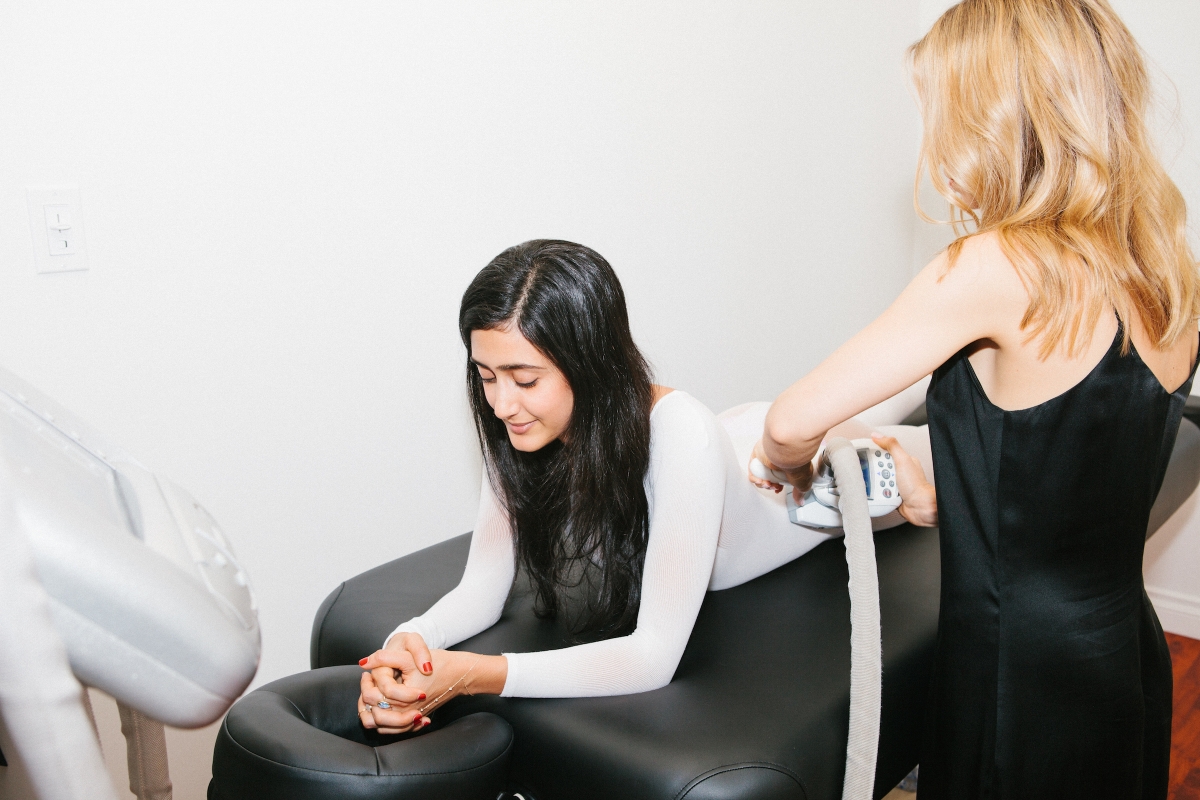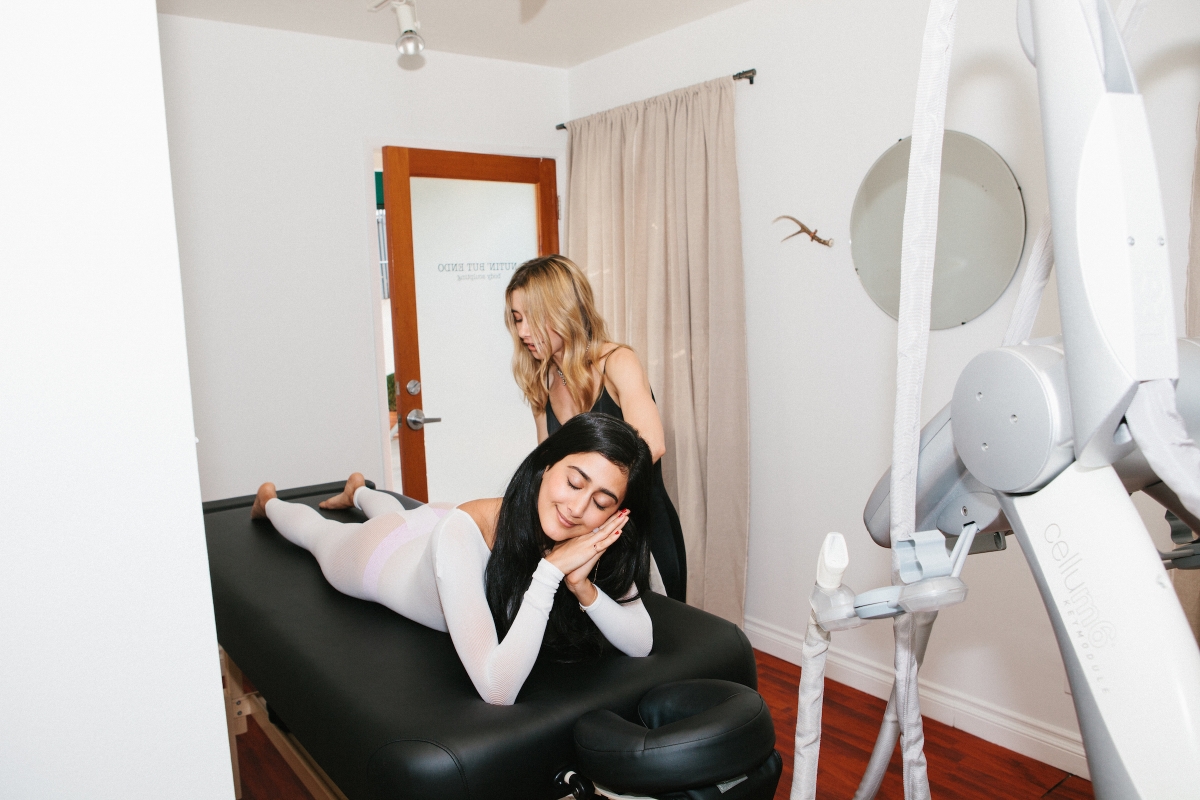 Nutinbut Endo in Santa Monica, owned by the beautiful actress Olesya Rulin, is a space for wellness and body sculpting and a safe, healthy solution for reducing cellulite. Yes, please!
Olesya explains that, "after getting endermologie treatments done for years and personally seeing the transformation and health benefits I couldn't not share it with my girlfriends. Our name 'Nutinbut Endo' comes from my mother who always says 'woman should have bums like a walnut cracked in half... Perfectly round and perky.' This is what we specialize in. Getting your toosh to look smooth and perky all while boosting your circulation and lymphatic drainage. It's a health conscious wellness boosting booty sculpting escape."
We personally experienced endermologie with Olesya and it is something that everyone should try. It basically feels like a massage, and is very relaxing. First you put on a white, skin tight bodysuit and then Olesya uses a suction wand going over your body -- this breaks up fat particles and smoothes, out, shapes and lifts areas of fat. It is pretty incredible if you ask us. Her space is lovely and clean, plus you get to chat with this beauty which is always a treat!
HOW THEY GLOW QUESTIONNAIRE
NAME: Nutin'but Endo Olesya Rulin
NICKNAME: "Let's Roll"
PROFESSION: Endermologie is my passion project/ I'm an actress
WHERE DID YOU GROW UP? Tiny village in Russia called " Domanikha" located near Tver Russia
WHERE DO YOU LIVE? LA
WHEN YOU'RE EATING HEALTHY, WHAT IS A TYPICAL...
BREAKFAST: Protein shake. I mix a cup of spinach cup of almond milk ice and ginger with my vegan vanilla protein. It's quick and amazing! and then I top that off with lots of coffee... I just got into using the pour over system so I'm getting fancy with my beans. Ha! It's very LA.
LUNCH: I go big on lunch since I'm not a dinner person. I'll have a huge salad with chicken or shrimp/fish from sweet greens and soup or I'll go to get sushi. I love to cook so when I have the time I'll roast vegetables and mix that with buckwheat and dressing from Cafe Gratitude. I tend to make a lot of classical Russian soups which are rich in vegetables and very clean. It's almost all vegetarian and has very simple yet filling ingredients.
DINNER: Dinner and I don't get along... for some reason it makes me have crazy dreams on a full stomach. I usually just have a light snack or some fruit. Nothing that's a big meal... and my lunch is so big that I'm pretty full still by 6pm. I do love ending my night with some "ginger lemon" hot water. I throw in some ginger root and lemons into the vitamin and blend on high then pour that and hot water into a cup and sip. It's refreshing and cleans my palette.
SNACK: I always have berries and nuts at my house. Avocados. Carrots. My schedule is a little crazy right now and my Vitamix has been a life saver. I'll throw in a handful of baby kale with some cucumber, lemon, ginger, and tara! It's a snack! I like to make chia seed pudding over night and usually have that as a snack/ desert ready at all times.
WHAT ARE YOUR FAVORITE SPOTS/RESTAURANTS TO EAT HEALTHY? Sugarfish, Cafe Gratitide, sweetgreen, Toast, Gjusta, Flore, Izakaya by katsu-ya
WHAT IS YOUR FAVORITE INDULGENCE? Compartes Chocolates My friend owns it and I blame him for giving me a sweet tooth the last 8 years :)
WHAT ARE YOUR FAVORITE SPOTS/RESTAURANTS TO INDULGE? Honestly I grew up on a farm and the food we cooked at home was always simple and clean.... all the way through high school. We never ate processed food at the house growing up... so I don't crave anything "bad".... it's kinda weird. Gjelina would be my pick for indulgence but the food is amazing and only indulgent because it's full of flavor and "personality" I go to the Russian Deli and get caviar... salmon eggs and eat that on toast with avocado for breakfast. Caviar is a cultural thing in Russia so it brings me home to have it here in LA.
WHAT WOULD BE YOUR LAST MEAL ON EARTH? Rye bread from my village in Russia and my mom's mushroom soup made from the mushrooms in the neighboring forest. It's silly how good it is.
WHAT IS THE BEST DISH YOU COOK/ YOUR FAVORITE RECIPE? I have the best borsch recipe in the world.... I challenge anyone to a borsch cook off.
WHERE DO YOU GROCERY SHOP? Whole Foods like a mad woman and the farmers markets
TOP 3 ITEMS YOU ALWAYS HAVE IN YOUR KITCHEN? 1. lemons 2. coffee 3. chocolate
WHAT IS YOUR FITNESS REGIMEN? Tons of yoga 2-3 a week at Love Space in Venice. and I run .... but around the block so that's a maximum of a mile once a week. Ballet Beautiful dvd's are amazing and I do the butt and leg exercises when I can't get to yoga. I also have a dog so we end up walking a lot. Of course Nutin'but Endo!!!!! It's the best!!!!
WHAT IS YOUR SKINCARE ROUTINE? (products, facials, etc) I use the well box by LPG to stimulate circulation and collagen production. It tightens and lifts plus it drains any stagnant fluid from under your chin. It has a small enough head that can reduce the lines around your eyes and mouth which is a life saver when it comes to work and the HD cameras. It makes me look awake even if I had just worked 16 hours. I love beauty... and have been called beauty whore for years. Maybe it's because I'm Russian and we are obsessed with skin or because I'm an actress and it's my job but for whatever reason I have shelves and shelves of beauty products ha! Currently I use the whole Biologique Recherche line. I start with the cleansing milk, then use the P50 solution (which smells like vinegar but it works magic on fine lines and any imbalance ) fallowed by the Lotion MC 110 #2 which plumps the face and helps get into the molecular level of the skin adding moisture and gets rid of fine lines, then I use the Creme Dermopurifiante on my face. It's brown and smells sweet and funky but I swear by it!
For my body I slather on coconut oil and use the luxe lotion by Lady Bug Jane ( you can find it at Whole Foods) on my hands and neck during the day.
Herbivore Jasmine oil is my go to hand oil... (I wash my hands a lot throughout the day so I carry this on me all the time) it smells like a dream.
Herbivore Orchid oil ... it's meant for the face but I use it on my neck and chest at night. People always forget to protect and moisturize the neck and between the breasts! It's so important! Suntegrity sunscreen for my chest and face. It's organic, doesn't leave a film and smells like a tropical vacation.
WHAT ARE YOUR FAVORITE MAKEUP/NATURAL BEAUTY PRODUCTS? Schmidt's deodorant. Comes in a jar and you have to rub it into your armpit but it works and smells like Santal from Le Labo. Cedar wood+Juniper scent. John Masters shampoos, lotions, and conditioners. Dream!! My makeup is not natural at all. Most of my daily "natural look" is Armani (The foundation, eliminating fluids, and blush.) My couture is Dolce and Gabbana! My makeup artist got me hooked and I actually use a blush as the contour shade and it's stunning. That whole brand has been under appreciated... the pigment and quality is spectacular.
IF YOU WERE STRANDED ON A DESERT ISLAND, WHAT 3 PRODUCTS WOULD YOU TAKE WITH YOU? 1. A jar of coconut oil.... its solves so many issues and if needed I could eat it.
2. A very sharp high quality skinning knife (hey I'm a village kid at heart and you can really do magic with a sharp knife)
3. Fishing line and hooks.
or is this beauty products? ha ha ha ha ok I will stick with the coconut oil... my maison pearson travel brush and the biggest size of the mango Coola sunscreen.
WHAT PROFESSIONAL BEAUTY/HEALTH/FITNESS/SPIRITUAL GURUS DO YOU SWEAR BY? Guru Jagat from Rama. Not only is she a great friends but a wonderful teacher who has really helped be understand the voices in my head :) It's through Rama that I learned to direct my own energies
Kyle Miller. All around amazing example of a human being and the yoga teacher that made me fall in love with yoga. Her instruction is kind and direct and I feel free to be myself in her class whether that's simply in a downward dog or upside down.
TOP 3 FAVORITE SONGS? 1. Beyonce "who run the world...girls" 2. Ace of Base ( their song "the sign" was the first song I heard in English) 3. Swan Lake by Pyotr Ilyich Tchaikovsky ... Act 2
MOST-WATCHED MOVIE? The Great Mouse Detective (this is the first movie I saw in English... my brother and I would watch it over and over not knowing what the characters were saying and soon we were saying the lines but having no clue what the words meant) I watched it recently as an adult and was shocked at how dark and scary it was. It always blows my mind how deep little children's stories really are.
MOST LIFE-CHANGING BOOK? The Heart of Darkness Woman who Run with Wolves Attached
FAVORITE SHOPS/BOUTIQUES? I shop online like a pro :) it's the best although I do love vintage stores when I'm traveling or the Rose Bowl flea market here in LA. For gifts for the person that has everything... OK on third. Gorgeous books, jewelry , and everything your manager, boss, agent, lawyer would like and don't get own.
Everlane: for my t shirts M. Gemi : for high quality Italian shoes without the middle man price. !AG denim: fits athletic body styles like a clove Reformation: for all things dresses !Nasty Gal: for the date night fun pieces
COOLEST PLACE YOU'VE EVER VISITED? I lived in Paris France for a semester and fell in love. I would move there in a heart beat.
FAVORITE HOTELS? Saint Regis in Kawaii Hawaii
WHAT IS THE BEST GIFT YOU'VE EVER RECEIVED? My mother's necklace from the 70's. It's the only necklace she had ever owned and has tiny amber beads... I wear it often .
MOST PROFOUND HEALING EXPERIENCE YOU'VE EVER HAD? I quit working for over a year and read books on the self help aisle like a mad woman. But mostly it was a healed in ojai who over the course of one month was able to help me find clarity in my life and I was able to have a soul retrieval. I reclaimed myself and finally woke up from what seemed like a 10 year sleep walking session.
WHO ARE YOUR MOST TRUSTED HEALERS? Narayan
WHAT IS THE BIGGEST LEARNING EXPERIENCE YOU'VE HAD TO FACE AND WHAT DID YOU TAKE AWAY FROM IT? Moving to American in 1992 at the end of the Cold War and not understanding why everyone in America seemed to hate Russians. I didn't speak the language and was bullied constantly for being a "communist" although if translated correctly it literally means "friend" and "community". I still have my arm badge that we would wear to school and it says "friend"on it. As a child I never felt the "evils" that were portrayed in America of Communist Russia and it made it difficult to understand why everyone was mad at me and my homeland. When my homeland was described to me as bleak and grey place I had no idea what they were talking about. The houses are all painted in bright colors and the food is bright the people are happy and pure. I was never taught that the western world was bad or evil I didn't even know where America or Europe was and or that so many people disliked my country. I was taught to look out for each other in school and that Communism meant we were all in it together as a unit so we all succeed. Looking back now I see how different Russian must have seemed to Americans. How old world and foreign. No we didn't have toilet paper sometimes and no I didn't have running water or indoor plumbing but I also didn't know any different and you kind of don't mind not having those "luxuries" when you live in a forest and everyone is equal because everyone around you doesn't have indoor plumbing either. We didn't have sugar or sweets but we had 30 bee hives and enough honey to bathe in (we literally slather it on your body in the Russian sauna). My mother taught me how to make flower crowns to decorate myself as a girl and the importance of sharing natures gifts (aka berries... the top of the bush is for the bird, middle for humans, and the bottom for small animals).
Coming to America and having my heritage misunderstood on such a massive level was and is still one of my greatest challenges. How do you combine two worlds that seem lightyears away? How do you describe the beauty and calm of a country that others are convinced is rooted in lack of freedom and brightness?
!Now I just laugh at the fact that I know how to snare a rabbit and walk a red carpet at the same time. Every time I get my hair dyed blonde and that chemical smell hits my nose it reminds me of the time my mom dunked my head in a bucket of gasoline to kill head lice. I've stopped trying "combine" these two worlds.... they just are and I just happened to be lucky enough to get them both.
DESCRIBE YOUR PERFECT DAY. Waking up to the sun... making a wonderful cup of coffee. taking my pooch on a quiet walk. Reading a book for an hour or so before the world wakes up. Then running out the door to work, meetings, auditions, nutin but endo, and ending my day with friends and some good laughs and a mini meditation. Of course the beach and Paris and vacations are all wonderful but honestly being able to have opportunities to do any of the above makes it a perfect day no matter what you end up doing.
WHAT IS YOUR MOST VALUABLE GLOW TIP/SECRET? Keep moving. no matter how bad things seems as long as you're moving forward you're working with change for things to shift for the better.
FAVORITE QUOTE? She was half human...half universe. !-A.R. Lucas
WHAT ARE YOU GRATEFUL FOR? My upbringing. Growing up in nature with very few material possessions enabled me to have a very active imagination. It's because of my childish enthusiasm that I am able to be an actress. My healthy body because that is literally the most important thing there is.
WHAT MAKES YOU GLOW? Enjoying the company of my family and friends... I love to soak in their light. And being on set... it's the only place I truly feel at home.
Photography by: Emily Knecht